Most Recent
Latest sports news & stories from the ultimate world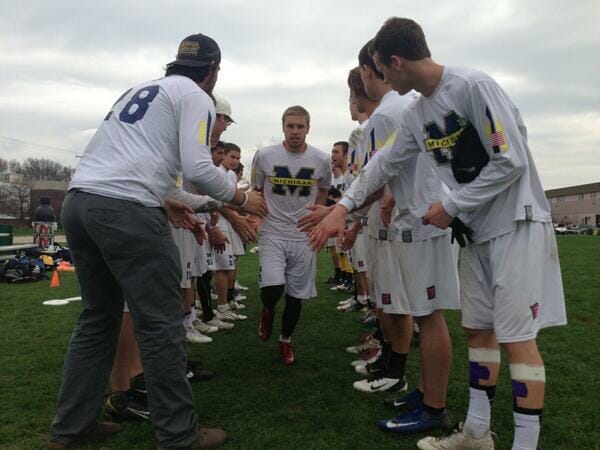 Think back to a few months ago: the Great Lakes was being put head-to-head with the Metro East as the country's worst region. A one bid 2013 saw Illinois advance and hardly make a dent at Nationals. The signs pointed to another weak year.
The Great Lakes teams rewrote the script. Starting with Northwestern's strong fall and big splash at Warm Up, the region has unfolded some of the best stories of the college season and nearly came away with three bids. Though they ultimately ended up with just two, it has been a vindicating season for an area of the country that is developing some excellent players.
The Great Lakes Regionals is one of the hardest to handicap in the country, with four strong teams all capable of taking one of the spots to Nationals. Here's what to expect. Read more →
Though the New England Division III region holds three bids to DIII Nationals this year, it is difficult to speculate which teams will claim those bids. It would seem on paper that Bentley is the clear favorite to take one, but the other two bids are up for grabs in what will surely be a wild weekend.
Here is what is in store for Regionals. Read more →
In the Fall, there was hope: perhaps Northwestern Gungho or University of Illinois Menace would muster the momentum and the wins to bring a strength bid into the cold, windswept Great Lakes region. Perhaps this region would make themselves heard over the noise from the coasts, and they would prove that the Midwest could actually throw down.
But instead, the regular season looked familiar: University of Michigan Flywheel was talented, driven, and unstoppable, Northwestern and Illinois battled back and forth for second and third fiddle, and the rest of the Great Lakes teams stayed predominantly in-region, developing their skills and developing their programs.
For as long as the modern Metro East has existed, the Ottawa Gee-Gees have reigned supreme over their region. Three straight Regionals, three straight Metro East Championships.
Last year's Regionals was the closest anyone had yet come to taking down the top seed, who survived a semifinal scare from Cornell and a game to go battle with NYU, each by just two points. Even their Conference Championship was challenged; they were similarly pushed this year.
The Gee-Gees enter the weekend in Farmington, CT, the heavy favorite, but a bevy of challengers await them, and everyone is eying the crown above their targeted back.
Since the inception of DIII Ultimate, the Atlantic Coast has been generally overlooked. Every year, multiple teams that could contend at the national level were left to fight for just one bid. After an impressive spring season, this shortage of bids is no longer the case. Elon and Richmond were able to secure two bids for the Atlantic Coast this Spring while UNC-Asheville played their way into the top 20 in the rankings.
The strength of this region became apparent when the Atlantic Coast took home the top three spots at the inaugural DIII Easterns. With Wake Forest as strong as usual and Davidson an underrated group, a second bid may not be enough to exemplify just how strong this region is this year.
This season, these five teams have shown that they have what it takes to make a run at Nationals. While the pools have not been finalized, earning a top spot in bracket play will be extremely important. A tough matchup in the bracket rounds can and will knock down a Nationals contender and make their road much tougher.  Read more →
Seattle made it famous. Houston and Chicago have capitalized on it. Now, New York is giving it a shot: the Combine. Slowly, cities are starting to team up during the team formation process, bringing all of the area players together for a combined tryout so every team can get a look at that year's talent.
This year in the Tri-State area, PoNY, New York City's top men's team, and Young Bloods, the city's newest men's team starting its second year, will be holding to area's first combined open tryout. Different from past years, both teams are beginning to focus on the long run, on developing talent a bit more than winning right away.
"The greater NYC area is bursting with hard working and supportive players, and PoNY is keen on cultivating just that type of atmosphere," said PoNY captain Milo Snyder. "From the weights to the track, and the sidelines to the scrimmages, these two clubs have already benefited from the collective and reinforcing energy of the other. This new ecosystem is huge for the region." Read more →
In a year of upsets and parity in the college game, this year's Southeast regional will tell us what the USAU algorithm and online power rankings are really worth. Whether the ranking and bid system is perfect or not, it makes the Southeast men happy; they get yet another year with three spots to the big show. Those bids are up for grabs in Tuscaloosa, Alabama, this weekend.
How'd We Get Here?
It was clear early on that Central Florida was a favorite to get back to the national championships — and maybe even the finals — but a rough start to their season seemed to leave the door wide open for other teams around the country.
"We know we could have been better in many of our games," UCF Captain Mike Ogren told Ultiworld. "Coach [Andrew] Roca was quoted a few times about our expectations, and he always said exactly what we wanted to accomplish. We fell short of those goals."
However, UCF's win in the Florida Conference Championship could be a sign that they are coming back into powerhouse form. That all depends on what you think a double game point win in the finals really means for the Dogs of War. It's this simple: if you let yourself believe that Roca isn't trying to peak his team at the right time, you're probably wrong. Ogren added that the team has a newfound focus. "Finding that sense of urgency in valuing and celebrating every point against every opponent helped us a lot this past tournament," he said.
With sky-high hopes coming into the year, the Metro East has had their expectations for 2014 dampened — both by weather and by their performance on the field. Entering the year expecting to earn at least two bids to Nationals, a dismal spring season filled with cancelled tournaments and rain-soaked games has resulted in the region obtaining a lone bid to Nationals.
The tournament, which has been moved from its original location in Pittsgrove, New Jersey, to Oneonta, New York, should be an absolute bloodbath.  Featuring three top twenty teams in Ultiworld's power rankings and several other contenders that were unable to showcase their teams in the regular season, at least half of the teams playing this weekend have a real chance at making Nationals.
Without a second bid to fall back on, there is zero margin for error and whichever team comes out of this crowded region will certainly have earned their trip to Ohio. Read more →
Here's a look around the semi-professional leagues from this weekend, where upsets were the big story and the home opener for the Montreal Royal continued to show that Canadians love their ultimate.
Here are this week's Major League Ultimate and AUDL Power Rankings. Game recaps are below.. Read more →
Watch the full game footage of the Paideia Cup finals between Carolina Friends and Holy Family Catholic: