Founding Phoenix Captain Hack Leaves Team Midseason, Joins Nemesis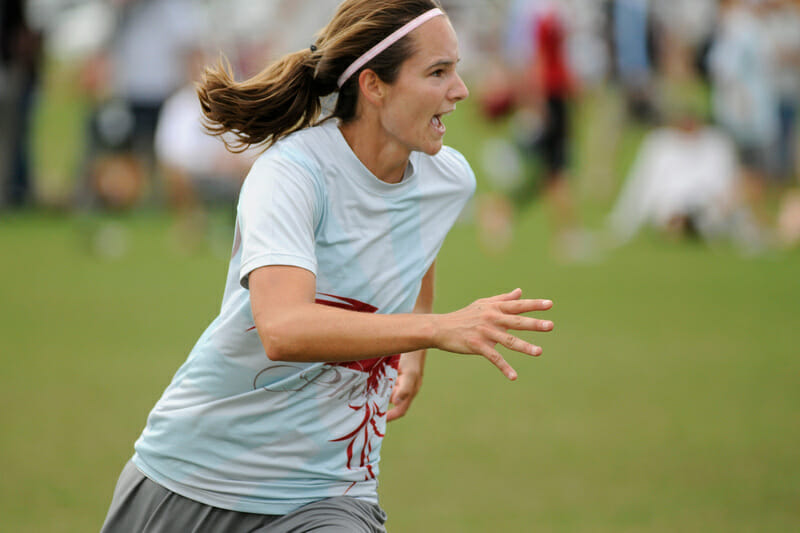 Raleigh Phoenix founder Lindsey Hack surprised the ultimate community this week when she abruptly left her team and appeared at Heavyweights playing with Chicago Nemesis.
According to multiple sources, after a rocky start to the season, Phoenix players were unhappy with Hack's on-field attitude and, after the team's captains caught wind of an anonymous email that was sent out to the team (excluding the leadership) addressing the situation, they called a meeting to discuss the problem with Hack. In that meeting, Hack decided to leave the team. The following weekend, she was cleating up with Nemesis.
The move comes during a transitional season for Phoenix and during one of the most successful seasons seen in Chicago ultimate. With Hack no longer on the roster, the North Carolina squad faces its first year without all three of its founders. On the other side, Nemesis adds to an already stout recruiting class.
Hack issued this statement to Ultiworld:
I was struggling to be the leader Phoenix needed me to be this year and last year. I put a lot of pressure on myself to lead the team to a successful season(s). This self-appointed responsibility weighed on me so much that it began to affect how I connected – or did not connect – with my teammates. After Colorado Cup it became apparent to everyone on Phoenix that something needed to change, but I just did not trust myself to be able to cleat up for Phoenix without feeling burdened with responsibility. Therefore, I felt it was best for the team, and for me, to move in separate directions with hopes of finding happiness for all parties involved.
At no point during the time leading up to my resignation did I consider playing out the rest of the club season on another team, but a dear friend and my husband softly encouraged me once it became apparent I was no longer going to be on Phoenix. After I resigned on Sunday, I emailed Nemesis on Monday morning simply because I wondered if a few weeks down the road I would regret it if I did not. I wasn't sure I liked ultimate anymore. Period. Nemesis was not a random choice, one of my best friends plays for that team and I was in her wedding in June. During all of her wedding festivities I got to know many of the Nemesis ladies and began to entertain the idea of playing for Nemesis sometime in the future since my husband and I were considering moving soon for professional reasons. On Tuesday at approximately 1130pm Nemesis offered me a tryout spot at Heavyweights. On Wednesday, I accepted because I wondered again if a few weeks down the road I would regret it if I did not. I got on a plane to Chicago and when I arrived I still thought "What the hell am I doing here?"
It was not until Sunday that I really began to find the joy in simply playing – it had been seven years since I had the chance to do that. It was phenomenal. It was amazing. And, I can not thank Nemesis enough for giving me this opportunity to love the sport as a player again. Also, I kept checking my twitter feed and noticed that Phoenix was spending some much needed bonding time together. Both parties are moving in the right direction and it makes me unbelievably happy.
I wish Phoenix and everyone on Phoenix the best of luck. I have every intention of stalking them and cheering them on throughout the series. I want to encourage everyone to reach out to Sharon [Tucker] and Michelle [Ng] (Phoenix Co-Captains) as they handled a difficult situation as well as anybody could have possibly handled it and I will be forever grateful for their friendship and leadership.
Anybody who has led a team can attest to the challenges inherent in that responsibility and it is not uncommon for people to take a step away from those responsibilities. What makes the situation unique is the short turnaround before Hack appeared on another roster.
Hack's account is also in dispute. Ng and Tucker said in a statement:
We had not planned to provide public comment on this topic, but we feel it is necessary to state that we respectfully disagree with the account of events leading up to Lindsey's resignation. We do not think that addressing this in a public forum is appropriate, and we would like to focus our efforts on moving forward with our team in a positive direction. We look forward to continuing to build the women's ultimate community in North Carolina, and we wish Lindsey the best in the future.
Sources close to the situation said that Hack had turned away from the core values that Phoenix places in the forefront of their team modus operandi. The first three of Phoenix's seven core values read:
We play for the love of the game.
We play for our teammates.
We are relentlessly positive.
Hack's statement reveals her struggling with the first value, and sources indicate that the latter two suffered. As one of the few remaining players from Backhoe, the predecessor to Phoenix whose team atmosphere helped necessitate the creation of Phoenix and its core values, Hack was one of the only links to the triangle ultimate women's past.
"I think that Hack wasn't having fun with frisbee, and hadn't in a long time, and it was probably better for her mental state," said one Phoenix player who spoke under the condition of anonymity. "As a player on Phoenix, it sucks to have someone quit right before the Series. But I think it's good for our team mentality."
Hack's statement notes that the move is to the benefit of all parties. Hack gets a fresh start with an elite team primed for a deep run. Nemesis brings in a player with a vast veteran knowledge and skillset, and a successful coach at the college level with UNC. Phoenix removes an element that was hurting their chemistry and rebuilding structure.
"Lindsey has a very high Ultimate IQ and blended in to our game at a level that didn't feel new or different to anyone," said Carol Li of Nemesis. "We hope the personnel moves we make will provide an extra push throughout the season."
Major roster moves are a part of every season, but the women's division has seen a number of midseason acquisitions of big names. Vancouver Traffic announced they added former Capital Danielle Fortin to their roster. Washington D.C. Scandal officially brought in another former Cap and Canadian World Games team captain Anne Mercier. The roster additions could help the teams challenge San Francisco Fury and Seattle Riot's dominance of the women's division.
Tagged Lindsey Hack, Michelle Ng, nemesis, phoenix, southeast, womens