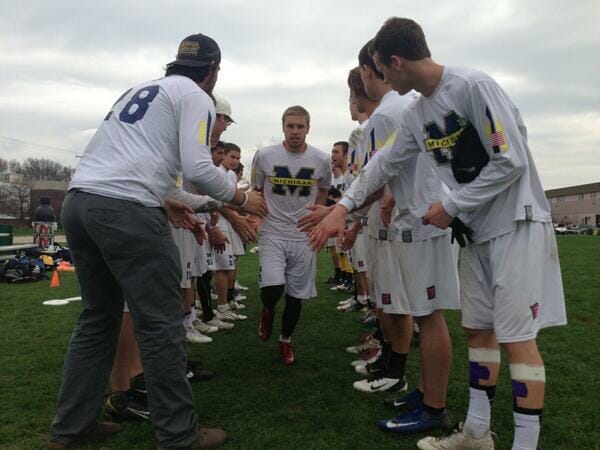 Think back to a few months ago: the Great Lakes was being put head-to-head with the Metro East as the country's worst region. A one bid 2013 saw Illinois advance and hardly make a dent at Nationals. The signs pointed to another weak year.
The Great Lakes teams rewrote the script. Starting with Northwestern's strong fall and big splash at Warm Up, the region has unfolded some of the best stories of the college season and nearly came away with three bids. Though they ultimately ended up with just two, it has been a vindicating season for an area of the country that is developing some excellent players.
The Great Lakes Regionals is one of the hardest to handicap in the country, with four strong teams all capable of taking one of the spots to Nationals. Here's what to expect. Read more →
Seattle made it famous. Houston and Chicago have capitalized on it. Now, New York is giving it a shot: the Combine. Slowly, cities are starting to team up during the team formation process, bringing all of the area players together for a combined tryout so every team can get a look at that year's talent.
This year in the Tri-State area, PoNY, New York City's top men's team, and Young Bloods, the city's newest men's team starting its second year, will be holding to area's first combined open tryout. Different from past years, both teams are beginning to focus on the long run, on developing talent a bit more than winning right away.
"The greater NYC area is bursting with hard working and supportive players, and PoNY is keen on cultivating just that type of atmosphere," said PoNY captain Milo Snyder. "From the weights to the track, and the sidelines to the scrimmages, these two clubs have already benefited from the collective and reinforcing energy of the other. This new ecosystem is huge for the region." Read more →
Here's a look around the semi-professional leagues from this weekend, where upsets were the big story and the home opener for the Montreal Royal continued to show that Canadians love their ultimate.
Here are this week's Major League Ultimate and AUDL Power Rankings. Game recaps are below.. Read more →
Watch the full game footage of the Paideia Cup finals between Carolina Friends and Holy Family Catholic:
Check out the San Jose Spiders' Beau Kittredge's huge Callahan against the Salt Lake Lions yesterday:
Here is Wisconsin's Sara Scott's Callahan video:
The DC Current defeated the Boston Whitecaps at the fouth quarter buzzer this weekend, handing the Whitecaps their first franchise loss. Here's how it went down:
Check out the highlights from Pittsburgh's 2014 regular season:
Check out the top 10 plays from the New York Empire's home opener v. the Toronto Rush:
Check out the highlights from Week 1 in Major League Ultimate: