Author Archives

Division III competition is as deep as ever. DIII Warmup highlighted some of the best teams in the nation. DIII Midwestern Invite showcased established programs and also served as a springboard for new competitors to enter the elite scene. DIII Easterns in late March will feature the best teams from a handful of regions and will allow Middlebury to defend their title against eager opponents. Natural State Invite will also host Nationals level teams in a DIII-specific setting.
The latest power rankings feature five teams from the Ohio Valley, four from New England, and at least one from all ten national regions. In their first full season as a team, Cedarville burst into the national scene by rolling through Midwestern generally unchallenged. A team reliant on upperclassmen, Cedarville uses a fast-paced, cutter-heavy horizontal stack to move the disc up-field. They move the disc quickly and exploit timely deep-looks to athletic receivers. None of North Park, Fredonia, or Kenyon were able to distance themselves from the rest of the competition and appear sixteenth, seventeenth, and eighteenth respectively in the rankings.
When the snow and ice thaw around the country and teams trickle back in from their spring break vacations, there's no question that DIII Ultimate will heat up. Contenders will emerge, strength bids will solidify, and we'll gear up for what will likely be the most competitive series that the young conference has ever seen. Read more →
Year two for DIII Warm Up; title two for the Puget Sound Postmen.
While the finals between Puget Sound and the St. Olaf Berserkers had the makings of a great game, the Postmen made clear that they came to Riverside, California, to defend their title.
UPS was eager for revenge after the Berzerkers had upset them early in pool play on Saturday. St. Olaf, on the other hand, was the surprise team of the tournament and was out to make a big statement in the DIII scene by capping off an undefeated weekend with a win.
However, Puget Sound used their big-game experience and their tremendous fitness to stifle St. Olaf's offense and control the entire contest, winning 15-6. Read more →
Can anyone dethrone the Postmen? That's the question for the rest of the Northwest this season. The University of Puget Sound Postmen have dominated the Northwest region for the past two seasons. In addition to being a perfect 14-0 at Regionals and winning most of their games by a wide margin, the Tacoma squad has finished as DIII runner-up in both 2012 and 2013. Late last season, Pacific Lutheran Reign looked ready to take on the Postmen but they couldn't get it together when it counted most. Can Lewis and Clark reestablish themselves as a Nationals contender? Will Whitworth shock the region yet again?
The Southwest has been a forgone conclusion for the past few seasons as well; the Claremont Braineaters are the cream of the (limited) Southwest crop. While anywhere from three to five teams have participated in the regional tournament, last season was a two-dog race. Don't be surprised to Claremont and Occidental squaring off in the game-to-go again this Spring.
With five West coast opponents facing off at DIII Warmup, we'll get an early indication of the front runners from the Northwest and Southwest regions. Read more →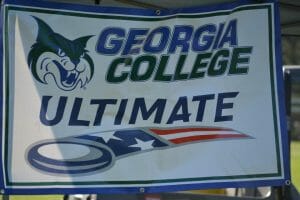 The Southeast D-III region has been plagued by a lack of teams as well as a lack of commitment. Last season, Georgia College Disconnected was granted a bid to DIII Nationals without participating in a regional tournament.
Georgia College Disconnected has had the most recent success. Having qualified for DIII Nationals for three consecutive years, marked by a 7th place finish in 2011 and, most recently, a 9th place finish in 2013, Disconnected is looking to qualify for DIII Nationals for a fourth consecutive year.
Disconnected placed no worse than second at every fall tournament they attended, including going undefeated at Battle in the Boro and Build a Bar Huckstop. A near perfect fall season (18-1, the only blemish being a 12-15 loss to Kennesaw State) saw Georgia College rarely challenged in their victories, albeit against less-than-stellar competition. They will need to face more hearty competition in the spring if they want to be a viable force on the national DIII scene. Read more →

Here are the late fall power rankings for Division III Open.
1. Amherst: Despite mixed fall showings, Amherst remains the top DIII squad. Everything came together for them during the series as it may again in 2014. Don't be surprised to see another team here as the spring goes on if Army of Darkness values development over wins. Read more →

These are Ultiworld's 2014 College Division III Open Division preseason Power Rankings. You can always check the latest rankings by clicking on the tab in the navigation bar.
***
1. Amherst: Amherst Army of Darkness was a young team that made it to the semis of 2013 Nationals before fatigue caught up with them. With another year of their vertical stack system under their belts, their younger players should flourish. They've played close with Vermont and a good UMass team this fall. Read more →
The author plays with 7 Express, who attended the Chesapeake Invite this weekend.
With four regions in attendance and a variety of Triple Crown flights facing off, the Chesapeake Invite Mixed Division proved to be entertaining and compelling. For some teams, the tournament was their first opportunity against high level competition while for others it was tune-up before the series. With many upsets and close contests, Chesapeake's results will surely have an impact on this week's rankings. Read more →
This article is part of our new, expanded New York City coverage. For more, follow @UltiworldNYC on Twitter and stay tuned for a dedicated New York-focused blog.
As the regular season winds down for many club teams, New York's elite mixed squad is only beginning to explore their full potential.
With six key players playing professionally for the AUDL's New York Empire, 7 Express is only now putting together a full roster.
"We went into this season with the understanding that a number of our top males would be competing in the professional leagues," said captain Shaun Krieger. "We are excited to have them back into the mix to bolster our rotations." Read more →
The DIII College Championships continue to gain prestige each year as the talent in the Division rises every season. The top sixteen teams in the country are set to face off this weekend in Milwaukee, each looking to finish at the top of the podium.
Powerhouse programs like Puget Sound and Carleton GOP will face off against newcomers like John Brown across three games of pool play on Saturday into the Championship play on Sunday.
Here's a detailed look at each of the teams and pools. Read more →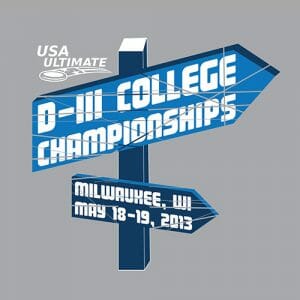 As DIII Nationals rapidly approaches, qualified teams are prepping for their biggest tournament of the season. Given the spectrum of talent at the DIII level, some teams walked into this tournament while others surprised themselves with great play at Regionals. Similarly, a lot of teams will be using this as a learning experience, not as an opportunity to win a National title.
Although the D-III Women's division still lacks the same across-the-board dedication we see at the D-I level (e.g. two teams passed on bids to Nationals this year), there are some star players that would be nationally known if they played on a more widely watched team. They'll get their chance to shine at this year's Nationals.
Ultiworld will be reporting and shooting video of the D-III College Championships all this weekend, including the biggest women's games.
Here's a look at the teams by pool (with their overall seed in parentheses). Read more →