Author Archives
Harvard Redline currently sits at #7 in the Ultiworld Power Rankings. But are they a #7 team that could upset one of the top dogs, or are they a notch below the elite?
We sat down with game tape and broke down the Harvard offensive performance from Queen City. The lessons of what worked well and what didn't is useful information — both for opponents and other teams with similar vertical stack issues.
Video analysis shows that Harvard is blessed with great young players, a lack of selfishness, and solid skills down the roster. One big positive was Harvard's disciplined reset-reverse system, using short passes to create larger yardage gains off upfield swings.
Their downfield cutting system, however, needs to grow if it wants to make an equal contribution for the team offense. Cutters did a few things well, such as boxing out defenders for tough under catches, timing important swings, and getting the disc back to the handlers. Frankly, that's better than many college teams can do. But flaws on important fundamentals, like crowding in lanes, cutting off of important vertical angles, and inconsistent deep cutting held Harvard back. Some of these issues didn't hurt Redline in games against less-developed teams at Queen City, such as Iowa and Michigan; nonetheless, they'll need to avoid reinforcing bad downfield habits if they want to the compete against the more athletic and experienced college teams. Read more →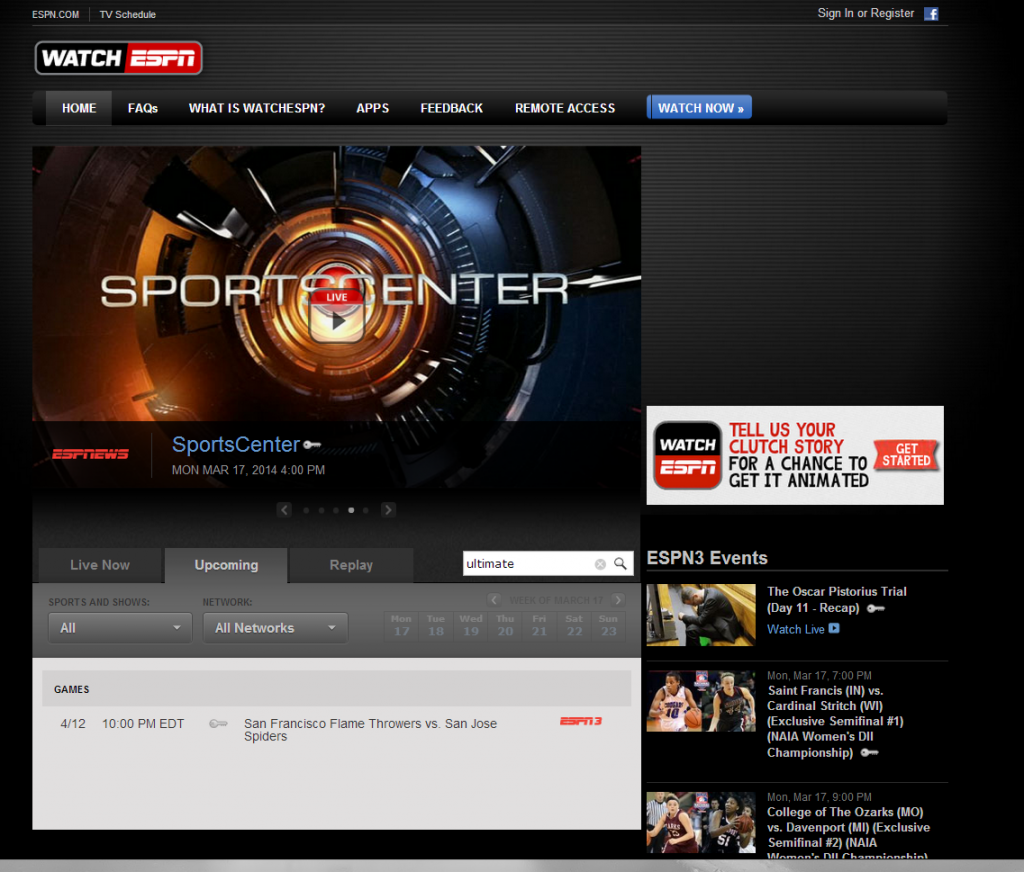 According to screenshots on ESPN3.com, the American Ultimate Disc League (AUDL) will have its April 12th game between the San Francisco Flame Throwers and the San Jose Spiders broadcasted on ESPN3, the online streaming platform for the world wide leader in sports.
The move comes almost exactly one year after USA Ultimate announced its own partnership with ESPN3. During that time, ESPN has provided live coverage of the USAU College Championships, the US Open, and the USAU Club Championships. The April game between the Flame Throwers and the Spiders is the only AUDL game currently listed in the upcoming section of ESPN3.com, but Ultiworld expects that a finalized deal will include regular broadcasts.
When reached, the AUDL said it had no comment on the screenshot and would neither confirm nor deny an ESPN contract, potentially suggestive of a sitaution where the deal or deal specifics are still awaiting finalization.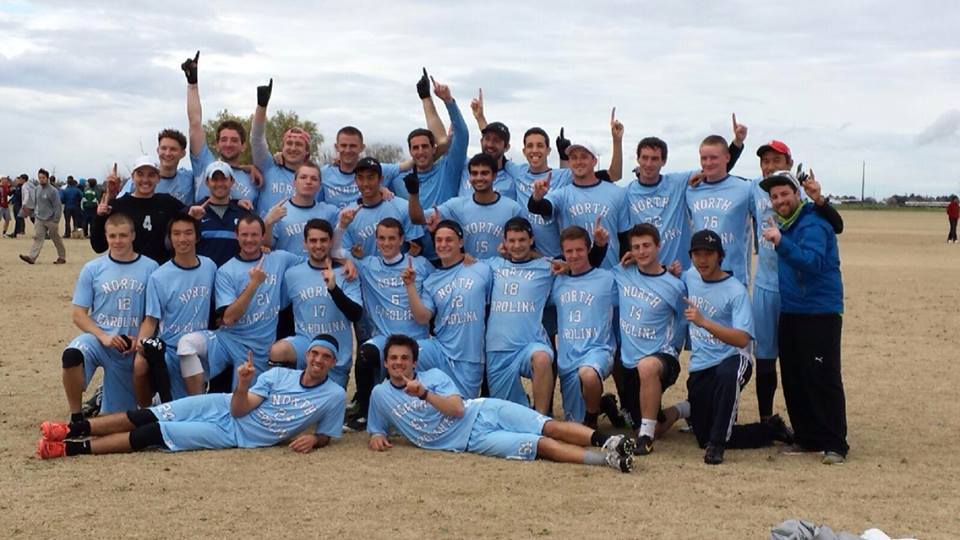 This year's Stanford Invite was defined by wind, rain delays, and upsets. Three out of top four seeds dropped at least one game in pool play and only UNC advanced past quarterfinals. Saturday's wind forced teams to play field position and the unifying downwind strategy was simply "huck and play D."
Sunday was a different story.
The UNC-Colorado showdown in quarterfinals was an instant classic, pitting the two most athletic, star-studded teams in college ultimate against one another. Better conditions on Sunday allowed us to see more meaningful tactical decisions, incredible individual performances, and the high level of play we are accustomed to at the Stanford Invite.
What players, possessions, and adjustments had the biggest impact on the game? How was UNC able to start so comfortably, end a bit shaky, and yet still pull off the win of the season so far? We break down the tape.
It's Sunday.  It's windy.  The high, blady pull lands on your goal line, and after stopping the roll, you look up to see four defenders standing within fifteen feet of you. Your coach warned you this might happen. But the defensive look makes you nervous, anxious. The six other guys who jogged off the line with you remain stagnant for a few seconds, assessing the situation and trying to decipher the yells of screaming teammates. You've caught your breath by stall four, but your heart beats faster as your internal clock starts to warn, "Move the disc before you get stalled!"
Where should you turn?  Where shouldn't you turn?  Here are some mistakes to avoid when navigating a zone look.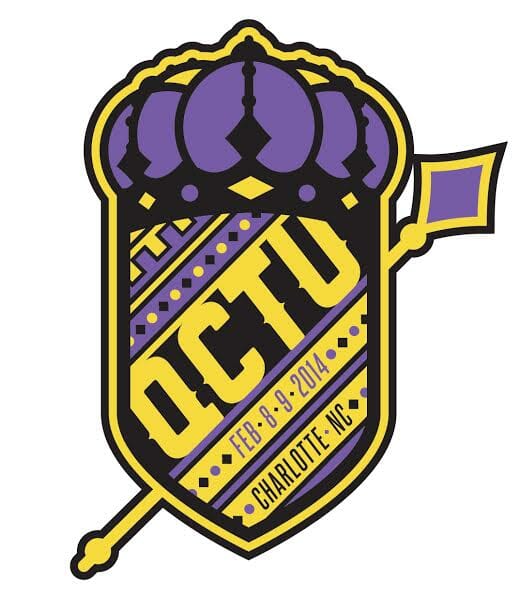 Ultiworld is excited to bring you complete coverage of Queen City Tune Up, February 8th and 9th in Charlotte, NC. Ultiworld will be providing live reporting, in-depth previews and recaps, and video on demand at Queen City — one of the premier tournaments of the entire college season.  And yes, we will be covering both the Men's and Women's divisions.
The tournament will serve as one of the first true tests in the college regular season.  Tournament host University of North Carolina Darkside comes into QCTU ranked #1 in the Ultiworld power rankings and seeded #1 in the tournament overall.  They also have two tournament victories in a row and will have to guard against complacency.  Darkside will also have a big target on their back: Any team that can notch a win against UNC will give their region a much better chance of notching a strength bid.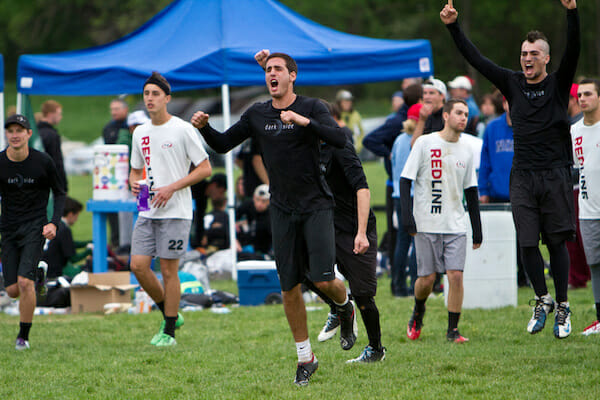 We're not even really into the true College Season yet – making ranking, analysis, and storylines difficult to predict.  But a few big-name programs brought back tons of club talent and, even in preseason, looked poised to make a Nationals run.
UNC is one of those teams and their contender status is certainly bolstered by impressive fall results.  But what really impressed us from the Classic City Classic video was the variety of offensive looks from UNC, especially from their offensive line. To have a slate of three or four advanced offensive plays by the end of the fall is particularly impressive, given how it is still early in the season.
The AUDL's San Jose Spiders continued their run as the semiprofessional Ultimate team with the most impressive off-season this morning, as news broke that they were on the verge of completing the signing of Doublewide's Kurt Gibson.  Gibson, a national champion at both the college and club level, will give the Spiders three of Ultiworld's seven All-Club players from the 2013 Club season.  The Spiders will be one of the most top-end talented Ultimate teams in the world, either club or semiprofessional.
Ultiworld has now learned that the contract is official and Gibson will indeed be playing with San Jose this summer.
You might have expected that the semifinals and finals of the Club Championships, hosted in front of a stadium crowd and a live ESPN3 audience, would have showcased the most exciting and competitive Ultimate matchups of the season. Unfortunately, many of those final games were unclean or lopsided; exciting as it was to witness some teams perform so well, most sports fans yearn for a close game.
Seattle Sockeye and Boston Ironside's matchup in the semifinals was the notable exception: a double game point instant classic that we unanimously ranked as the best game of 2013. Both teams were peaking from earlier regular season ups and downs.
The high quality play led to some interesting tactical decisions that may have helped tip the scales. Yes, credit to Sockeye for pulling out the win, but when a two-hour game is decided by a single break, you are effectively looking at two evenly matched and equal teams. We re-watched the game and tried to keep track of some of the most impressive – as well as some of the more questionable – decisions that played a role in the game. Read more →
Looking for a great gift for an Ultimate friend or family member? Worried about not having anything to do during the holiday glut of family time? Want to watch the best athletes and the most exciting games we filmed in 2013?
Purchase the best of 2013 club video package here on Ultiworld, presented by Spin Ultimate. For just $12, you can watch our 8 favorite games we filmed this club season. Watch the best men and women in the game playing at the toughest tournaments — at only $1.50 per full game!
The AUDL announced on Tuesday that Toronto would be hosting the 2014 Championship Weekend on July 26th and 27th.  Along with the World Club Championships — which come one week later (August 2nd-9th), the AUDL Championship Wekeend becomes one of the first marquee events to land on the increasingly-busy (and seemingly compressed) summer club schedule.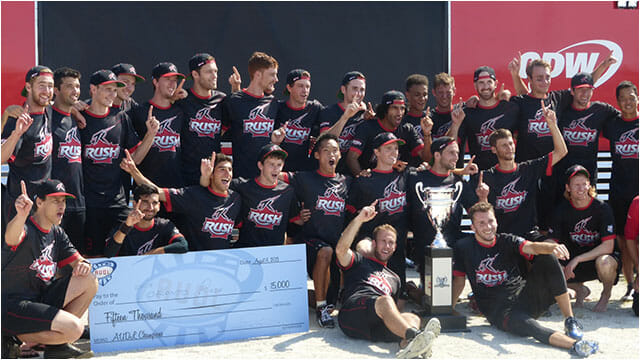 In some respects, the AUDL had little choice about where to place the 2014 game. Attendance league wide, including at the Championship Weekend in Chicago, was underwhelming in 2013 and lagged behind rival MLU's figures. The major exception was in Toronto, which routinely drew in the 1-2,000 fan range, including 2,400 fans during the top-attended game. With the AUDL seeking to bring in sponsorship partners and more media coverage, doubling down on a known quantity and fanbase was a safe, smart move.
The decision hands the defending champions, the Toronto Rush, a significant home field advantage. The undefeated Rush were largely unchallenged when they played at home in 2013, facing resistance only once they played in the Championship Weekend semifinals and finals (the 2013 playoffs were held in Chicago). Midwest favorites like the Chicago Wildfire and the Madison Radicals could be further disadvantaged by the Toronto selection. And while a hometown win will be great for Rush fans, there is also the risk that a blow-out win attracts less fan interest.