Analysis

With the college regular season now completed, the Callahan race is now the talk of the division. The nomination process has closed and candidates have had their chance to state their case on the field. The next step is the marketing process: Callahan videos, endorsement posts, and the like.
Our Callahan Power Rankings now reflect the race based on which candidates have been nominated. Here's a look at the top candidates from each division. Read more →
What is wobble? How does it relate to the spin on the disc? And why are some people so much better than others at throwing upwind?
I've been asking around a fair bit recently, and it seems that everyone I speak to tells me that wobble is essentially a lack of spin. This hints at the truth in an important way, but it misses some key ideas. And the implications of these ideas are pretty significant – particularly if you're throwing into the wind.
---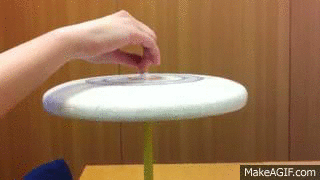 Wobble is actually pretty easy to define.
When objects spin, they do so about a particular axis; you can see it visually here. (All rotation is about some axis, though there's usually no stick to show where it is.) When the axis is perpendicular to the disc – e.g. a horizontal disc and a vertical axis, as it (nearly) is here – there will be no wobble, regardless of how fast or slow it spins.
---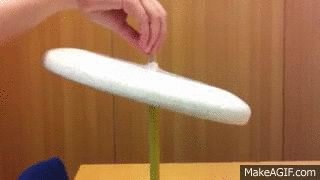 If we keep our vertical axis of rotation, but move the disc away from the horizontal, this is what happens.
Wobble is no more or less than the axis of rotation being something other than perpendicular to the disc.
With Richmond and Messiah reinstated after the initial rankings, we finally have concrete results in Division III.
WPI finished the season without a loss and ended up ranked third overall. They seem over seeded but it was enough to earn New England a third bid after it looked like they may only get one. Middlebury, Brandeis, Wentworth, and Bryant will be hunting for their bid.
The Metro East, New England's neighbor, ultimately couldn't come up with a second bid. SUNY Fredonia, Stevens Tech, and SUNY Geneseo will duke it out for the lone spot in Ohio. Sunday at Garden State getting cancelled likely hurt the region. Read more →
Things seemed quite settled earlier this week when the women's preliminary bid allocations were announced by USAU, with possibly drama coming out of the Southwest. The discussion since had been centered on the dominance of the Northwest, who captured a record 6 bids to the national championships. However, late Friday night news broke, revealing the Southwest would receive 3 bids, courtesy of UCLA, at the expense of the Atlantic Coast (via North Carolina).
The Northwest Conversation
After the Northwest's preliminary status as a record-breaking 6 bid region was solidified, a conversation started by Lindsey Hack spread around the women's Ultimate community. The questions were the why & how of the Northwest's dominance – they've also won three of the last four College Championships – and what its impact or statement about the division was.
With Brown and Central Florida getting not only reinstated in the rankings, but also reinstated into the top 20 ensuring bids for their region, the picture of bid allocation we saw fleetingly on Wednesday and Thursday looks much different now.
The Great Lakes and North Central watched their bubble teams get muscled out to make room for Brown (New England) and Central Florida (Southeast).
On Eligibility
There are going to be frustrated teams griping about Central Florida, who only had results from one of their major tournaments — Easterns — reinstated. It ultimately proved to be a boon for UCF, because their two weakest tournaments were not counted; they even moved up in the rankings. It also helped the LSU's performance at T-Town Throwdown — which included a win over UCF — was not included in the algorithm. Read more →
During my six years of playing ultimate frisbee, I've been injured — to the extent that I can't play — for almost two of them. And I'm sure I've spent even more time playing through injuries.
I'm not alone: while there isn't any recent data on the extent of injuries in ultimate, I'd be surprised to meet a competitive ultimate frisbee player who hasn't sustained at least one acute or chronic injury. I'm not going to argue that we run faster, jump higher, and go harder than other sports, but we do it for longer — eight hours a day, sometimes — and without the recovery awarded to other sports.
A post-injury rehabilitation program incorporates many components, including surgery (in some cases), rest, physical therapy, strengthening, and conditioning. But what I see missing is a nutrition component. Critically ill patients who are admitted to intensive care units undergo nutritional therapy to promote healing — so why shouldn't injured athletes, who are dealing with significantly smaller injuries, but injuries to tissue nonetheless — follow similar protocols? Read more →

Following Women's Centex and the Northwest Challenge, there has been a lot of movement in the Power Rankings. Let's take a look at how each team arrived at their current ranking, as the Series lurks just beyond our line of sight.
Ohio State: Fever's undefeated run means they've won their last 21 and haven't lost since mid-January. They decimated most competition at the Northwest Challenge and their performances against Washington and Oregon spoke for themselves. They look like a complete team with all the tools needed to win the title. Read more →

Its been quite some time since the castle atop women's college ultimate has flown any flag other than Oregon Fugue's. Sunday, basked in the glory of actual sunshine (rather than gray rain clouds), Ohio State Fever broke through the castle gates and conquered the throne, ripping it away from the division's royalty. A 7-0 Northwest Challenge was adorned with a crown jewel: a 15-11 victory over Oregon.
Both teams were undefeated – Oregon 6-0, Ohio State 5-0 – going into their highly anticipated Sunday matchup, a certainty thanks to the tournament's pre-arranged format. The two impressive programs, both making deep runs at the College Championships last year and boasting some of the nation's most talented players, were mostly chewing through the NW Challenge squads, setting the stage for a major showdown.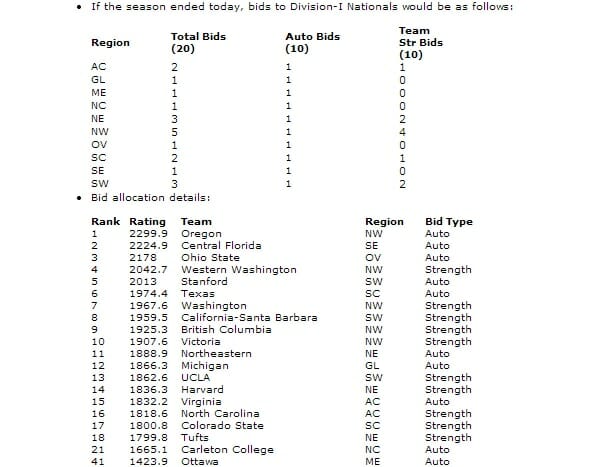 The South Central stands in probably the most precarious spot of any region at this point. They have a definite top team in Texas (UW #10, USAU #6), but both Colorado State (UW #24, USAU #17) and Colorado (UW #14, USAU #19) are hovering right around the 18th spot cut off. While Colorado State's season is wrapped up, Colorado will be in action at the Northwest Challenge.
The Challenge will have some major effects on what happens with these final bid spots. A glut of on-the-fence squads will get to face off: Colorado, Tufts (UW #8, USAU #18), Whitman (UW #17, USAU #20), Carleton (UW #13, USAU #21) will all play a role. Carleton, as the top ranked team in the North Central, could move the bid line down a spot if they move up. Read more →
It's that time again for the college series to start up, which means that as per usual a handful of Southwest teams will have to grind it out to earn one of the region's precious bids to Nationals. The only thing that's different about this year is the fact that just one team will make it.
For the first time since 2007, when a Colorado team took the sole spot and fell only to Wisconsin in the finals of the College Championships, the Southwest Region earned just a single bid to Nationals this year.
Though the rankings have yet to be finalized, with only UC San Diego (#12) in the top 20 and Arizona State (#22) dangling a precarious few spots away from earning another strength bid, unless some teams get disqualified or some sanctioned tournaments pop up out of nowhere, the region looks to be in for a bloodbath at Long Beach come the May 3-4 weekend. Read more →