Equal parts intimidating and intriguing, the Major League Ultimate fantasy game favors the informed.  With up to eight players in a league and ten rounds of draft picks, you might feel by the end of your draft that your picks are mostly guesswork. Certainly MLU hopes that many of these names will become nationally-known by the end of its inaugural season. But, in the meantime? Ultiworld put together a draft kit that has you covered.
First, take a look at a crowdsourced top 50 picks, ranked by the number of times each player has been drafted in leagues so far. Then scroll down to see a mock draft from our own league of five Ultiworld writers and one guest contributor (Ring of Fire and Team USA's Brett Matzuka), including analysis for why we picked who we did. Read more →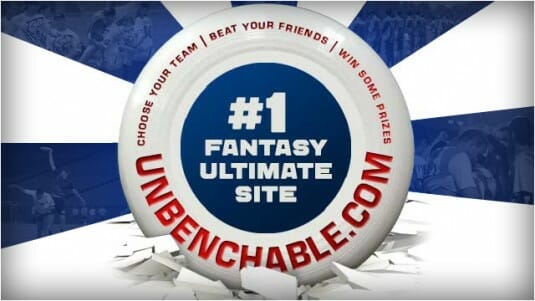 The dream is becoming a reality. Fantasy ultimate, normally reserved as a sideline game to play as you watch the finals of a tournament, is coming into its own on the Internet. Earlier this week, the American Ultimate Disc League announced their new online fantasy game. Log in with your Facebook account, and you can pick players each week. Scoring is tracked
Scoring is straightforward: scores, assists, and Ds are +1; turnovers are -1. You can also take a player as "negative," reversing the scoring. Stats will be kept through Leaguevine. Pick smart and you can win some nice prizes.
Major League Ultimate has yet to announce their fantasy game, but it is in development by Ultiapps, an Ultiworld partner.
Ultiworld is pleased to announce our new fantasy coverage, which will run alongside our statistics work throughout the professional ultimate season. Since today is the season opener for the AUDL, we begin there. Read more →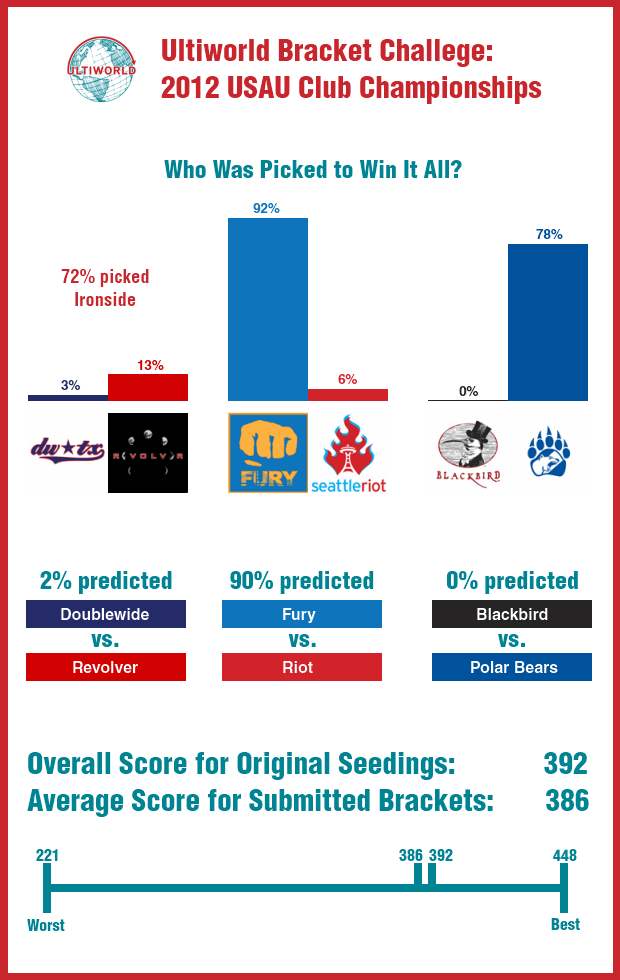 Sunday saw the 2012 USAU Club Champions crowned amidst heavy winds and fierce competition. Those were not the only winners announced though. With all the final scores in, Ultiworld published the final standings to our Bracket Challenge. Read more →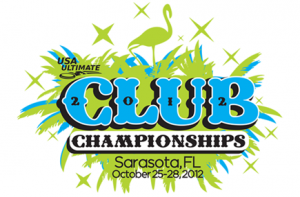 You have three days in order to submit your finalized brackets in the 2012 Ultiworld Bracket Challenge sponsored by VC Ultimate/Printed Performance and Ulticards. That's plenty of time to do some hard thinking about matchups, pools of death, darkhorses, and upset likelihoods. We want to help you do that.
We have put together below a huge list of resources to help you as you fill out your brackets for each division, including links to game tape, relevant write-ups, and more. Let's get started. Read more →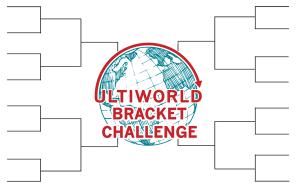 With the USA Ultimate Club Championships right around the corner, everyone is speculating on who will win this year's title. Will Revolver repeat or is Ironside prepared to finish the job this year? Can anyone stop Fury? Will The Ghosts stop the West Coast's dominance in the Mixed Division?
Answer those questions correctly and you can win great prizes in the inaugural Ultiworld Bracket Challenge presented by VC Ultimate/Printed Performance and Ulticards. The game is simple: pick winners in pool play, selecting who you think will advance to the quarterfinals. Then choose the order of finish in bracket play. You get points for correct picks. If you earn the most points, you can win great prizes. Every division* will have three winners — and the highest overall points getter will be the grand prize winner! Read more →