Opinion
Welcome to the second edition of the Thursday Mailbag! With the College Series and the Pro Seasons underway, there's a lot of good questions this week. We're gonna kick things off with the question of the week (mostly because I enjoyed answering it the most) from Tom Cavanagh. Tom, you win a free pair of video downloads from our store.
Remember, you can win prizes just by sending in good questions or comments. Leave them in the comments, send me an email (charlie@ultiworld.com), or tweet at me (@ceisenhood). Read more →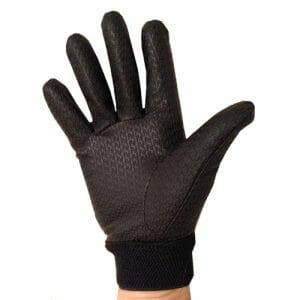 In light of some recent rules changes in MLU, which kicked off its second season this week, here are some rules changes that I'd like to see WFDF make:
1. No Gloves
Imagine you turned up to a tournament and were faced with a strong wind, strong enough to limit the range of even your best throwers to, say, 30 yards.  Now imagine that one of your opponents brings onto the pitch a handheld device they have invented which reliably pings an Ultrastar 60 yards upwind.  You'd probably think they had an unfair advantage.
Interestingly, there is nothing in the current WFDF Rules to prevent anyone using any equipment that assists throwing.
Of course, if such a rule was enforced, then where do you draw the line? There has been a recent trend towards playing in gloves. Read more →
I went to the opening day for the MLU's Boston Whitecaps this past Saturday, with the intention of seeing some friends and family, checking out the new venue, and watching some ultimate. This year, there seems to be more hype than ever around the semi-pro leagues. I was looking forward to seeing how the overall experience compared to last year's games and an AUDL Connecticut Constitution game I attended in 2012.
This is anecdotal, biased analysis from someone who is most likely not the targeted audience for these games. I tried to see the event through non-ultimate eyes. I sat with Boston players and some Dads with boy babies. There is absolutely no data here. Read more →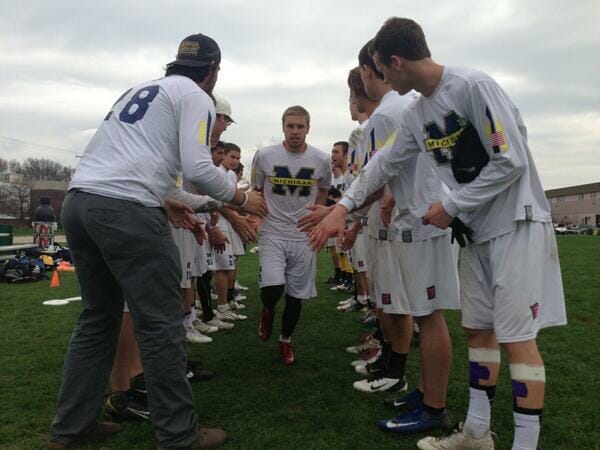 Welcome to the first ever Thursday Mailbag! It's off to a horrible start by going up on Friday instead of Thursday. But this will become a continuous feature and (I hope) a plentiful source of scattered thoughts and ideas from readers. I spend a lot of time writing a lot of formal articles — here I'll take a page from Bill Simmons and chat it up a bit.
As I mentioned in the Editors' Blog, every week, we will be giving away a prize of some kind to the best comment or question. Send in something insightful, funny, smart, or entertaining; win free stuff. It really is that easy.
Let's quit with the intro and get right into the emails and tweets (these are all real submissions!). Read more →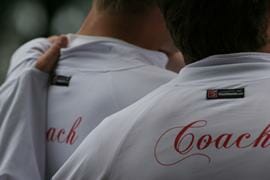 Sometimes my brain hurts from trying to keep up with all the ultimate news. Daily I read at least four sources (yes, I still go to RSD), as well as most of the comments. I check blogs and emails and texts and Facebook and, alas, Twitter, as of a week ago. I spent most of the last two weekends glued to Ultiworld's live streaming on my laptop, while watching muted March Madness games in the background. Something is clearly wrong with me.
I balance this all out by running Level 1 Coaching Clinics for USAU. Since November, I have traveled to Connecticut, Pittsburgh, New Jersey, Rochester and Maine to spend most of Saturday teaching this curriculum to new, old, and aspiring coaches. We spend the morning discussing ethics and spirit, as well as looking at liability issues and insurance. After lunch, we move onto the fun part of the day: teaching techniques, a mock clinic, and tips on how to run an effective practice. If there is time left, I sneak in an abbreviated version of Mental Toughness 101. Read more →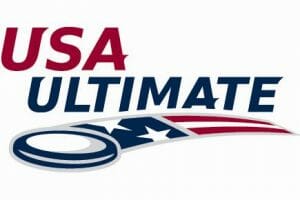 After two full years since the launch of semi-professional ultimate, USA Ultimate has finally announced an official policy outlining their relationship with the semi-pro leagues. Good for them.
Whether or not you agree with their findings, you have to commend the governing body for making their position clear: "USA Ultimate will not promote, partner with, or otherwise formally recognize or endorse the AUDL or MLU at this time. This decision is based on several fundamental and philosophical differences and operational conflicts between USA Ultimate and these leagues."
Now, instead of what has often felt like passive-aggressive hostility towards the two leagues, there is an official position, codified by a vote from the board of directors.
The next board election may be one of the most important in years. It is likely candidates will run on this issue; USAU members will have a choice about who they elect. Do you want USA Ultimate staying away from the pro leagues? Vote for the candidate taking that position. Want them going more big tent? Vote for that person.
This is no longer a nebulous issue, loosely defined by occasional quotes on Ultiworld from USAU CEO Tom Crawford. The governing body has made their position crystal clear. If you don't like it, you can work to change it.
Let's talk now about why it should be changed. Read more →
As the co-founder of the AUDL's San Francisco FlameThrowers and a long-ago men's Club player myself, I have been following the development of the USAU's Triple Crown Tour with keen interest.
Tyler Kinley's excellent recent piece caused me to sit up and take notice. We at the FlameThrowers certainly don't think of ourselves as revolutionaries, but it occurs to me that USAU, and even some players, may view us that way. To us, the development of professional Ultimate is about bringing a dynamic, spectator-friendly sport to the broader audience it deserves, and is a natural evolution in the history of the game.
Let me say from the outset that I have incredibly high regard for USAU. I am an active (USAU-certified) youth coach, and found the Coaching Development Program to be invaluable in my own efforts to teach the sport. I believe a strong and vibrant players' association is an absolutely critical component of building the sport of Ultimate, and the question in my mind is how the USAU and professional leagues should work together to promote and grow the sport we all love.
Fortunately, there is a readily available model for constructive interaction between USAU and professional Ultimate. Many sports feature national governing bodies working alongside professional leagues: US Soccer & MLS, USA Basketball & NBA, USA Hockey & NHL. They are mutually exclusive, and, although there are occasional conflicts, they generally support each other's efforts in their respective sports.
In all of these cases, the professional leagues offer elite regular competition, and the national associations promote the sport's development and select teams for international competitions, some of which are still considered the pinnacle of the game (think: World Cup). In the individual sports of tennis and golf, the national associations (USTA & USGA) continue to sponsor annual tournaments (the US Open in both cases) that are also "career wins" for any player. The emergence of pro Ultimate does not necessarily diminish the USAU Championships, and ensuring that players have maximum freedom of choice across all facets of the game seems an obvious win-win for the sport.
Pro leagues and their teams on the ground are bringing Ultimate to new fans every day. Those same fans will want to watch their favorite pro players in the USAU Open and Mixed series, and inevitably discover the amazing women athletes in the Mixed and Women's game. I believe the USAU should seize the opportunity to work hand in hand in cooperation with the pro teams to take Ultimate to the next level of public awareness.
These are my own personal views, and do not necessarily reflect those of the AUDL, or the SF FlameThrowers.
I've been thinking a lot about what my friend Tyler Kinley wrote in his aptly named column (Tyler, the guy, is both Short & Sweet) last week about recent movements in high level men's ultimate. While I agree with much of what he wrote, I take issue with his approach of passively analyzing those movements.
In his piece, Tyler describes growing frustration with USA Ultimate among players and sideline leaders, and how the AUDL and MLU have understandably welcomed these talented individuals with open arms. He closes by wondering whether we have seen the beginning of an exodus of top men's players from the USAU series, and whether a different championship — the Championship of Something –might be on its way to becoming the pinnacle of our sport.
Tyler diplomatically opts not to pass judgment as to whether this outcome would be good or bad. I'll also avoid the question of where it would be best for top-level men's players ("Us/We" if I may put myself in this group) to land. But, I believe that the sooner that this group can land SOMEWHERE, the better. It's the in-between stages that are going to hurt Us the most. Read more →
"Give sorrow words; the grief that does not speak whispers the o'er-fraught heart and bids it break." – William Shakespeare
Ask someone why they play ultimate and you'll get 100 different answers. Some love the competition, others love the culture, still others love the flight path of a perfectly thrown huck. Maybe it's some combination of all of those things and more.
At the highest levels of the game, among the top tier teams at the College and Club Championships, often the stated aim is winning a Championship. Others simply want to make Nationals. The goal is often about winning; that is what sports is all about, right?
It is in times like these that our thoughts turn to the deeper reasons we love the sport and the joy of competition. Read more →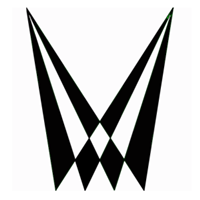 I went to bed on Friday night, looking forward to the next morning: breakfast and an estate sale with a friend, home by 11 AM to watch the first game from the Stanford Invite. One of my alums is on Colorado and I was anxious to see him play.
I woke up around 2 AM to a text from a friend in Chicago about the Carleton tragedy. Texted back and forth with him about the details and the devastation. Texted with my Mamabird player and posted something on Facebook. Saw the CUT symbol start to pop up as profile pictures. Messaged with another friend from Paideia. And never went back to sleep.
I suspect what I experienced that night was repeated in some form all over the country. I am one degree of separation from these young men and my heart aches for those who are much closer. I lose my breath when I think of their parents. Read more →