Other
Tis the season for merriment, family, and the exchanging of wrapped goods! With holiday cheer spreading like a virus, we know many of you – in classic Ultimate player fashion – are waiting until the last minute to pick up gifts for friends and family. The Ultiworld Not-Obvious Gift Guide is here to offer some ideas with gifts to stuff your blossoming handler's stocking.

It's been a while now, but it's still something I think about every day. The relentless wondering: what if I had played?
In terms of my life or any of my teammates' lives, really, if I'm honest, little would be different. But I feel the specter of that would-be universe running alongside this one every day. I look over and see the world where I didn't let down my friends and the team I love. I see no failure, whatever the score may be. And I see the other would-be me looking back, OK with himself. Happy, even. Then I see him and the rest of his would-be universe whisk away again, sure to return some other time, just to check in.
That ghost is the haunt of my final year playing with UCLA Smaug in 2012. Throughout the season, my co-captain and I worked damn hard to revamp the program and try our best to turn it into a Nationals contending team. For most of the season it was going well.  We had some of Smaug's best results in many of the tournaments we regularly attended.
But one night in early April, less than two weeks before Conferences, I got a call from USA Ultimate informing me that I was ineligible to play for the remainder of the season. Read more →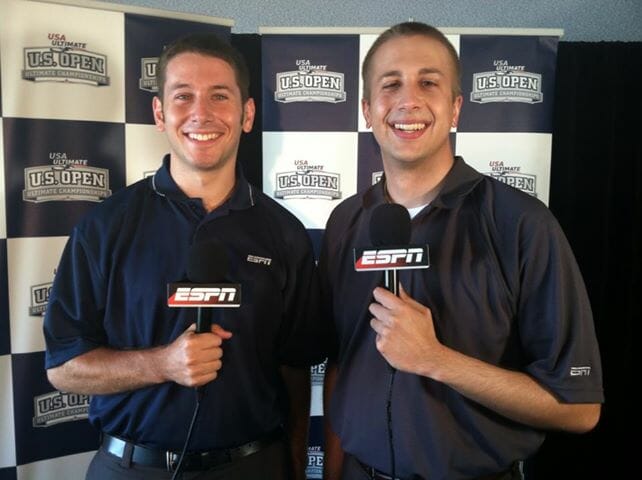 I just can't help myself when a number I'm not familiar with shows up as an incoming call on my cellphone. I have to answer. It's an innate curiosity, I suppose.
More often than not, that voice at the other end of that unknown number is a pre-recorded one, telling me I've won a free vacation. ::Click:: But sometimes, it can be a pleasant and unexpected surprise.
Back in May, I was sitting in my apartment and getting ready to head to work, when my phone rang and the area code flashed 860. "Connecticut," I thought to myself. "I wonder who that might be."
It turned out to be ESPN, asking if I had any interest in covering ultimate frisbee. "Sure," I said, "but is there going to be an expert I'll be working with? I don't actually know anything about the sport."
And that's how I got started calling ultimate. Read more →
A group of cows go into a room with an elephant. No, this isn't a joke. On a chilly Sunday morning in December of 2012, the returning veterans of Madcow gathered in the living room of Nate Botti's Columbus home, with one elephant in the room: "What are we going to do to make this season productive?" as captain Phil Cherosky put it.
The team was staring down a rebuilding year. A number of long term players were departing from or had already left the team, including names synonymous with Madcow, like Timmy and Jeff Meyers, Kevin Reichert, Jeff Kula, and Michael "Biggs" Groeber. The team's Indianapolis contingent was also choosing to separate. Some of those players had heavily influenced the personality and direction of the team. Even the team's player/coach, Rodger Oakes, was dropping the coaching role.
"A lot of us disagreed with some of the things that went on last year," said Botti, a five year veteran, "and we all agreed something had to change."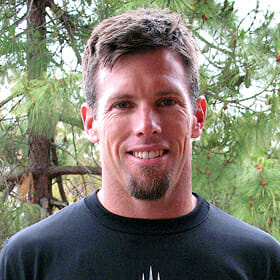 At 39 years old, Greg Husak isn't the typical player headed to Frisco for the Club Championships in the Men's Division. Then again, there aren't many players with multiple college, Club, and World titles to their name flying to Texas either.
After five years away from the sport, the West Coast legend is returning to Nationals with the team that earned him his stripes over a decade ago, the Santa Barbara Condors.
Husak began his playing career in his junior year at the University of California – Santa Barbara in 1994, before some of this year's Nationals attendees were even born. UCSB's team, Black Tide, came into the year with big expectations, but found themselves reeling after a brutal Sunday at Regionals left them outside of Nationals looking in. Perhaps it was the sting of that failure in his first season that drove Husak to become one of the winningest players ever in ultimate. Read more →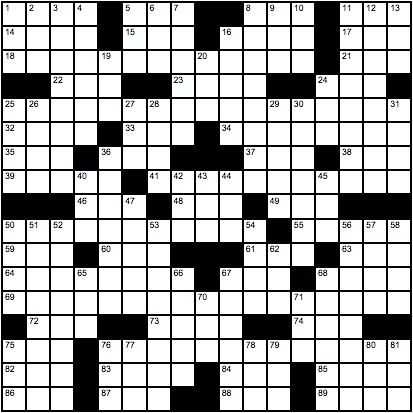 Pete Wentz, a player for Nationals-bound Mixed team Cahoots out of Asheville, North Carolina, put in the hours to make an excellent Club Championships themed crossword puzzle.
Yesterday on Twitter, he announced his creation, which is available as an online PDF or a free download.
The puzzle is accessible for even non-ultimate players, with descriptive clues like "Mixed Division seal-hunting critters' piece of concert equipment?"
Give it a shot — Ultiworld will be giving away a free disc to a random entrant who solves the puzzle and emails us the solution at editor@ultiworld.com!
With the finalized seeding now announced by USA Ultimate, speculation about pool play outcomes, prequarters, and National champions can begin. We want to know: which pool do you think offers the toughest challenge in each division on Thursday? Vote below!
Time Magazine wrote an article for this week's edition about the growth of ultimate. The author, Sean Gregory, spent some time with New York's PoNY. Here are their quotes in the story.
"Sorry, dude." – Anonymous
"Whenever I talk about it, I put 'pro' in quotes." – Jack Marsh, captain
"In college, you have time to slack off and work hours and hours to develop these skills." – Marsh
"It sounds like a guy was sitting around smoking weed and goes, 'Ahhhh, we're the coolest! We're the ultimate!' It's so goofy." – Andrew Wilkes
"We just need people to give us a chance. It's such a great sport…It's cheap — all you need is a Frisbee and a field. The spirit of the game encourages accountability. It's great exercise. It just has a little bit of everything." – Wilkes

The Pro Flight Finale offered up some of the best competition of the year as last year's top finishers at the Club Championships descended on Davis, California, for a final tune-up before the Series. Ultiworld was on the ground livestreaming games, which will be available in our archives this week.
Buy the PFF Tournament Package today and receive six games for just $12. There may be a bonus later this week, as we filmed some additional games. Buy the package here (see below for the games), presented by Spin Ultimate: