Lindsey Hack, the coach of the North Carolina women's team, started a great conversation on Facebook with this post:
"The NW with 6 bids is just bad for women's college ultimate. Yes, great for the NW. Bad for the entire division. Well earned? Not Really."
Check out the conversation that followed. Read more →
Wisconsin Hodag coach Hector Valdivia (also a player for the AUDL's Madison Radicals) took to Twitter last night with some very interesting thoughts on the club and semi-pro landscape. Check out what he had to say. Read more →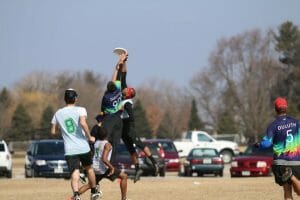 That's Eastern Michigan's James Highsmith going way up over Minnesota-Duluth's Marty Stecker at the Old Capitol Open. Click to expand. More photos here. Photo by Don R.
"Maybe Ultimate Frisbee at Middlebury isn't a job in the same way basketball at Kentucky is." – Grantland's Brian Phillips on determining how to pay NCAA athletes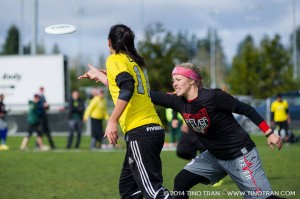 Check out the photo highlights from the Ohio State v. Oregon matchup at the Northwest Challenge. All photos by Tino Tran.
Live streaming video FREE the whole weekend! Watch the Northwest Challenge on the dedicated tournament page.
"If you ask me, 'Is it sustainable to have two professional, or semi-professional, Ultimate Frisbee leagues?' I'm going to tell you, unequivocally, 'No.' I mean, of course not. It's just a question of who has enough money and clout to make that happen in the next five to 10 years."
That's me, quoted in the Village Voice, which just published an article about the AUDL's New York Empire. Read the story.
I've received a lot of smart emails about USA Ultimate's position on the semi-pro leagues. There are two in particular that I want to share: one from Ultiworld's Ian Toner, the other from the parent of a current college player. Read more →
Follow Ultiworld's live video coverage and reporting all this weekend at Easterns on the dedicated tournament page.