I am going to be starting a mailbag column that runs weekly on Thursdays about topics across the sport. I want your questions and comments! All correspondence can go to charlie@ultiworld.com or @ceisenhood on Twitter.
To encourage quality questions and comments, there will be a weekly prize given out for the best submission of the week: discs, jerseys, video downloads. It will change week to week.
This week: win a free Ultiworld disc, just for sending in a great question, comment, or idea.
Here's a fitting end to the work week: another look at Michigan's Noah Backer getting the huge block to set up the game winning score in the finals of Easterns. Read more →
Mike Lovinguth, the Manager of Education and Youth programs at USA Ultimate, sent this letter to Ultiworld about the vision and purpose of the new Girls Ultimate Movement that we published about yesterday. Read more →
Lindsey Hack, the coach of the North Carolina women's team, started a great conversation on Facebook with this post:
"The NW with 6 bids is just bad for women's college ultimate. Yes, great for the NW. Bad for the entire division. Well earned? Not Really."
Check out the conversation that followed. Read more →
Wisconsin Hodag coach Hector Valdivia (also a player for the AUDL's Madison Radicals) took to Twitter last night with some very interesting thoughts on the club and semi-pro landscape. Check out what he had to say. Read more →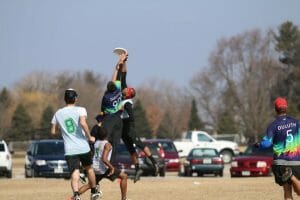 That's Eastern Michigan's James Highsmith going way up over Minnesota-Duluth's Marty Stecker at the Old Capitol Open. Click to expand. More photos here. Photo by Don R.
"Maybe Ultimate Frisbee at Middlebury isn't a job in the same way basketball at Kentucky is." – Grantland's Brian Phillips on determining how to pay NCAA athletes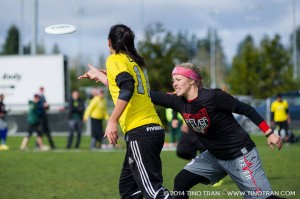 Check out the photo highlights from the Ohio State v. Oregon matchup at the Northwest Challenge. All photos by Tino Tran.
Live streaming video FREE the whole weekend! Watch the Northwest Challenge on the dedicated tournament page.