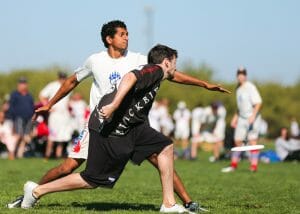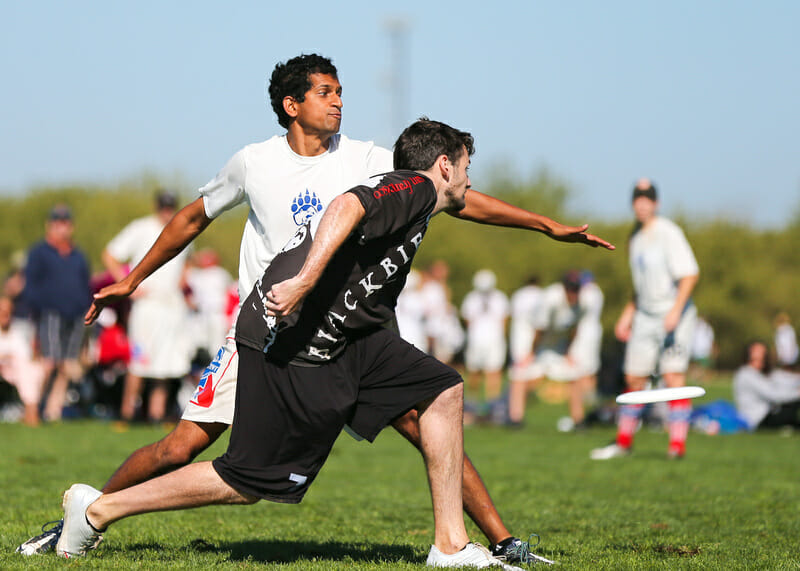 Seeding the Mixed Division this year is not an easy task. With most teams playing local tournaments, there are very few common opponents results to help work out the middle of the bracket.
A lot will depend on how USA Ultimate decides to weight the overall strength of the West Coast teams with the overall strength of the East Coast ones. We lean towards the West Coast.
Going by strict rankings and RRI doesn't really feel right with so few regional "crossover" games. Here's our best shot.
| Pool A | Pool B | Pool C | Pool D |
| --- | --- | --- | --- |
| Polar Bears (1) | The Ghosts (2) | Chad Larson Experience (3) | Drag'N Thrust (4) |
| Overhaul (8) | Mischief (7) | Odysseé (6) | Slow White (5) |
| 7 Figures (9) | Mental Toss Flycoons (10) | Blackbird (11) | American BBQ (12) |
| Cosa Nostra (16) | AMP (15) | Wild Card (14) | Bucket (13) |
Here's our rationale.
1. Polar Bears (San Francisco) – No losses in the series in by far the toughest section (Nor Cal)and region (Southwest). Combine that with their #2 end of season ranking (#1 Drag'N Thrust lost at Regionals) and the Polar Bears are the clear number one seed.
2. The Ghosts (Boston) – Excellent season and very strong performance so far in the Series.
3. Chad Larson Experience (Ames) – Could make a case for CLX at number two, but The Ghosts have the better resume. CLX's win head-to-head wins against Drag'N Thrust and Slow White puts them here.
4. Drag'N Thrust (Minneapolis) – Finishing the regular season ranked number one after an excellent showing at the Chesapeake Invite gets Drag'N Thrust the Pool D one seed. They beat Slow White at Chesapeake, which should get them the nod here. Won't really matter, as they will both be in Pool D.
5. Slow White (Boston) – Losses to the three teams above them late in the season lands a very good Slow White team with the fifth seed.
6. Odysseé (Montreal) – It's tempting to put Overhaul here, but Odysseé got an early season win against them that should get Odysseé the nod.
7. Mischief (San Francisco) – Very hard to seed in the middle of the bracket with so few east coast/west coast matchups.  Mischief's very close games against Polar Bears gives them the edge over Overhaul.
8. Overhaul (Ann Arbor) – #6 ranked at the end of the season, they could easily fall at number seven, but you have to make some arbitrary decisions with so few common opponents.
9. 7 Figures (Los Angeles) – More tricky seeding here. They came into the series ranked #22 but played very well at Regionals, earning the third spot out of the Southwest. Their head to head win against Mental Toss Flycoons helps them out.
10. Mental Toss Flycoons (Missoula) – MTF's RRI has shot through the roof after a very strong Regionals win, bumping them up to number 10.
11. Blackbird (San Francisco) – Loss to MTF and higher Regionals finish than American BBQ makes this one easy.
12. American BBQ (San Francisco) – Clearly a step above the teams below them. They only lost to two teams at Regionals (7 Figures and Polar Bears) but ended up with the last bid. Some very strong wins earlier in the season.
13. Bucket (Atlanta) – Beat AMP and Wild Card at the Chesapeake Invite. The tough thing about Bucket is that the only other possible seed for them is #9, because of the craziness of the Southwest region. That seems too high, so they're here.
14. Wild Card (Amherst) – Beat AMP twice during the regular season, easy pick.
15. AMP (Philadelphia) – No real quality wins, but they get the nod over Cosa Nostra just on regular season ranking and RRI.
16. Cosa Nostra (Austin) – Played a close game against CLX, but doesn't have much serious competition other than that. Could easily surprise from the 16 overall seed.
Photo courtesy of Daniel Tjioe of Ultiphotos.