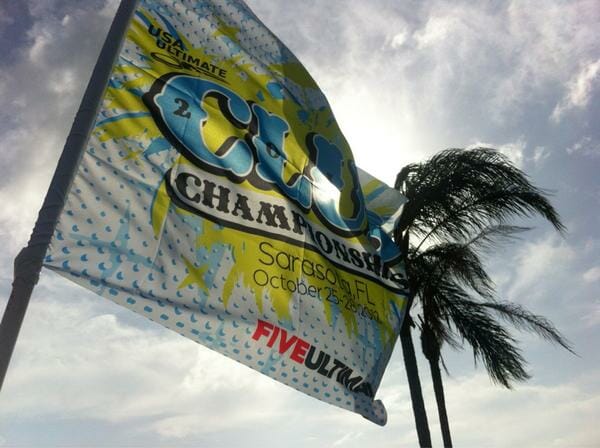 Here are some notable results from the first round of power pools. The wind was a major factor — a 20 mile-per-hour upwind/downwind situation made crisp throws critical:
Seattle's Sockeye dominated their Regional rival Portland's Rhino 15-8 and look back on track after a round one loss to Minneapolis' Sub Zero yesterday. Sockeye, looking comfortable in the wind, has really tightened up their offense. Danny Karlinsky, a Sockeye captain, said that they feel great today.
He attributed the loss yesterday to a combination of early morning, a strong defensive effort from Sub Zero, and sloppy execution. "Maybe we overlooked them a little bit," he said. They now face Boston's Ironside in a big early test to determine seeding for tomorrow's bracket play.
---
Even for the most sure-handed teams, the wind in Sarasota is becoming a serious factor. In the morning match-up between Pool F's top seed San Francisco's Revolver and third seed Boulder's Johnny Bravo, gusting winds led to an unusually sloppy game between the perennial contenders. Even though the score was close until the last portion of the game, Revolver seemed in control pretty much the entire time as they took the lead early on and never trailed.
The conditions weren't ideal but Revolver captain Ryo Kawaoka said that since their "practice fields are right next to the bay, " it's nothing his team isn't used. He added that the windy conditions require two things: "patience and determination." They had those on hand, and Revolver was able to handle the inconsistent gusts to increased their lead towards the end to win 15-11. They have a big matchup against Austin's Doublewide that will be streamed live by USA Ultimate.
---
After going up 11-8 and looking in control, Vancouver's Furious George couldn't score late as Minneapolis' Sub Zero mounted the huge comeback to win 15-12. Furious is now looking almost out of contention for quarterfinals and will need a big win against Chain to have a shot at getting through. Sub Zero has now notched two big upsets, after a win against Sockeye yesterday morning. Sub Zero still has a shot at prequarters if Furious can get past Chain.
---
Austin's Showdown keeps their Cinderella story going! After going 3-0 yesterday, the overall 12 seed got an epic comeback win against Boulder's Molly Brown in overtime, 16-14. Molly Brown was on the doorstep up 14-12, but gave up four straight in the tough conditions to set Showdown up with an opportunity to take the two overall seed in bracket play with a win against Seattle's Riot.
---
San Francisco's Blackbird — last year's champion — got a big upset win over crosstown rival Polar Bears. The Polar Bears were struggling with execution errors, including a lot of drops in the brisk wind. Blackbird's win should significantly smooth their path towards semis and beyond, as long as they can get past Cosa Nostra.
---
A long standing rivalry between Boston's The Ghosts and Slow White came up again in the first round. The Ghosts had a rocky start to the game, immediately falling behind two breaks. As both teams started to adjust to the winds (far stronger than were seen yesterday), The Ghosts took control and took it to half 8-5. The second half saw a lot of points traded back and forth — Slow White couldn't tack on enough breaks to get back in it.
In the end, The Ghosts closed it out 15-10. The significant wind played to Ghosts' favor. As captain Jeff Graham affirmed, "As some websites have pointed out, we are the oldest team in the mixed division, and that comes with a lot of people who are comfortable with the disc."