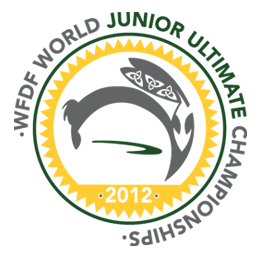 Late last week, the World Flying Disc Federation (WFDF) announced sanctions on a number of Italian youth players, who were caught by their coach after stealing a "significant amount" of merchandise from the Five Ultimate booth at the World Juniors Ultimate Championships in Dublin this summer.
Five Ultimate did not contact Italian police, instead asked WFDF to handle the matter internally. Their merchandise was returned after being discovered by the Italian coach.
Force Sideline, an Australian ultimate website, reported on Twitter that there are rumors that the gear stolen was worth over €1000 ($1320).
The Federazione Italiana Flying Disc (FIFD) and the European Ultimate Federation (EUF) issued a joint statement with WFDF to announce their sanctions. At the tournament itself, the EUF took the guilty players' medals immediately after the ceremony.
Here are FIFD's internal punishments:
[quote]• Under 17 Players: suspension from all national teams in 2013; suspension from national championship and subsequent events (EUCF and Club Worlds) in 2012 and 2013.
• Under 20 Players: suspension from all national teams in 2013 and 2014; suspension from Italian national championship and subsequent events (EUCF and Club Worlds) in 2012 and 2013.
• All involved players: detailed letter to their parents, delivered by local club presidents; two compulsory meetings during tryouts in 2013 with a psychologist and pedagogist; contributions in the development of a new FIFD internal Conduct Code.[/quote]
"This is a very unfortunate incident which the FIFD board felt required a strong but constructive response," FIFD President Francesco Franceschetti said in a statement. "We appreciate the level of cooperation and coordination we have received from the other disc governing bodies in developing a thoughtful program."
WFDF also announced the following sanctions:
[quote]• Personal loss of any standing in the 2012 WJUC
• Exclusion from participation in WFDF-sanctioned events through year end 2013
• Requirement of four hours of personal service at the first WFDF-sanctioned event in which they play in 2014, if any (i.e. World Juniors Ultimate Championship or World Ultimate Club Championship); such service would include tasks such as lining fields, delivering water and ice to fields, cleaning trash at the end of the day, or other tasks as assigned by the tournament organizing staff; FIFD has agreed to notify the TOC of Involved Parties subject to this service requirement and ensure the cooperation of the Involved Parties.
• Written apology from each of the Involved Parties to Five Ultimate in a form acceptable to WFDF, EUF, and FIFD. Such apology will be submitted after the two counseling sessions organized by FIFD for the involved players in the spring of 2013.[/quote]
"This was a very serious offense and we appreciate the approach taken by Five Ultimate in working with WFDF, EUF, and FIFD to avoid criminal action by the local police," said WFDF President Robert Rauch in a statement. "We laud FIFD and its staff in the way they handled this unfortunate and embarrassing situation and are hopeful that all players will recognize the potential serious consequences of thoughtless actions."
Only the players involved will be punished for their actions. The Italian delegation faces no repercussions, although, as noted above, FIFD will develop a new internal conduct code.
The names of the Italian players involved have not been released. We will reach out to Five Ultimate after the holidays about this incident.