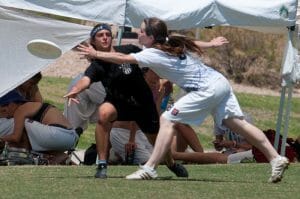 This weekend marks the beginning of the college women's season with one of the premier tournaments in the Santa Barbara Invite. This tournament is unique in that all the teams that are attending, except for one, are from the state of California.
Last year at Nationals saw no California team break the top eight so this will be a good preview of things to come. The first major tournament of the year is always hard to predict since the team rosters are new, rookies are still in the learning stages, and teams haven't gelled yet. But it can still be a telling moment about the future of the teams.
Pool A (UC Santa Barbara, Victoria, Southern California, California – B)

UCSB comes into the tournament as the one seed. Historically they play pretty open lines in the beginning of the season in order to develop their rookies. After's last year's shock finish, leaving them out of Nationals after failing to qualify at Regionals, look for them to rebound here, but not without a few hiccups. They lost some key players, including Stephanie Karba and Marie Madaras, and will need new people to step up into bigger roles. Look for them to take their pool, but not without a fight from USC.
Pool B (California, UCLA, Humboldt State, Occidental)
Pool B is clearly the pool of death this weekend. Not only does it feature three teams that made it to Nationals last year, Occidental – who can put up some points on the big named teams — rounds out the list.
UCLA will feel the loss of Sabrina Fong this season. Not only did she supply her team with precision hucks and in-cut throws, but she also played great in the air. Without her leading BLU, look for their offense to be a little stagnant in the beginning of the tournament – but that will change by the end of Sunday. Expect Cal to have the edge and win the pool.
Humboldt State made a surprise at Southwest Regionals last year taking a spot that most people thought would go to UCSB. They will be relying on Georgia Tetlow to push the team. Her layouts and physical defense will provide examples for the rookies on how the Hags like to play. They return some powerhouses on D and some athletes on O. Their aggressive style and deep ball game can definitely rattle teams here in this early tournament. While they will give their pool some close games, look for this pool to go to seed.
Pool C (San Diego State, UC San Diego, UC Santa Cruz, Cal State Long Beach)
This pool, while it doesn't feature any Nationals team from last year, should prove to be very interesting. San Diego State just missed out on a bid to Nationals when they lost to Stanford in the 5th place game. While San Diego State, UCSD, and UC-Santa Cruz have not netted many wins against the top teams in their region, they have still been able to put up a significant amount of points on them. All of these teams should have close games. Look for Amanda Albi and Katrina Kalantar leading the way for UCSD. Kalantar's impressive throws and defense will help propel her team through the weekend. They could challenge San Diego State for the pool win.
Pool D (Stanford, Sonoma State, Cal Poly SLO, UC Davis)
Sonoma State, led last year by Maggie Ruden and company, made a wild run to Nationals and really competed with the top teams in Boulder. However, Ruden is gone and D'Vine has to now fill that huge hole. They have talented and athletic receivers who can attack the disc at all levels. The problem that D'Vine faces is actually getting the disc to their cutters. Ruden was the main component of their offense and without her hucks, look for a little bit of struggle. However, if their receivers can turn the game into a cutter-driven offense, Sonoma State can hang with the other teams.
Stanford, despite finishing fifth at Regionals last year, should be able to take down D'Vine. They return their very knowledgeable coaches as well. This weekend could be tough since their star handler Michela Meister will be out for U23 tryouts in Los Angeles. Their games probably won't look perfect as they are ironing out kinks and developing their rookies, but Superfly should look strong at the SB Invite.
Bracket Play
If these predictions are right, expect Stanford and Cal to see each other in finals. I give the edge to Cal because Meister is out for Stanford (that's how important she is). UCSB and UCLA will likely face off in quarters where the edge goes here to UCLA. The Skirts will not go out without a fight so expect them to win the rest of the day.
Games to Watch:
-Round One: UCSB vs. USC. This will be the Skirts first game of the day and USC is known to challenge teams
-Round Two: Cal vs. Humboldt State.
-Round Three: UCSD vs. UC-Santa Cruz
-Round Four: Stanford vs. Sonoma State
Takeaways
The best part about this tournament, however, is that it is really hard to predict. The fall can only give marginal indications of the potential of a team for the Spring Season. This will be the first mark that the California teams have to put on the College Women scene. Look for surprises, some hiccups along the way, but, in general, awesome women's ultimate.