As of this moment, Northern Iowa sits at #18 in the USA Ultimate Open D-I rankings, giving them access to the most coveted possession from the college regular season: a strength bid.
But they are in danger of losing that bid to a rising Dartmouth, who went undefeated at the New England Open this weekend.
Regardless of what happens this afternoon, Northern Iowa is a team on the rise.
Just two years ago, Northern Iowa AmmUNItion didn't even qualify for Regionals. But their team had the signs of future success — a full two-thirds of their roster was comprised of freshmen and sophomores.
Two of those freshmen, Robbie Dennis and Cody Rohlf, are now juniors — and captains — and see this year and next as their team's chance to rise from the depths of the North Central region to the national stage.
Last year, the team added a coach, Joe Brisbois, a Chad Larson Experience player and a graduate student at Northern Iowa. He overhauled the team's offense and put the still young team on an upward trajectory. They finished seventh at Regionals last year.
Using a break-side heavy offense to create open space for their quck, athletic cutters, Northern Iowa has rolled through teams this year, often winning games against weaker competition by double digits. They have just three losses — to Kansas, Oregon State, and Missouri — by a total of five points.
They credit their offensive success to their coach, who missed this semester but will return for the series. "The leadership from Joe has been pretty huge from getting the program turned around from being no-name to where we are now," said Dennis.
Those big wins have boosted UNI's rankings in the eyes of the USA Ultimate algorithm, which means that, despite not playing a single game against an Ultiworld top 25 ranked team, they are eying what many analysts see as an illegitimate extra strength bid for the North Central region.
Both Dennis and Rohlf were quick to make their case for the bid. "We've worked hard all season," said Dennis. "I feel like with the time and effort we've put in, we definitely deserve the bid." They note that put in a bid to both Easterns and Centex, two top-tier tournaments, but were denied entry, largely because of their lack of historic success. "That's how the current system works, it's purely reputation and prestige," said Dennis.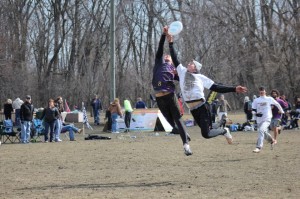 "I can't really blame them for not just giving us a shoe-in bid to Easterns or Centex," added Rohlf. "But it sucks we didn't get in. Then we could prove that we do deserve it, and if we don't, then we actually know."
They make a good point. There's not much a team can do, besides travel to qualifier tournaments (often prohibitively expensive), to get a chance to play top competition. They would have had a shot at some strong North Central teams at the Old Capitol Open, but it got snowed out. That's been the story of the year for many Midwest teams.
"Weather-wise, this season has been a catastrophe," said Dennis.
At this point, they've done all they can do to keep their bid. They earned maximum possible points at their tournament last weekend, never letting a team get within six points of them.
"When we win, we tend to do it with emphasis," said Dennis. "I don't know how else we could prove it other than that."
So, they wait. But, even if they don't end up with a fourth bid for their region, they think they still have a shot. Both captains see their underdog status as an advantage.
"All of the big three in our region [Minnesota, Wisconsin, and Carleton] have been filmed pretty regularly," explained Dennis. "So when we go into those games, we are going to be able to throw ideal matchups [on their players] to start those games off. And they are going to have absolutely no idea what to do on us. And whether or not we are at their level yet, if we start off with that quick advantage, we may be able to hold on to that quick start."
Both captains were reluctant to talk about their offensive strategy beyond the basics, as they look to maintain their edge.
But Dennis pointed to the depth of their roster and some big playmakers as proof that they belong in the national conversation. He said senior Nathan Wiemers "just shut people down at every single tournament we went to this year" and junior Trent Cooper is one of the fastest players he has ever seen play ultimate.
Both captains also play a major role in the team's success; Dennis plays defense, Rohlf plays offense.
But they know that it won't be easy to get to Madison, especially if they don't get that final bid. What would they need to do to beat one of the three powerhouse teams, each ranked in the Ultiworld Top 10, in their Region?
"I guess it's going to take a perfect game on our part," said Dennis.
Quietly they believe that next year, when they will return 19 of their 23 players, is their year to really shine. But, if they end up with that fourth bid, they see this year as their chance to get to the dance.
Either way, preparation won't be much different. "I don't think we're really gonna change a lot," said Rohlf. "We're gonna come out in these last six practices before Conferences and just bust our ass."
If they do get a fourth bid, they could be the next unlikely Nationals competitor out of the North Central after Minnesota-Duluth made it last year.
"It's like any other college sports team," said Dennis. "If you get one big recruiting class together, you can do some pretty incredible things."