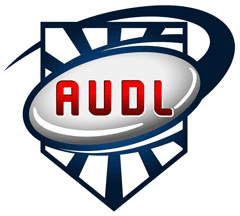 The American Ultimate Disc League is launching a new online television network through Ultimate Xperience Ventures, its parent organization, the league announced today.
The network, UXtv, is designed as a provider and aggregator of ultimate content, which will begin with a mix of AUDL coverage from livestreamed games to highlights to commentary.
"UXtv recognized the growing demand for high quality on-line streaming that presents the best lineup of premium ultimate match-ups, weekly game highlights, player interviews, coaching tips plus regular ultimate insights and commentary," the AUDL wrote in a press release. "UXtv aspires to become the go-to-site for ultimate fanatics and new fans alike, as it combines free programming, premium game pay-per-view, social media and you-tube content all in one location."
The AUDL-specific network will be livestreaming eight games during the 2013 season, which will normally cost $3.99 to purchase. The four-camera setup will broadcast HD footage with live commentary. The first livestreamed "spotlight" game of the year — the Madison Radicals v. the Windy City Wildfire — will be available for free on April 20th. All of the games will also be available on-demand after the tournament.
"All games will still be streamed, but they'll be done through local production outside of those eight," said AUDL Commissioner Steve Gordon, explaining that individual teams will handle video coverage of their home games.
Along with game footage, there will be other AUDL-related content, including a commentary show from the Wildfire's Brodie Smith, a highlight show, and some coach-driven analysis.
Ultimate Xperience Ventures hopes to eventually build this online platform into a wider ultimate distribution network, with content from outside of the AUDL.
UXV, run by Toronto Rush chairman Rob Lloyd, bought a majority stake in the AUDL from Josh Moore in late December.
AUDL competitor Major League Ultimate will also be featuring a livestreamed game each week, available for free through their website.
Here is the UXtv promotional video:
[youtube oZgRBFn5oMc 600 377]