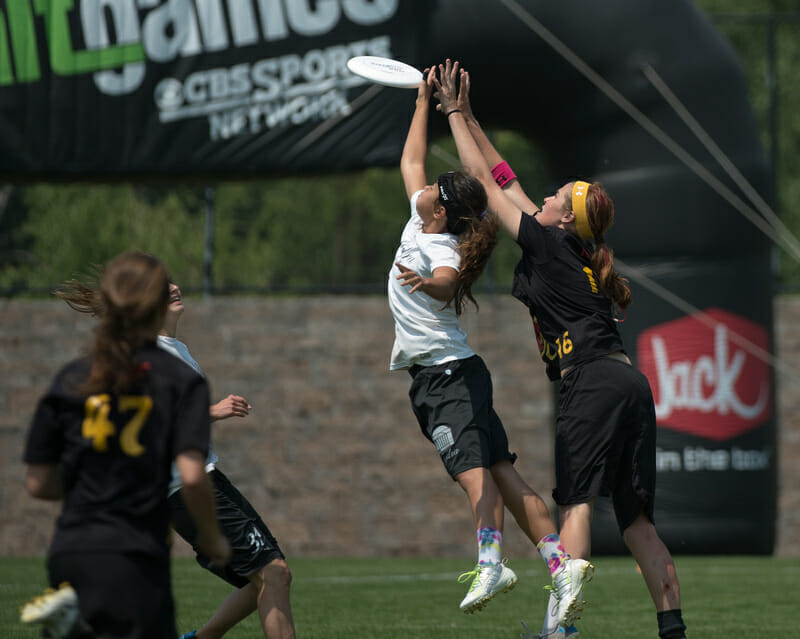 Three teams ranked in the Ultiworld Top 20. Just one bid.
It's a brutal year for the Atlantic Coast Region, which saw both UNC and UNC-Wilmington finish just outside the cut for strength bids at #20 and #21 in the final USA Ultimate rankings.
Although Virginia looks like the best team and the one most likely to take the bid to Madison, UNC-Wilmington has been playing much better ultimate in the last month and will be right there ready to swoop the bid. 
THE FAVORITE
#10 Virginia
With a 21-6 regular season record (and four of their losses coming to teams from the strong North Central region), Virginia has proven themselves as the top Atlantic Coast team all year.
They have only lost once to an in-region team: UNC-Wilmington on double game point at QCTU. But they beat UNC-W 15-11 later in the season, and are 1-0 against UNC this year as well.
Sophomore Alika Johnston (Scandal) is at the heart of this Hydra team, using her athleticism to great effect on both sides of the disc. She is a big contributor on the defensive line, with good speed and a high Ultimate IQ.
Captain Mary Kelly also fills up the stats sheet on offense. Sarah Hansen and Theresa Hackett are also big playmakers.
As the one seed, Virginia gains an additional advantage in this one bid region: they won't have to face either of the North Carolina teams until the finals. After UNC and UNC-W slug it out in semifinals, Virginia will have the upper hand with fresher legs in the game-to-go.
THE BUBBLE TEAMS
#20 UNC-Wilmington
Despite finishing the regular season with a lower ranking than UNC, Wilmington proved themselves as the best in North Carolina with a 15-13 win over their rival in the finals at Conferences.
Seaweed did not have a great start to the year, but have really turned up their game in the last few weeks, with a nice win over Ohio State and tight losses against Iowa State and Wisconsin at Centex.
An undefeated Conference run showcased their improving play.
Third-year captain Claire Chastain (Phoenix) is one of the country's most dominant players and, at this point, has earned the Callahan award. She may have even deserved it last year. She can do everything on the field, from explosive cutting to skillful handling to shutdown defense. She is a major component of Seaweed's success. If they snatch the bid from Virginia, it will be through her play.
#15 North Carolina
Much like their in-state rivals, UNC had a bit of a slow start to the season. They played well at their hometown QCTU, but won just a single game out in California for the Stanford Invite.
But they bounced back at Centex with solid wins over Wisconsin, Colorado, and Texas.
Unfortunately for Pleiades, they are 0-2 against their top Atlantic Coast competitors. They'll need to find another gear if they want to break through to Madison.
Captain Shellie Cohen is the driving force behind UNC, taking advantage of her big, athletic frame to break marks and generally dominate with the disc in her hands.
Co-captain Lisa Couper is an important piece as well, as their top defensive cutter. She separated her shoulder at the Stanford Invite — keeping her healthy will be important for UNC's success this weekend.
THE DARK HORSES
Maryland
Maryland did not play much this season, traveling to just two tournaments before the Series. At QCTU, they got a solid win over Pittsburgh, but finished with a 2-5 record. There, they lost to UNC-W 13-7.
The strength of the Atlantic Coast falls off sharply after UNC, and it would be a long shot for Maryland to make it to the game to go, since they are on Virginia's side of the bracket.
Virginia Tech
Virginia Tech lost only to Virginia at Conferences, notching two wins over a solid JMU team. But they likely don't have the depth to keep up with the big programs late on Sunday. Getting into a semifinal would be a success for the Burnettes.
PREDICTIONS
We expect to see Virginia take on UNC-WIlmington in the finals. Both teams have shown the ability to beat each other and the game should be a great one.
It should come down to the performances of the star players. Both teams will need a gameplan to slow down the other team's top options. You're not going to stop either Johnston or Chastain, but finding ways to limit their touches will be the key to victory.
This is a toss-up — edge to Virginia for an easier road to finals.