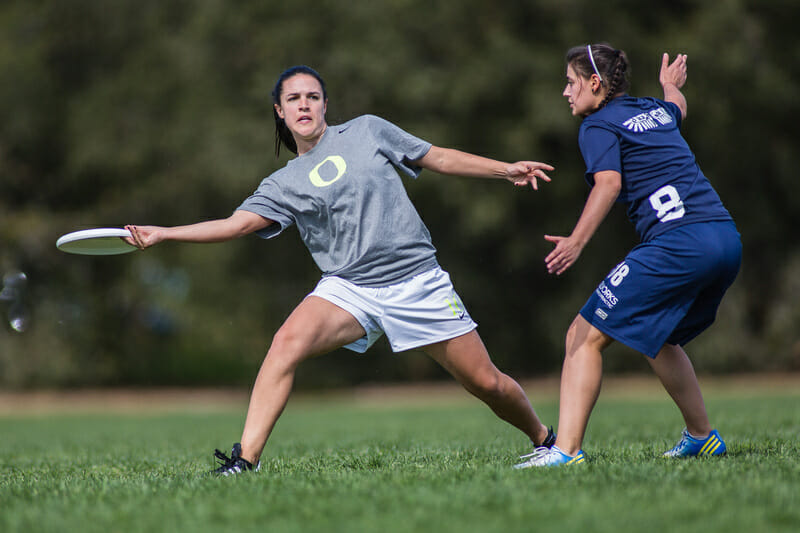 MADISON — Iowa put up a heroic effort against Oregon, the country's #1 team, in the semifinals but couldn't overcome some key injuries, as Oregon used a 5-0 run in the second half to take the win, 15-11.
The game was dead even for the entire first half, with nerves showing for both teams. A stadium environment and all the trappings of a serious sporting event led to lots of early turnovers, including an early Iowa hammer missing, and a number of hucks for both teams missing the mark.
A long first point was interrupted by a critical ankle injury to Iowa's star handler, Chelsea Twohig, who had to be assisted off the field. Saucy Nancy would manage to score off a risky shot that was deflected and caught by JoJo Petersen.
Wind was part of the story of the contest, as the 15 mph sustained breeze was the most intense the teams had seen all weekend. Despite some upwind attempts, the teams would spend the half trading points in the downwind endzone.
Even with Twohig returning to the field, Iowa was unable to register a break. Players failed to adjust to the win, oftentimes trying to throw edged throws upwind that turned over and too far and flat when going downwind, overshooting receivers.
At the end of the first half, Iowa senior cutter Jen Nowak went for a floating disc and her defender, Oregon sophomore Bethany Kaylor, made a hard bid that contacted Nowak in the knees. She went down and, wincing in pain, would not return to the game.
Iowa coach Mikey Lun called that the most important moment of the game, clearly unhappy about the play. "We didn't score upwind, but I don't think it was really because of the conditions," he said. "I really felt that the turning point was when Jen went out. I didn't see the play, but it looked like – kind of a – I don't want to use the wrong words. I didn't think [Kaylor] needed to bid for that one that went for Jen's knees."
Oregon coach Lou Burruss called the injury very sad to see and sympathized with Iowa's situation, but defended Kaylor's play. "You're gonna throw a floater in zone?" he said. "There's going to be collisions. I think Beth had a clean line on the disc and made a clean bid."
Saucy Nancy wouldn't stumble immediately after the loss of Nowak, continuing to score downwinders, led by their usual stars, Twohig and senior Liza Minor. Oregon would rely more and more on the play of junior handler Sophie Darch, who began playing both ways rather than just on offense, and the downfield play of Kaylor and fifth year senior Morgan Zajonc. Saucy Nancy took a break-less half, 8-7.
After the half, the two squads resumed trading points, but at 9-9, Iowa senior Anna Pritchard got a piece of a throw headed to Kaylor. Kaylor called a foul, and following Pritchard's contest, some discussion led to an observer referral. The observer ruled it a foul, and soon, Darch would lift a picturesque high release backhand break to Kaylor for the game's first upwind score.
With a hobbled Twohig and no Nowak, Iowa found themselves in a hole going upwind. Saucy Nancy would fail to flip the break, allowing Oregon to roll with a 5-0 run.
"I think it was just exactly what we were waiting for," senior Morgan Zijonc said. "We knew we were trading for the whole time, so we knew if we could get that upwind break, it would be the momentum swing we needed. And when we got it we never looked back."
Without the tall and rangy Nowak, Iowa had trouble getting their offense moving and containing the deep cutters of Fugue, while Sophie Darch's perfect touch on her throws gave her receivers easy scores.
"Best game of her career, by far," said Burruss.
Darch was beaming after the game as well. "I'm proud of what I accomplished and more proud of what my team accomplished," she said.
Despite the deficit and the pressure, Iowa did not give up. Their offense made a few adjustments and found some flow, still scoring a few times after Oregon's run, something Iowa Coach Michael Lun pointed to after the game as a positive sign. It wouldn't be enough to stop Oregon, and it was only appropriate that Darch tossed a final huck to Zajonc to win it 15-11.
Burruss called Iowa the "biggest test of the year" for Oregon, and while he credited his team's adjustments and play, he did admit that "the two injuries really hurt [Iowa]."
Fugue now looks ahead to the finals tomorrow, but they won't change their approach at all.
"The focus is mainly on how we're gonna come out, what we're gonna do," said Darch. "And we just want to come out and play our game."