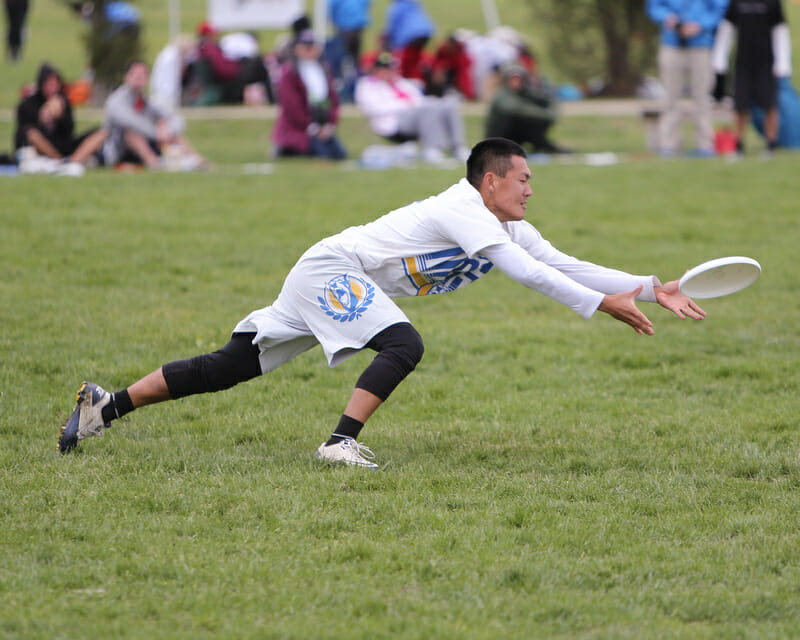 In 2010, the last time the College Championships were in Madison, Wisconsin, Wisconsin came in to the tournament as the sixth overall seed and was eliminated from championship contention during pool play.
This year, Wisconsin had lost to rival Carleton in front of a huge home crowd and had yet to put together a dominating performance against what many assumed to be lesser opponents. Onlookers, though, expected to see the Hodags breeze past the UC Davis Dogs.
But that didn't happen, as Davis, using a remarkable five turnover game, simply outplayed the Hodags to earn a 15-11 victory, stunning the hundreds of onlookers pulling for Wisconsin.
One of the main difficulties that the Hodags had was an inability to maintain defensive fire throughout the first half.
"We've been doing a fantastic job of starting that first job on fire," Wisconsin coach Hector Valdivia said. "It's been our second, third, and fourth D point that have been the issue. "Our adjustment for [Davis] is we're going to stack a line midway through the first half of a game in an effort to get some breaks."
Well, try as they might, the Hodags would not find those breaks. As a matter of fact, just the opposite happened as UC-Davis went into halftime holding on to an 8-6 lead.
To Davis, things were just a little bit easier. There was nothing spectacular to the team or its strategies. According to UC-Davis coach Kevin Cissna, the Dogs knew that a simple plan was the best plan when they were going to be flanked by hundreds of Wisconsin fans.
"We had a couple of simple strategies that we stick to," Cissna said. "When people buy into the simple strategies, it's effective."
Sometimes, simplicity is the best thing, especially in these potentially emotional and volatile situations. As the game continued to wear on, it began to feel like Davis didn't entirely understand the gravity of upsetting what was supposed to be the second best team at the tournament at its home fields. A UC-Davis assistant coach acknowledged that to be somewhat true at the end of  the game.
"We're a young team," he said. "it's our second time here and we don't know what we're doing."
That simplicity led to the Dogs keeping Wisconsin at arm's length for the remainder of the game, and it especially allowed for Davis' star players, featuring, particularly, Eli Kerns, to take control of the game when Davis needed it most.
"There's only so many strategies that you can throw out there until the players play insane," Cissna said. "We tightened up our O-line a little bit, they didn't get broken and they just brought it every point and those players played incredible."
By the time the dust had settled, that simplicity and those star players had led UC-Davis to a 15-11 victory and meant that Wisconsin would spend the remainder of the weekend like any other spectator in Madison, watching from the sidelines.
See more photos of the College Championships on UltiPhotos.