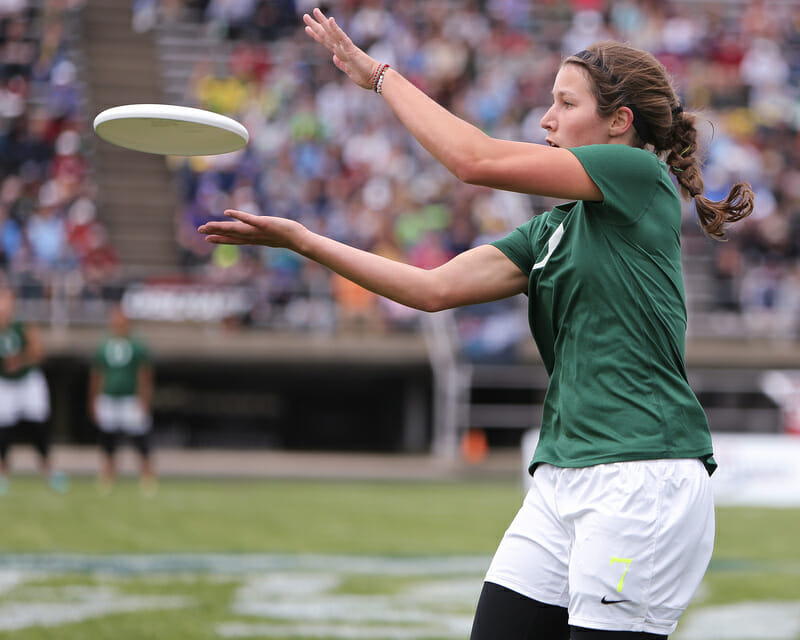 MADISON — Oregon Fugue finished the season the same way they started it: as the best women's team in the country. On a chilly, windy, and wet Monday afternoon in Madison, Wisconsin, in front of a sizable crowd of friends, family, former opponents, and fans, Fugue won the 2013 Division I College Women's Championship. Their opponent, Carleton Syzygy, was not able to overcome the suffocating defensive pressure of Oregon, resulting in a 15-8 score that reflected that the teams were simply in different leagues.
Fugue was in a class of their own this season. A dominating performance in the Final was only more proof that no team in the country could rival their effectiveness.
Coming into the tournament as the #1 seed overall and favorite to win, even the #2 seed overall Carleton was unable to put much of a dent in the Oregon gameplan. Just one team this entire season was able to best Oregon on the field, when British Columbia beat them 12-8 at Stanford Invite.
Just in case there were any doubts, the girls from Eugene would go 3-0 against UBC for the rest of the season, including a statement 15-4 drubbing in the Quarterfinals at the Championships. Only one team in the College Championships was able to come within five points of beating them – Iowa in the Semifinals – and only two could even take a lead into half.
Besting the 157 other teams in the division is also not new to Fugue. In three of the past four seasons, they've earned the top overall seed at the College Championships (in the other season, they were #2). They won it all in 2010. In the years they didn't win it, they finished third and second. That gives them five straight trips to at least the semifinals. Their success has the markings of a dynasty.
"We've been lucky with talent for sure," said Oregon coach Lou Burruss. "I think that's the foundation. I think that the women on the team buy into what we're doing."
What they're doing – besides taking control of the Women's Division – is defining their style of play. A relentless and high pressure defense attacks opposing offenses, while an aggressive high speed offense offers no room for teams to breathe.
"Whether we're playing man or junk, [we] try and play chaotic and frenetic and just try to ramp up the intensity," explained Burruss. All season, teams struggled to keep pace with Fugue's play speed; great teams would be worn down in the first half, and weaker teams would find themselves in deep and deflating holes quickly.
More than that, a characteristic personality has become part of the Fugue experience. They are tight knit, confident, and hell bent on getting better. Their intensity is palpable, but they relish in playing together and for one another. Continued success has had a domino effect on the attitude of the players.
"We have to take the mentality that we are going to keep improving and keep working hard," said junior Captain Sophie Darch. "After Regionals, which we won, right after our last game, we had a practice because we knew that wasn't the goal of the season."
"One of the nice things is that Fugue has been able to offer the possibility of greatness," Burruss added. "That's really appealing, and so people are willing to put in the work to achieve it."
In the past few seasons, Oregon's leadership and philosophy has been dictated by their commitment to a concept called Clown Tent Shit Show, which, according to sophomore Jesse Shofner, "encompasses each player's personality."
"We collectively take on each other's weaknesses and quirks to achieve our goal. We take some sort of pride in [it] because we can't change other people's tendencies. We can only alter our reactions to them," explained Shofner, going into more detail on the difficult-to-describe concept. "We love each other and are all unified through our Clown Tent Shit Show," she said.
Darch described the philosophy as fitting the team to a player's personality rather than trying to make a player fit the team's personality. The team, so encompassed in the idea, chanted a Clown Tent cheer as they took their gold medal photos.
The ingredients are there: a constant flow of talent, an established attitude, and an overarching and inclusive philosophy. Fugue knows who they are, loves what they are, and knows how to reach their goals.
"The goal was Nationals: getting here and getting into this game," said Darch after their victory. Burruss, a coach known for his big picture view, may see more than that at the end of their journey. A team has a goal of winning the Championship. A program has a goal of achieving greatness.