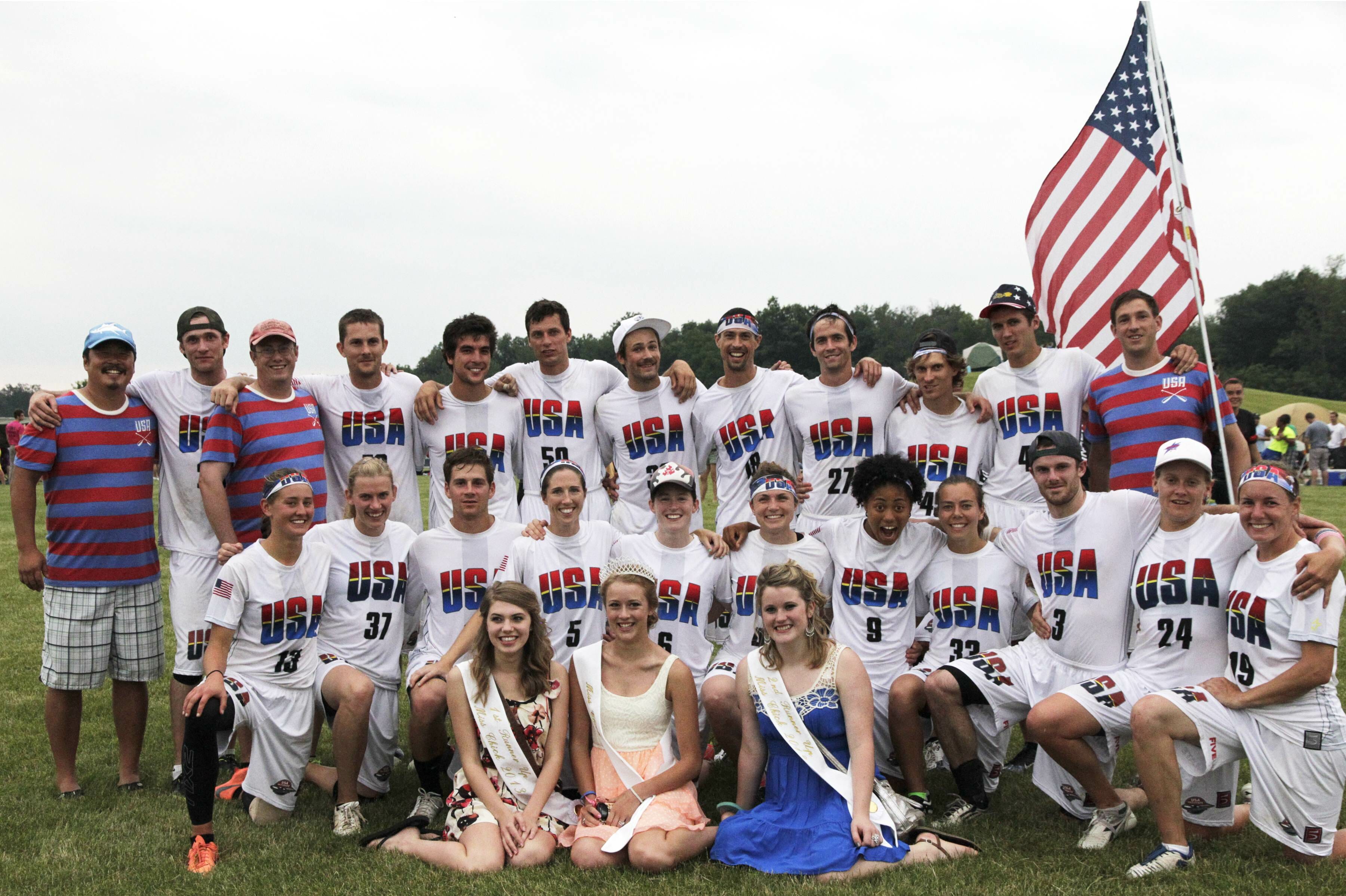 VERSAILLES — Poultry Days played host to thousands of Ultimate players this weekend, but one special group in particular was thinking far beyond a weekend of socializing and celebrating. Both Team Canada and Team USA would be experiencing their first tournament together as full rosters before their journey to the World Games in Cali, Colombia, in late July.
Back in 2009, the tournament set aside a Saturday pool for Team USA and Canada, who were joined by a couple of other international teams preparing for the World championships (Chinese Tapei and Great Britain). This time around, two of the tournament's perennial top teams, Chicken Fingered (a Colorado/Wisconsin combo) and Chad Larson Eggsperience (CLX Mixed club) were placed in a power pool with the national teams. Both Team USA and Team Canada waltzed through their competition before meeting one another in an evening showcase game.
The talent on display lived up the billing, but the competition did not.
Team USA jumped out to an early lead, using an outstanding deep game and fast paced offense to attack the Canadians after every turn. They would take half 8-1, and it showed that they had already played together in two practices and a scrimmage against Boston's elite players, while Canada was seeing their first real action together as a team. George Stubbs and Alex Snyder were great anchors around the disc for the Americans, while Georgia Bosscher's massive layouts had the crowd cheering. The U.S. managed field space well, rarely giving defenders or poaches a chance to impact the play, something the Canadian offense struggled with.
While Team Canada put up a better fight in the second half, with memorable performances from Darcy Drummond and Mark Lloyd, they could never really slow down the offense of their southern neighbors. Team USA would roll to a 15-6 win.
Both teams would make their way through the bracket on Sunday, with Canada beating their own U-23 squad and the CLX crew again while Team USA fended off a Connor Haley and Ohio squad and handled a Tyler Degirolamo-led Breast & Thighs team. It set up an afternoon battle for the Poultry Days championship, albeit with much less of an audience and fanfare than the previous evening.
The atmosphere wasn't the only difference.
The Canadian team, with more reps under their belt and more time together, came out playing like a much more cohesive unit. The conditions were breezier, leading to a few more miscues and drops than their prior matchup had yielded. TC would find some offensive flow, trading with the Americans before Team USA took a 7-6 halftime lead.
In the second half, Team Canada would continue to show improved vigor. Floaty passes and 50/50 shots that the US squad had eaten up in game one began finding Canadian hands. Mark Lloyd remained a tough cover for the American team, helping Canada garner the break that gave them the lead.
At 12-11, the US would receive, and after a few turns both ways, demonstrated great red zone discipline. They'd find a diving Cara Crouch to force a double game point. However, Lloyd would generate some under space and hit a streaking Jeff Lindquist to lock up Team Canada's upset win, 13-12.
Team Canada will compete next at Potlatch in Seattle, WA, over the July 4th weekend. Team USA will have a showcase game at the US Open in Raleigh on the same weekend against Team Colombia.