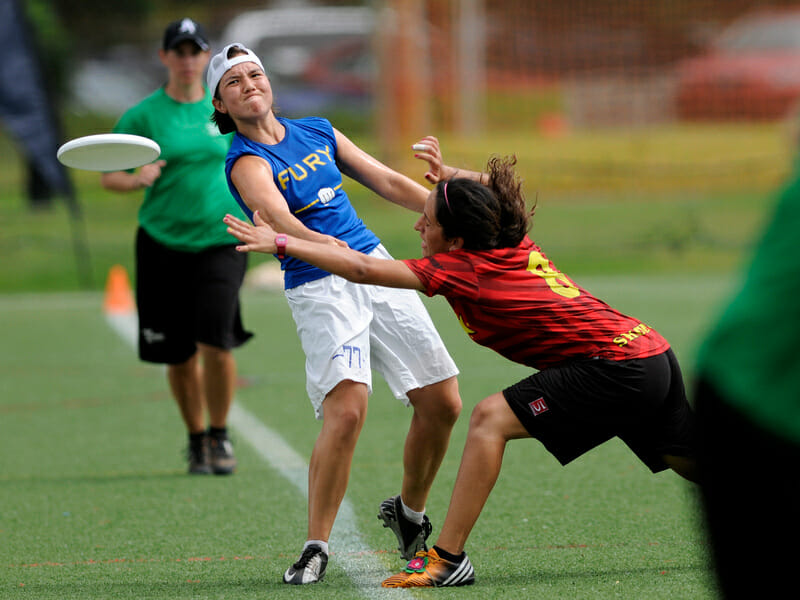 Fury and Final: the two words just seem to be paired with one another. It is rare Fury goes to tournament where they don't reach the finals; frankly, its unlike them not to win tournaments in dominant fashion. Their Semifinal victory over Showdown sets up the opportunity to do just that at their first trip to the US Open.
Like the other semifinal, this game was a rematch of a Club Championship semi from the 2012 season. In that game, Fury had no trouble handling the Texas upstarts. Showdown had no more to offer this time around, with Fury rolling their way to a 15-8 victory.
The 2012 champions were in total control from the start, opening with a break and adding a few more to go up 4-1. After trading briefly, the one seed would rattle off a few more breaks on their way to an 8-4 halftime score.
Showdown struggled to find flow against Lakshmi Narayan and the Fury defense, settling for low percentage hucks that turned into jump balls. Fury was able to take these gift wrapped turnovers and launch into their signature transition offense. Anna Nazarov led the highly rated Fury handler group, who continuously found the break side to punish Showdown.
The second half felt like a formality. The teams traded back and forth, Showdown unable to gain back ground. In their pool play game, a similar pattern had formed, but a stronger first half for the Texans kept the deficit much lower and the game within reach. It was clear this one got away from them.
Fury cruised to victory with plenty of time to watch the final points of the other Semifinal. They'll face Scandal in the Final on ESPN3.