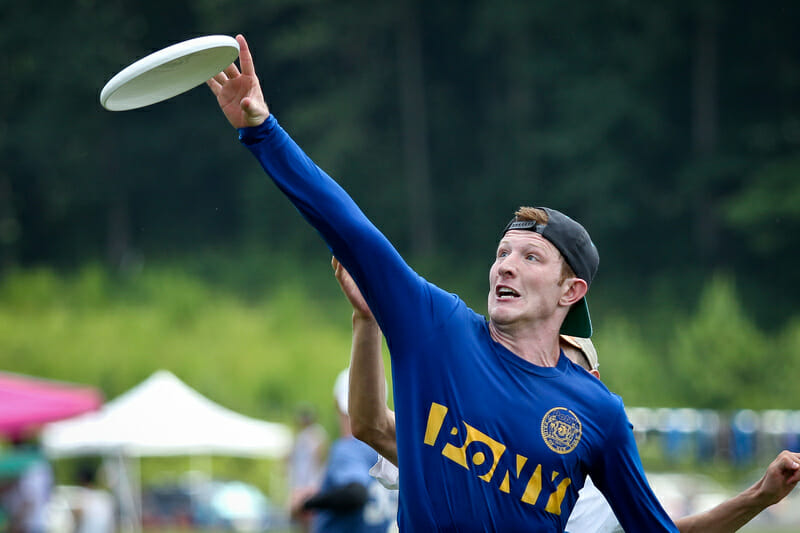 On a rain-shortened first day at Terminus, top women's teams from around the country set to work on their first big test of the season at the Pro-Elite Challenge of the Triple Crown Tour. Here are some stories from day one.
New York PoNY Gallops To Undefeated Day, Already Best Tourney In Years
Last year at the Emerald City Classic, PoNY's first elite-level tournament of the year, the New York team showed they could hang with the best, but could not win. They went 1-6, losing every one of their games by three points or fewer, including double game point losses to San Francisco Revolver and Portland Rhino.
2013 is unfolding quite differently for PoNY. On Saturday at Terminus, the New York crew went 3-0, notching wins over Vancouver Furious George, long-time rival Toronto GOAT, and Seattle Sockeye.
While each of those teams has a legitimate excuse for why they could lose (the Canadian teams missing lots of players for World Games & U23; Sockeye only bringing 14 players on the active roster due to injuries and absences), it was PoNY's dominance that was so impressive. They won all their games by at least five points — a blowout at this level.
Doling out even playing time didn't hurt PoNY, who used suffocating defense to generate turnovers and strong play from veterans and rookies alike to convert scores.
Sunday will be a big test for PoNY as they play less depleted squads. They do have the best shot at the finals, and a morning win over Truck Stop will lock up that spot.
Many of the New York players had never faced Sockeye before, making their five point win all the more impressive.
"It's good to get on a flight and travel and play teams that are from far away," said Marsh.
Rain-Soaked Day Creates Wild Sunday Morning
After a lightning delay turned into a torrential downpour, Saturday's afternoon games were canceled midway through the third round of pool play.
For Sunday, the tournament director Mark Poole had to balance some difficult choices: maximizing playing time for teams, preserving soaking wet fields, and enabling teams to make their flights home. The decision was passed down last night: pool play will be finished, but the pool winners will advance straight to finals. The semifinal round will be canceled.
However, because many games were in progress when the lightning horn sounded, there are some loose ends that need to be tied up. Any game that was not tied was declared over.
However, two games were tied: Denver Johnny Bravo and Chicago Machine were locked at 11-11 and Minneapolis Sub Zero and Portland Rhino were even at 9-9.
The solution? Next point wins.
The two games will kick off the game action this morning with a double game point.
How do you possibly prepare to begin your day with a do-or-die point? Johnny Bravo coach Bob Krier said, "With soft eyes, you look at quality" to select your starting lineup.
If Johnny Bravo came out with the single-point win, they could still win the pool and advance to the finals with a win over Atlanta Chain Lightning.
Teams Still Figuring Themselves Out
One of the consistent refrains we heard this weekend was how teams had never played a top-level tournament this early in the season. In the past, teams began their year at ECC or Chesapeake Invite in early August, but the new Triple Crown Tour structure has pushed the season back to mid-July.
Some teams, especially those who are coming off of (or still playing in) a pro league, haven't even played many reps together as a club team. The heavy absences due to injury, U23 Worlds, and the World Games also softens the meaning of this weekend.
Johnny Bravo captain Jack McShane said, "[We're ] just trying to develop. It's our first tournament as a team so we're trying to figure out where people fit defensively, offensively."
The fact remains, however, that the results of this weekend will stratify the club division and begin to set expectations for the remainder of the season.
Some teams are really pushing to make a statement. PoNY has done so emphatically so far, and the tournament's bottom seed, Boost Mobile, has made a splash as well after beating Johnny Bravo in the first round and leading Chicago Machine at halftime.
Boost's goal? "Define our team and come into every game and expect to win," said captain David Abram. "We know we can play with the best teams and we just showed it [against Bravo]."
Many teams are playing fairly open lines as they look to figure out their best offensive and defensive sets.
Chain, Machine Set For Pool A Showdown
Chain Lightning and Machine were set for a showcase game Saturday evening, but the uncooperative weather pushed the game to this morning at 10 AM. Both teams are, as of this writing, undefeated, although Machine has to face off on double game point against Johnny Bravo before facing Chain.
Both Chain and Machine have had strong weekends so far. Machine scored the final six points against Boost Mobile to close out the win and easily took down Rhino. Chain has protected their long-time Terminus title ably thus far, with three easy wins over Sub Zero, Rhino, and Boost Mobile.
The 10 AM showdown (livestreamed on Ultiworld) should be a great game; the winner is likely to head to the finals.
Follow all the action from Terminus on our live-updates page. You can still purchase the livestream to follow today's games and still get access to all of the archives from the tournament.
John Boezi contributed reporting to this story.