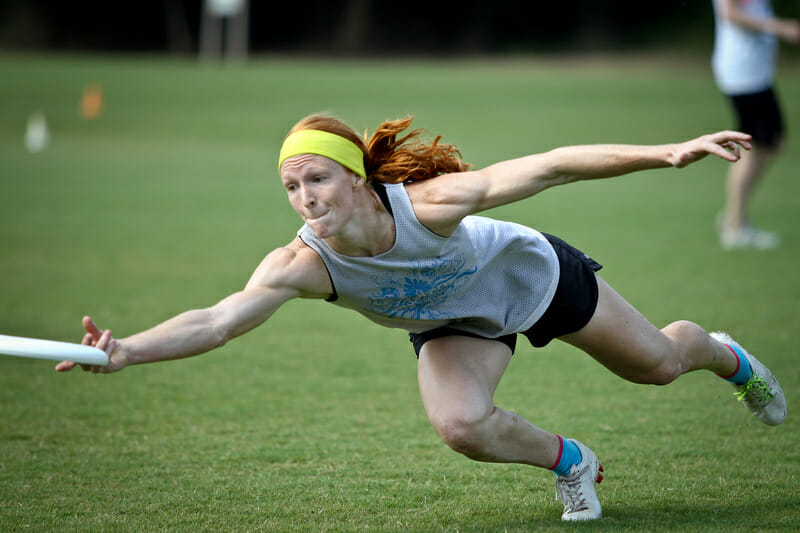 ATLANTA — After a rain-shortened Saturday and abbreviated Sunday, the 2013 Pro-Elite Challenge at Terminus is in the books. Some strong showings from the top teams helps to stratify the women's division. The question is: can any of the top teams from this weekend challenge the top West Coast powers? The remainder of the regular season and the Triple Crown Tour should give us some answers.
Battling Nemesis Ends Undefeated Weekend With Comeback in Final
For Chicago Nemesis, Terminus presented a chance to start the season off with a number of challenges. They saw very few easy games, winning only once by more than four points. Their game against Heist ended at 9-8, aided by a lightning delay and, eventually, a game cancellation.
All of their scrappy and hard fought games may have helped prepare them for a tough game against Atlanta Ozone in the finals. Nemesis would get broken to start the game and, after keeping it close, get broken to end the half, leaving them down 7-5.
In the second half, however, they would make a push.
"I started calling the lines a little tighter," Coach Ron Kubalanza said after the game. "We put a little more offensive pop on the DLine."
Players like roster additions Lien Hoffman, Paula Seville, and Marissa Mead were able to jump over from the team's offensive unit and help generate the breaks needed to turn the deficit over to Chicago's advantage. The count would stay tight late into the game, with the team's tied at 11s. Nemesis would punch in back to back scores, fighting through long multiple-turn points, to capture the Terminus crown.
Hoffman's versatility was on display all weekend, while Mead – along with fellow rookie Becca Ludford, who Kubalanza heaped praise on – were recognized as the team's top players internally.
"Nemesis is a great team. They're really athletic and they've got a couple of really superstar cutters and throwers," said Ozone coach Chris Goodson following the loss. That's regarding a team missing Kami Groom and Cassie Swafford, among others. "Once they got the lead, they never let go of it," said Goodson.
"We have potential," said Kubalanza when asked what Nemesis learned on the weekend. "It gives me & the captains credibility. There always to be a degree of buy-in and that doesn't always come naturally."
Ozone Impressive Despite Silver Medal Finish
Atlanta Ozone could be argued to have had the strongest weekend despite falling in the Final. Heading into that game, their closest score was a five point win, with three of their five victories coming by seven or more. Their offense had been the most impressive unit in the division, despite integrating some new pieces.
Yes, their loss to Nemesis was both surprising and disappointing. It isn't enough to mar a great early season performance.
"We lost a little bit of focus in that game," said Goodson. "At half time, we might have gotten a little bit complacent. Maintaining that focus throughout an entire weekend is what we're going to be working on."
Ozone has had a bit of a "focus on focus" and that was a big part of their Terminus experience.
Their offense looked flowing and flexible, never relying too much on one playmaker, as Mo McCamley, Maddy Frey, Miranda Roth-Knowles, and Kate Wilson each made an impact.
"[Wilson] really was dominating downfield and she was a great distributor of the disc," said Goodson. "[Frey] was just a workhorse downfield. No matter if you know its coming or not, she finds a way to get open."
Roth-Knowles was just one of the star rookies. The weekend brought big plays from Hannah Leathers, Jinny Eun, and Meg Harris, as well as consistent cutting from Alli Stargell.
"We've got a phenomenal rookie class," said Goodson. "It seemed like in each game this weekend, one of the rookies stepped up kinda made it their showcase game. Meg Harris had some really phenomenal plays and had some incredible Ds. We threw Alli Stargell onto our O-Line. She really never stops and always seems to be open."
A few mistakes are to be expected early in the year, but a fairly polished O-Line performance and a strong contribution from your newest players are strong indicators of long term success.
Flashes Of Potential Tempered By Absences
While Nemesis and Ozone were the top two teams, we saw signs of potential from many others in the field. A combination of bouts of sloppiness (common at this juncture in the season) and missing legs affected the results of a number of teams. Among those were Toronto Capitals, Vancouver Traffic, Boston Brute Squad, and Madison Heist.
In Pool A, Traffic had ups and downs on the weekend while missing key contributors. Traffic played great ultimate against Brute, handing them their first loss, and getting some other blowout wins. They were missing Catherine Hui, Betsy Chan, Mira Donaldson, and Rena Kawabata, among others.
Brute had a great Saturday, and while many of their games were dotted with lapses in execution, they still look like they could be very strong. Leila Tunnell's absence was huge, and that was compounded with a missing Claudia Tajima, Hailey Alm, and Julie Eagle. Boston was plagued by inconsistency, perhaps due to a lack of depth and legs.
Capitals looked like they may be in position to win Pool B before losing 13-10 to Nemesis. They'd later add a double game point loss to Heist. Along the way, they looked strong and executed at a high level. For a team missing Darcy Drummond, Kathryn Pohran, Steph Mandal, and Krista Kotwa, the Caps looked like they could continue their success in the USAU Series. The battle for the Northeast Region should be exciting.
Heist very nearly took their Pool and made the Final, but a one point loss to Nemesis stood in their way: a loss that had them down 9-8, receiving, before lightning ended their comeback attempt. The Robyn Wiseman/Georgia Bosscher combo is a serious handful for teams, but Madison also got big contributions from Sara Scott, Jenny Gaynor, and Rose Glinka. Their double game point win over Capitals came from a break and was one of the more exciting matchups of the weekend.
The problem is that we may not have a good measure of how strong these teams will be when they are able to put the pieces together. Molly Brown and Nightlock were also notably shorthanded but managed to show some potential to compete on the elite level. One would be wise to practice caution when drawing conclusions from the weekend.
The Three Elephants In the Room: Fury, Riot, and Scandal
We know Nemesis and Ozone looked good. We know many others in the field showed potential.
What we don't know is how they'll match up with D.C. Scandal, Seattle Riot, and defending champion San Francisco Fury. The Women's Division has been in the stranglehold of the top two West Coast teams for what feels like an eternity, and Scandal has recently forced their way into the conversation.
It is tough to declare anyone a true threat to the throne until we see how they fare against the group of contenders blocking the doorway to the throne room.