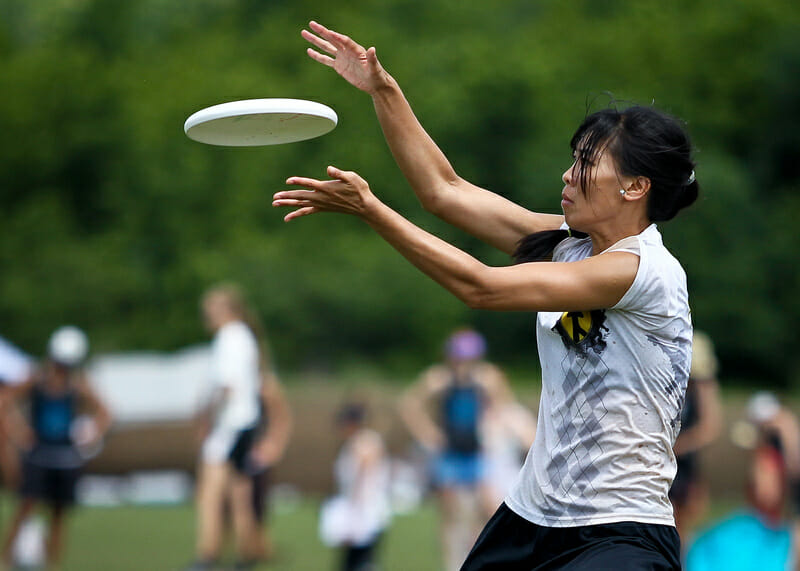 For all intents and purposes, Vancouver Traffic made their season debut at the Pro-Elite Challenge at Terminus in Atlanta. The BC-based team fell a point short of qualifying for quarterfinals at last season's Club Championships, following back to back 5th place finishes. With moderate change to the roster, they stand a good chance of remaining a competitive entity near the top of the Division.
Unfortunately, we didn't find out as much we would have liked from Terminus, where a shorthanded Traffic squad traveled across the country (two countries, technically) to take on some of the Division's best teams. Many teams were missing some players at this point in the year, but Traffic may have been the hardest hit.
Three of the team's top players – Candace Chan, Catherine Hui, and Mira Donaldson – were making preparations to play with the Canadian World Games team. They aren't the only Traffic players with international commitments; new recruits Allie Short (Victoria) and Crystal Koo (UBC) held spots on the Canadian U-23 teams, along with returner Lauren Kimura. The team was without Rena Kawabata, Betsy Chan, and Amy Hodgins. All in all, there were only 17 players to go to battle in the midsummer southern heat.
The new faces on the Traffic roster make them a formidable challenger in the Women's Division, and helped them find some success in Atlanta. Eva Cham, one of the Canadians scene's top veterans, rejoins Traffic, along with Rachel Moens and Laura Mason. In addition to Koo and Short, the team brings in Julie Daviau and Jessica Rockliff from the city's second team, Zephyr, and the athletic Carolyn Churchland from UBC.
"Crystal will be a major player on our D line. Allie and Carolyn are both strong receivers. Julie and Jess are both consistent players and add to the depth of the team," said captain Kira Frew of the rookie class. "They all work hard and have great attitudes and I expect them all to contribute on the field."
The return of Cham, Moens, and Mason could be helpful with the loss of captain Louisa Thue. The team also loses some other veterans in Tory Hislop and Mel Harder. Jamie Kot, Amira Maddison, Nikki Short, and Jennifer Nicholls will also not rejoin the team this season. The additional support of Furious George legend Jeff Cruikshanks, who returns as a coach, will also ease the transition, though he won't join the team until ECC.
"[Rachel], Laura and Eva have all played for the team previously and have easily integrated back onto the team. They are all experienced players," said Frew.
Frew, a two-time member of Canadian's World Games team, headlines a talented returner group. Ashlee Davidson and Tasia Balding will also be able to make big plays for the team. At Terminus, Jen Kwok was one of the strongest cutters to take the line for any team. Once reunited with their World Games & U-23 teammates, as well as Chan and Kawabata, this roster threatens even the best teams.
Traffic's often clashed with one of the Division's top teams, Seattle Riot. This year, a side effect of the Triple Crown Tour is that they'll only see their rival at ECC prior to Regionals.
"This is much different from previous years where we would usually play them five or six times prior to the Series," Frew said. "It's unfortunate that we don't have as much opportunity to play them this season because they are a great team that has consistently pushed us to get better year to year."
With their shorter bench at Terminus, Traffic had to remain focused on their goals. Frew outlined them a bit.
"I think a major goal for the tournament will be to get the rookies lots of playtime and a chance to get lots of reps against top level competition. We would like to continue to refine our offensive and defensive strategies and we would like to do well enough to help our region gain a strength bid."
Traffic invested points into teaching their new players – and those taking on new roles – how to fit into their athletic and aggressive offensive game and their staunch man to man defense.
With an eye towards a strength bid, they needed to find ways to notch some good wins. They came back with a big wins over Brute Squad and Heist, good enough to help get them ranked 5th in USAU's official rankings and 6th in Ultiworld's Power Rankings.
The program for Traffic in Vancouver has been consistent, boasting a strong foundation, solid leadership, and impressive talent. A lot more will be known after their next tournament at ECC, but they show all the signs of being in contention for a Semifinals spot.