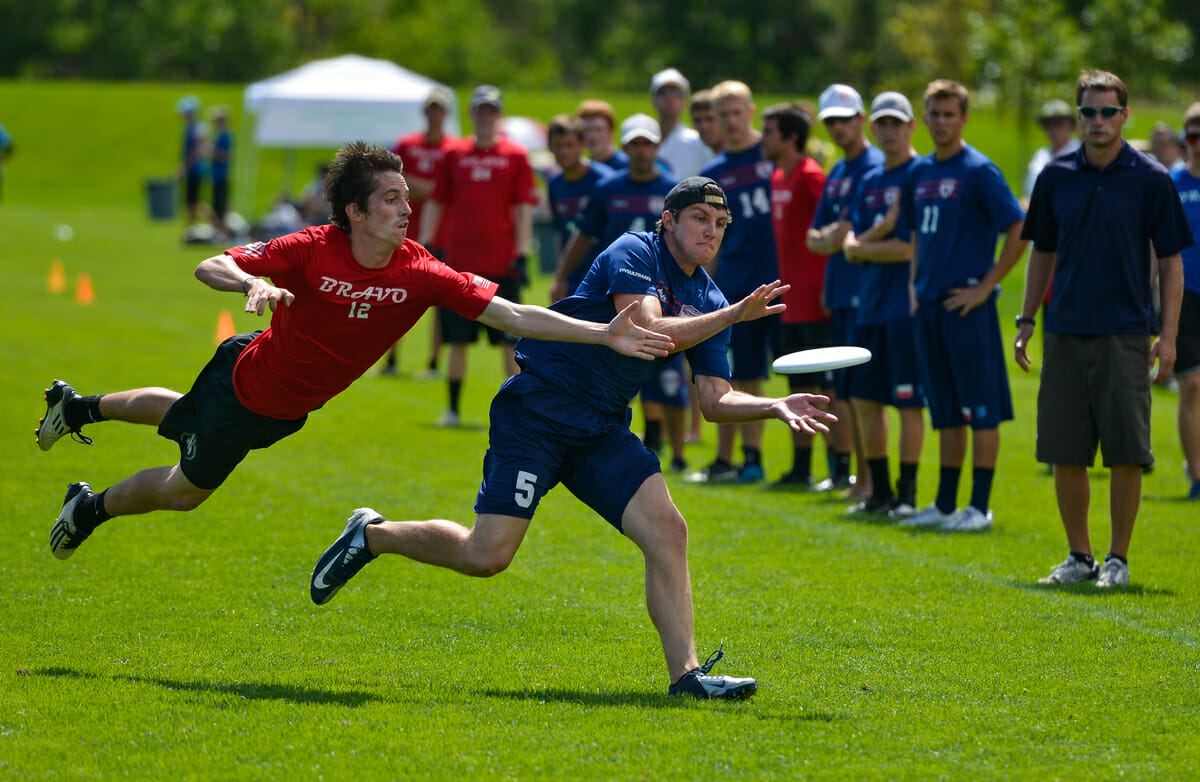 Austin Doublewide took down regional rival Denver Johnny Bravo yesterday 10-9 in the finals of Colorado Cup, after the game was suspended and later cancelled due to thunderstorms.
The weather-shortened win avenged their 13-8 loss to Bravo in the Saturday crossover round. The game prompted Doublewide to tweet, "[Bravo] came out and punched us in the mouth and didn't let up. They're a big, skilled, athletic team. We lost 8-13. Work to do."
They showed up much better prepared for their finals rematch.
"The biggest adjustment we made against Bravo — they played great in that first game against us — we just executed in the second game," said Doublewide captain Jeff Loskorn. "Specifically, our [offensive] line did a lot better job with catching it and throwing it."
Doublewide had more players on the field than they did at the US Open, but were still missing some key contributors: Kurt Gibson, Mike Natenberg, Kevin Richardson, Jerrod Wolfe, and Jake Anderson were all inactive this weekend. Richardson, Anderson, and Natenberg should all be back on the field for Labor Day; Gibson and Wolfe, who are coming off of surgery, have a less defined timeline.
The absences meant a lot of playing time for many of the rookies, including Alex Thorne and Tyler Degirolamo, who played great for the offense in Raleigh at the US Open.
"We want to get them active," said Loskorn. "Our main goal is to get as many reps as we can with [Thorne and Degirolamo]. It doesn't hurt that they're really good at what they do."
In a departure from what they saw at the US Open, the team faced a lot of junk looks at the start of their offensive points, forcing them to look to second options. Thorne and Degirolamo meshed well into the offensive flow.
Loskorn praised Kiran Thomas for his outstanding cutting on the O Line and said he has continued to be one of their most effective contributors. Thomas was also unstoppable at the US Open, finding space all over the field and consistently being a release valve in high-stall situations.
Defensively, Loskorn was impressed with Dan Emmons, a Doublewide rookie. The 6'5″ former Dallas Plex player contributed with some big blocks and looks like he could be an impact player come Fall.
Doublewide has Labor Day and the Pro Flight Finale up next, but may well have their eyes on Regionals, when they will get another game against Johnny Bravo. The two South Central teams made the biggest roster moves of the offseason, as Bravo picked up Nick Lance, Bart Watson, Matty Zemel, and Eric Johnson.
"They've added some big names, as have we," said Loskorn. "They're a really good team."
The likely Regional final is shaping up to be one of the best games of the season.
"We play a pretty similar style of game," said Loskorn. "We play physical on D, open up the game on offense, give our cutters a lot of space on offense." He said that, in the finals, almost every possession from both teams was about four to five throws, then a great huck to space that was still hotly contested by the defense.
"I think everybody's got a pretty high level of respect for each other," he said.
NOTES
…Doublewide won $500 for winning the Elite-Select Challenge in the Triple Crown Tour…Last year, lightning forced the entire final round of Colorado Cup to be canceled…The top finisher from the Select Division was Kansas City's Prairie Fire (6th place)…