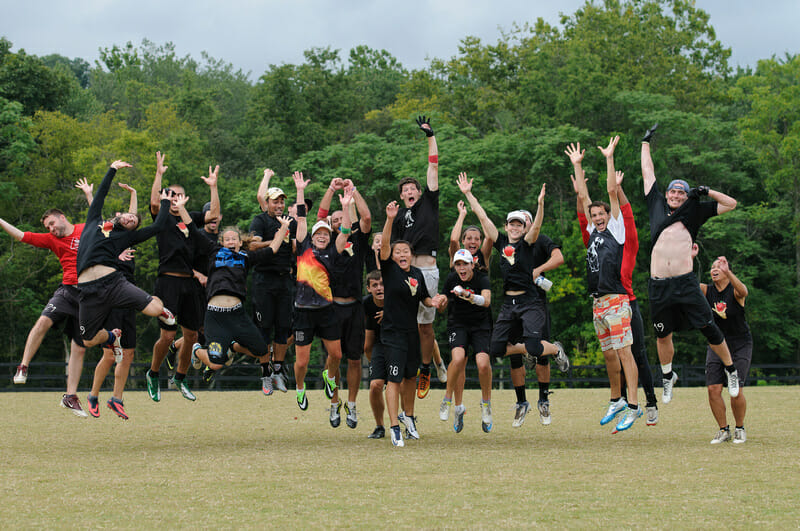 The author plays with 7 Express, who attended the Chesapeake Invite this weekend.
With four regions in attendance and a variety of Triple Crown flights facing off, the Chesapeake Invite Mixed Division proved to be entertaining and compelling. For some teams, the tournament was their first opportunity against high level competition while for others it was tune-up before the series. With many upsets and close contests, Chesapeake's results will surely have an impact on this week's rankings.


Slow White Brings Home Their Third Tournament Victory of the Season
Boston's Slow White handled their business in Virginia, holding seed and winning the tournament in a convincing fashion.
"We were focused on our communication this weekend and tried to make sure both on-field and sideline talk was constant and informative," said captain Alex Trahey. "Our top goal for the season is to play smart ultimate, and that means the players on the field need information so they can react quickly."
Efficiency was the key for Slow on the weekend, rarely turning the disc over on offensive points in their semifinals and finals matchups. The team adjusted from their pool play game to handle SHUYAMOUF's zone defenses in the finals. After breaking early and taking half 8-5, Slow led for the entire contest. They used their legs in the second half to wear out an injury-depleted SHUYAMOUF team, and come away with the victory, 15-9.
"We try to stay focused on ourselves at all times, and the win feels great with that approach," said Trahey.
The team is ripe with new defensive-minded additions to the roster including North Carolina products Nick and Rachel Poore and Boston's Shaun Doherty and Andy Schachter. Former New York Bent cutter Julie Sussman made big plays for Slow as well.
Despite winning the tournament, the team was hoping to face a particular opponent at some point during the tournament. "We were a little disappointed to miss out on the predicted matchup with Ambiguous Grey, especially with the several former Slow White players on their roster," said Trahey. "We're always happy to see the Northeast do well, but we're hoping to see our former teammates make it to Nationals with a new team."
Slow is 3-1 so far this season against other Elite Flight teams while Ambiguous is 3-0. Despite attending both Philly Invite and Chesapeake, the teams have had the opportunity to play each other yet this season.
The team will head to the Pro Flight Finale in two weeks in Davis, California, before taking on the Series.
"Going forward, we're looking forward to competing against the best teams in the nation at Labor Day," said Trahey. "The regular season race is pretty tight going into the last regular season tournament and we have a great opportunity to prove to ourselves and our opponents that we're a top contender for the title this year."
Southern Struggles
Outside of North Carolina's Raleighwood, southern teams fared poorly against their Mid-Atlantic and Northeastern opponents. Dallas' Risky Business, Atlanta's Southern Revival, and Raleigh's Bermuda finished a combined 0-16 against non-southern teams and a combined 3-18 overall.
Despite finishing 11th overall, Southern Revival showed the most promise of these SE and SC teams, putting pressure on each of their pool play opponents. In their first round matchup with top seeded Ambiguous Grey, Revival gave up a second half lead to lose 14-13. They would follow this up with another disappointing 14-13 loss to Ant Madness before falling to Lions and 7 Express.
When they are connecting on their deep looks, this is a team that can be very strong. 

Coming into the tournament with only two losses on the season, both to 18th ranked Cahoots, Raleighwood would use Chesapeake to test themselves against higher level competition. The team started off slow on Saturday, but gained momentum as the tournament progressed. After losing to The Muff 'n Men and Slow White, Raleighwood finished the tournament 5-0 to take 5th place.
Their most notable win came late Saturday against SHUYAMOUF. Raleighwood utilized their strengths, often going with four women on offense to take down the tournament runner up. Immediately after a low energy game against Bermuda, SHUYAMOUF came out flat against Raleigh and lost 10-15.
The Northeast Continues to Impress
Finishing the tournament in the top three spots, the Northeast region affirmed itself as one of the best in the nation. Just a week after Wild Card impressed at the Emerald City Classic in Seattle, the Northeast flexed its muscles in Leesburg.
"Our in-region opponents impressed us, particularly SHUYAMOUF with their stingy defense," said Trahey. "They were a little streaky, but they have a lot of upside and if they clean up their offense they could do some real damage in the series."
Coming off of a convincing tournament win at Ow My Knee, SHUYAMOUF gritted their way to a second place finish, taking down Ambiguous Grey and playing Slow White closer than any other team all weekend. The team — composed of past players from Bashing Piñatas, Puppet Regime, Smang, Bent, and others — looked at the weekend as a good learning experience.
"Our goal was to improve throughout the weekend. [There was] a noticeable increase in cohesion by Sunday as handlers and cutters began working together better," said captain Seth Canetti.
Despite coming out slow in the semifinals, SHUYAMOUF was able to claw back into the game late in the first half and never look back. Ambiguous Grey took a 3-0 lead out of the gate, but after three blocks by Emma Stoltze and subsequent breaks, the New York squad would go into the half with an 8-7 lead. SHUYAMOUF started the half with another break and would lead 12-9 before their O-line was scored on again. SHUYAMOUF would finish the contest on offense with a huck from Corey Mallonee to a streaking Zac Roy for the 15-11 finish. Canetti attributed their second half success to more active marks to prevent Ambiguous' successful deep game.
7 Express would have similar results on the weekend, taking down AG for third place after falling to them in pool play. They fended off regional opponent Lions; 7 Express holds a 2-1 season series advantage against them. Playing with a full roster for the first time this season, 7X experienced success with new lines and fresh legs. The team's D-line produced timely breaks behind the strong play of Brenton Hard and Ben Ivers; Samantha Pelletier stepped up for the offensive line all weekend as well and allowed 7 Express to break seed from 7th to finish 3rd.