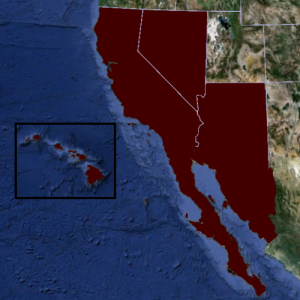 The Southwest Region certainly has claim to being the deepest region in the Mixed division. Along with the Northeast, the Southwest has six teams in the Ultiworld Power Rankings, including three in the top ten (NE has four of those). The #1 ranked team in the Ultiworld rankings in San Francisco Polar Bears, however. The other notable difference?
The Southwest has won the Club Championships for three straight years. In fact, of the past six spots in those final games, five have gone to the Southwest, with the one remaining going to the Northeast. The dominance of the region may have peaked last year, when three of the four semifinalists were Southwest teams.
We know there's a strong field headed to Southwest Regionals in Scottsdale, Arizona.
In a region this deep, how is it that Regionals looks so likely to play out as expected? The trio of top San Francisco teams – Polar Bears, Mischief, and Blackbird – are aiming to keep it status quo as they look to take the region's three bids, return to the Club Championships, and defend their spots in the semifinals. Blackbird, of course, is looking to a win a third straight title; the past two have been with finals victories over PBR.
Behind the big three are a host of contenders looking to score the keys upsets to take one of the available golden tickets. San Francisco squads American BBQ and Groove (formerly GrasSFace) both look capable, as do Los Angeles 7 Figures and San Francisco BW Ultimate.
Polar Bears has put together another impressive resume. They won Cal States, lost in the US Open semfinals to the eventual champion, and won the Pro Flight Finale, losing just four games along the way. They've beaten Boston Slow White, Montreal Odyssee, and Iowa City Chad Larson Experience, showing they can beat the best teams. In addition, PBR is 4-0 against rival Blackbird. On the other side of that, however, is that they are 0-2 against Mischief.
For their part, Mischief's year is in some ways just as strong. Along with their PBR victories, they've beaten Odyssee, Blackbird, and Drag'n Thrust. However, Mischief seems to have an affinity for tight games, with many of their notable wins and almost all of their losses coming in very close games. The 3-loss weekend they endured at the Pro Flight Finale hurt their standings. Plus, they've lost three games in region this season.
Blackbird, meanwhile, is doing things their own way: putting up unnerving regular season results with the hopes of turning it on at the last possible moment. Their 8-8 record leaves much to be desired, with their strongest win being a 15-14 game over Mischief. Winning back to back titles earns you some credit, however, and it is possible they will peak just in time to hold off the challengers and do work in Frisco.
The four three challengers are relatively tough to separate from one another, with each having shown the ability to beat top teams but also to come up short. Groove and BW Ultimate have tangled five times this year, and Groove is 3-2 in the matchup; they are also 1-1 vs. 7 Figures. The Los Angeles team has wins over American BBQ and Mischief, revealing perhaps the highest ceiling, but went 1-6 at their one elite tournament this season.
American BBQ has attended just two tournaments, winning only two games. Both of those were elite fields filled with strong teams, so BBQ's wins over Mischief and Boston Wild Card are meaningful. It is worth pointing out that both wins were by a single point. Two wins won't get them to nationals.
BW Ultimate is in the back seat for this one, having faced less elite competition and going 2-5 at ECC. However, their wins over Groove put them in the mix, bolstered by a win over Termite's Entourage.
Which is it: deep field with potential land mines and upsets or top heavy with elite contenders likely to take the bids? Both.
Blackbird looks the most vulnerable to being upset by Groove or 7 Figures, but they usually do look that way at this point in the year. Perhaps this is the year that playing with fire finally burns them. The only way to find out is to put seven on the line and set what happens.