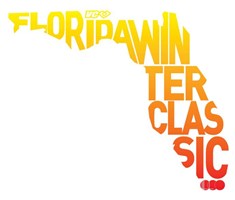 The typical Southeast kickoff party hosted in Gainesville, Florida, each January, Florida Winter Classic brings together the region's top competitors to size each other up. This year, the tournament has teamed up with Without Limits, and is bringing in some strong out of region teams that will amp up the competition level and give the tournament more national relevance.
"This is probably the most competitive D1 line-up FWC has seen in years, and perhaps ever," said Emily Witt, captain of host team, Florida FUEL.
The structure, which has become a staple of Without Limits events, is three tiered Divisions that compete separately in pool play and have some vertical movement opportunities for teams.
D-I is composed of teams in the hunt for nationals spots, with four teams from last year's Championships in the fold. Distance travelers Ohio State (UW #8) and Northeastern (UW #17) add spice to a lineup of Central Florida (UW #9), Florida State (UW #23), Georgia, and host Florida.
Without Limits will host a clinic on Monday, Martin Luther King Day, in order to further educate the young college players, tapping into the region's top club teams for coaching talent.
Star Player Swap Keeps Ohio State Fever the Favorite
Ohio State's climb up the ranks led them all the way to the national semifinals last year. With some core vets graduating, anchored by a top Callahan contender in Paige "Diddy" Soper, the challenge was to keep that from being the culmination of their ascent.
So when Soper's return was announced, it looked like time to buy Ohio State's stock. Don't act too fast, because as Soper steps in, sophomore phenom Nina Finley steps back; Finley will be abroad for most, if not all, of this spring.
The addition of Soper brings one of the country's most high powered throwers to a team with a physical defense and experienced offense. Cassie Swafford, the team's reigning star, gets her partner in crime back. Fever's offense is well structured, their team is disciplined, and there is a powerful foundation of trust supporting their performance. Veterans like Katie Backus, Lauren Franke, and Caitlin Harley are ready to take on bigger roles. The return of cutter Catelyn Ramsey has also been huge for Fever.
One of the most difficult things for Ohio State, the top seed, will be staying off cruise control. With a complete stranglehold on the Ohio Valley Region, they could likely lose every game on their very competitive regular season schedule and still make the short trip to Cincinnati for the championships. They were far from dominant in the fall; a rematch of their 14-13 CCC semifinal victory over Central Florida should be a great test for them.
Central Florida Begins With A Target On Their Back
There were some questions about how Central Florida, the two seed, would deal with the graduation of some key components coming into the season. Conjecture still had them as the region's favorite, and that hypothesis got some support from the Sirens this fall. Early reviews have them looking like one of the nation's best teams, with wins over North Carolina, Virginia, and Michigan from CCC.
Sunny Harris and captain Mariel Hammond are one of the nation's most productive duos on both sides of the disc, racking up Ds and scores. The answer to the preseason questions of who would surround them have been answered.
"We have had a lot of younger players really step it up for us throughout the preseason practices and tournaments, learning how to play and succeed in our system," Hammond told Ultiworld. "Shayna Brock, Jesse Baldwin, and Alexa Wood are all young cutters who have thrived in the deep game."
"Captain Erin Godding and last year's freshman of the region, Stephanie Eli Williams, will be huge for us on the handling side of things," she added. Another key figure will be Amy Price, a speedster who will be returning to the lineup for the first time this season.
One of the UCF's strengths last year was how well they performed out of region. Their unique playing style — an unusual but precise zone and aggressive transition offense — caught teams who hadn't seen it before off guard.
In region, where teams were more familiar with their strategies, they didn't fare as well; they lost to each of the other top four teams at Florida Winter Classic last year on their way to a 3-4 weekend. UCF has played Ohio State four times in the past year, but has yet to take the line against Northeastern.
The Sirens have been looking to diversify, strengthening their man defense in the fall and developing more offensive weapons. The rest of the region will be looking to take down what will probably be a highly ranked Central Florida squad, in order to help their own chances at a strength bid. Hype, in the past, has not been kind to the Sirens. Perhaps this new look FWC will be just the fresh chance they need.
A Step Up in Competition for Northeastern Valkyries
Coming into a major tournament like FWC with expectations on their performance may be new ground for the current Valkyries. There were one of 2013's most unexpected nationals qualifiers, and the target of some undue criticism of the bid allocation system. They justified their spot by performing well in Madison, using their depth and scrappy play to give opponents fits.
Northeastern put together an undefeated fall. They return a large portion of their roster, many of whom have added club experience. That experience could be a huge weapon against the pressure of higher expectations and the need to win a bid for their region. With powerhouse Tufts in their region, plus potential up and comers like Dartmouth, getting two bids again is crucial for the Valkyries.
Captains Melissa Ellis and Lizzie Jones, along with Hannah Walter, will be carrying the bulk of the handling duties for Northeastern, providing the team's consistent baseline. Kate Flood and Mei Brust, who both played with The Ghosts this past club season, will be relied on to make plays downfield. If the squad is like last year's, however, contributions will come from every direction and nobody will be wholly relied upon to carry the team.
Southeast Teams Fighting to Defend The Homeland
Florida Winter Classic has long been the Southeast elites stomping ground. Only five different programs have nabbed a semifinal spot over the past three years. None of the top tier teams in the region will be happy to cede their ground to out of region guests.
More important than regional pride will be nationals bid allocation. The fight starts right away.
Georgia Dawgma, the four seed, holds the tournament's and the region's title. With large roster turnover, this is not the same roster as the one that won the title, and that showed in the fall. They'll be looking to rebound from a tough CCC – neither of their losses to UCF or Ohio State were close – and to show off all of the development and building they've been doing in Athens.
Like Central Florida, the challenge will be placed on their supporting cast to back up their stars, Lane Siedor and Hannah Leathers. Lily Stockton, Kate Hines, Melissa Merrill, and Michelle Yang could see a healthy amount of touches, and it may be their play that is most directly impactful on UGA's results.
The fifth seed Florida State Seminole Ladies are hungry after 2013 was a season full of "getting close." They were close to winning a third bid for the region. They were close to making it to the game to go. This program is ready to arrive.
"Our vets have played [Georgia, Ohio State, and Northeastern] and been in close games with them, including some we still feel we should have one," said the FSU captains. "We feel like we are in a good place going into FWC to make some noise."
Expectations are increasing for Florida State, a team perhaps finally finding the confidence and identity that was one of their only missing pieces. They open with top seed Ohio State.
Florida FUEL, the host team, are also Division-I's six seed. The fall was a mixed bag for a FUEL program adjusting to absence of long time stars. Now, a team built around depth and discipline has a chance to prove they can weather the change. Sarah Gardiner has been a machine for UF this fall and should make a push for All-Region, along with cutter Emily Witt; their handler group is the deepest in the region, even if they'll be without Reba Havis.
"We know that every point matters in the regular season, so when games get tight expect to see strong FUEL veteran lines being called," Witt said, speaking to a focused and competitive UF squad.
If FUEL wants a chance at a strength bid, it will start in Gainesville. They head to the President's Day Invite next, so if they can get a jump start on a strong season, they could be in a great position when they make their way to California.