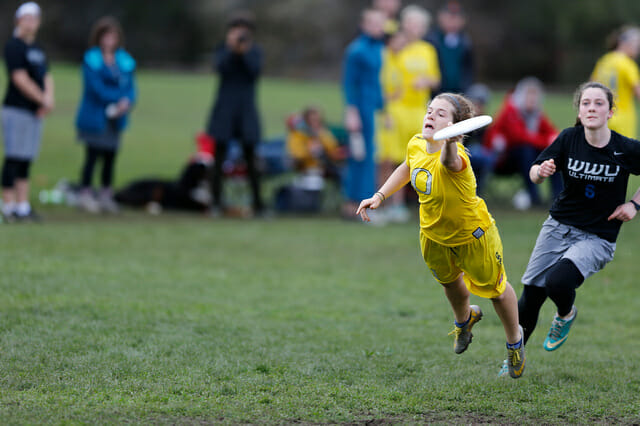 A new set of Power Rankings are out and it is yet another list topped by Oregon Fugue. The reigning champions emerged from Stanford Invite undefeated on the weekend; they have just a single loss on the season. Along the way, they beat the #3, #6, #7, #9, and #11 ranked teams in the country. To say they are the favorite this season would be an understatement.
However, the weekend saw Oregon escape some dangerous spots: half time deficits, double game points, and high pressure situations. Is it a sign of a vulnerability or a confirmation of their strength?
Last year's track record looks almost suspiciously familiar for Oregon. Win most games handily in first two tournaments? Check. Take a surprising loss Saturday at President's Day Invite? Check. Play some extremely close games against top competition at Stanford Invite, only to capture the tournament title? Check.
The weekend began with inauspicious beginnings. #25 UC-Davis — a then-unranked team who was swapped in to the tournament field less than 24 hours prior to their games — was mere feet away from sending Fugue into their first halftime with a deficit. Oregon turned it on in the second half to win 13-9. The top seed, then settled in, laid waste to opponents for the remainder of the day.
Another slow start put Oregon behind the eight ball on Sunday as well. #6 Stanford was able to take it a step further than their Southwest compatriots had the previous day, taking the half over Oregon behind Jennie Lummis' inspired downfield antics. The second half would be a grinding affair which Oregon would win under the hard cap; Stanford scored the game's final, but losing, point to make it 9-10.
The weekend's most dramatic game was a classic battle with stories throughout: Oregon's semifinal battle with #3 Central Florida. Coming into the weekend, both teams had indicated to me they wanted to play one another, having never done so. Everyone should be glad they did.
Offenses ruled early on, as both teams employed various defensive techniques to feel out the opposition's strengths and weaknesses. When the turns finally came, UCF was the first to capitalize, taking a push pass break for a 5-4 lead. After extending the lead to 7-5, UCF was staring a chance to take half on the country's top ranked team, but Oregon fought back, just as they had so many times already. Sophie Darch, Rachel Hershey, and Alex Ode made big plays to lead a three point Fugue run to win the first half.
Shortly into the second half, the tournament received a serious scare when UCF's Rachel Acuña was injured laying out for a huck. Reporting symptoms in her head and neck, Acuña was kept still for an extended period of time while being checked out by a trainer and doctor. Emergency services were contacted and Acuña was placed on a stretcher and taken to a nearby hospital. Fortunately, the precautions turned out to be just that and she was up and about that evening.
The break was so long that teams were given about eight minutes to warm up following the delay. Perhaps spurred on by the incident or re-energized by the break, Central Florida scored two straight points to tie the game at 9-9. After a Fugue huck score, Alex Ode would record a bookend score, only to see UCF find Alexa Wood in the end zone and then a Mariel Hammond sky for a jump ball to help make it 11-11. Both teams knew the hard cap would go off in the next point.
Oregon received the pull and confidently marched into the red zone. A backhand to space threatened to send the Eugene ladies to the final, but Sunny Harris, playing despite having a swollen sprained ankle, would take to the air for a gigantic bidding D. Erin Goding checked the disc in on the front cone, took a few seconds to look upfield, and attempted a horizontal dump, but the disc came out behind her dump's cut and Fugue freshman Hayley Wahlroos was the benefactor, grabbing  the game ending Callahan.
Once more, with the exit window closing, Fugue showed the poise and grit to hit the wall and roll underneath to the other side. They'd find fellow Northwesterners #6 Western Washington waiting for them, almost literally; Western had won their semifinal easily 15-5 over Stanford and Oregon's semi had taken longer with the injury stoppage.
The final was less dramatic than Oregon's preceding game, but was loaded with impressive plays. Early on, Dre Fontenot — capping off an excellent weekend of play — got an athletic layout D that led to Oregon's first break, making it 3-2. Jesse Shofner and Olivia Bartruff were effective all game long in the red zone, using their quick jukes to get open in the small space.
Abbie Abramovich was a force in the game, particularly downfield, making numerous scoring runs and layouts. Callie Mah gave Abramovich a number of opportunities with her big hucks. They were undaunted by the 8-6 lead Fugue carried into the half.
Unfortunately for Western, they'd be able unable to keep up with Oregon's pace. The overall athleticism of the Fugue defenders — led by Bethany Kaylor — kept Chaos from generating much downfield flow by stifling continuation cut opportunities. After the turn, Oregon's famous aggressive offense often changed angles of attack and wore down the Western defense. The final score would be 15-10 in favor of the top seeded squad.
Fugue's arsenal is well stocked. Jesse Shofner is playing the best I've ever seen her play, looking dynamic and active. Sophie Darch is playing increasingly effective defense and still is Oregon's anchor. Dre Fontenot, Rachel Hershey, and Hayley Wahlroos were impactful all over the field and Bethany Kaylor is a swiss army knife that Coach Lou Burruss deploys artfully.
Is Oregon vulnerable to upsets? Probably. Will winning close games make them stronger? Probably. Should the nation be scared that, much like last season, the challenges of the Stanford Invite are seasoning one of the country's most talented teams and strengthening their mental fortitude? Definitely.