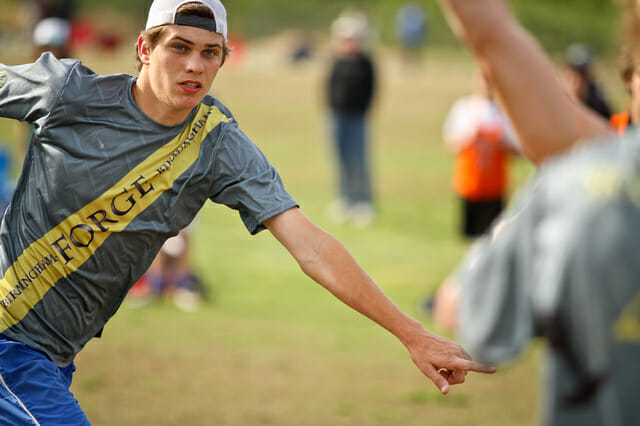 With March coming to an end and spring slowly starting to warm up the south, the Atlanta Flying Disc Club brings a multi-state and multi divisional tournament to Atlanta, Georgia. Terminus 2014 hosts two youth open tournaments — varsity and junior varsity — and a youth girls' tournament at the Georgia Soccer Park. This weekend will have major implications for seeding in big tournaments later in the season. Spectators should be excited to watch multiple future local college stars display their potential while teams compete and hope to see their hard work pay off.
Different Position for Forge
The combined team from Birmingham, Alabama, will be starting out at Terminus in a new way, as top seed and top dog. Unlike their last tournament, Deep Freeze 2014, back in February, the team will be prepared and focused for the prospect to win their final spring tournament.
With Forge's roster listing players from multiple schools in the surrounding Birmingham area, the team cannot participate in official sanctioned USA Ultimate tournaments. Despite that, youth ultimate is continuing to prosper in Alabama; Forge's main goal in contributing to the growth is to participate annually at the summer Youth Club Championships.
Birmingham's squad of all-stars is highlighted by Hoover High School student, Eric Sjostrom. Sjostrom has four years of competitive play under his belt and his experience against older competition has a huge impact on his style of play. After playing with the likes of Ironmen and Southern Hospitality in the Southeast during club season, the higher competitive nature has conditioned him to have a far more mature field sense than most high school players.
Forge last month received notice of an opportunity to attend Deep Freeze from the tournament director due to a team dropping out at the last minute. The offer was made only two days prior to the tournament weekend. With only nine players able to commit, they traveled together determined to make the most of the tournament.
Considering the circumstances that Forge faced, their third place finish is all the more impressive. The number one overall placement at Terminus gives Forge a chance to prove their legitimacy as a team. This time around, Birmingham will have a full squad and ample amount of practice time to chase after their first big spring tournament title.
Can Independence Get Over the Hump?
The past two seasons have been a win-loss rollercoaster for Independence Flight and anyone trying to figure out the validity this program out of Thompsons Station, Tennessee. Two years ago, Flight finished runner-up at the 2012 High School Southerns tournament and third at their state tournament. Even with a core group of returning players and a pack of athletic rookies in 2013, Flight finished 11th place at High School Southerns, eight spots lower than their original seed.
This season is shaping to be a different story with a roster of 16 returning players determined to ascend past being a run-of-the-mill team. Looking at the team's experience, it ranges from fresh rookies to experienced seniors. A good balance of returning handlers and cutters give them a ton of team chemistry, but having a top seed shields their biggest weakness: consistency.
At Deep Freeze, Flight was placed as a two seed and fifth overall. Independence's biggest win, a 13-11 come from behind victory against Neuqua Valley, was short lived. The next two games exposed their inexperience of playing above average teams with consistent intensity and focus, losing to Carolina Friends School and then Forge.
The challenge of playing more than average talent is new for Independence, and in order to attain consistency they must learn to adjust to their opponents. Terminus has an array of teams with different strategies and play styles that could give them an opportunity to excel, or expose the team's inconsistency.
Getting Ready for the Postseason
As spring rolls on, tournaments such as Terminus and Paideia Cup are the last of the big regular season tournaments to be played in the south region.
Teams want to hit their peak and excel relative to when the most important tournaments take place: for high school teams, that means state and regional tournaments. Terminus, for many teams, is a measuring stick.
While every team might be able to attend and compete at their state tournament, the process is different for high school regionals. Applications for each team interested must be sent in for evaluations of team performance, history among other stipulations and requirements. Many teams competing at Terminus are looking forward to receive a bid and attend the 2014 High School Southerns tournament.
USA Ultimate has since closed the application process and will notify the selected teams on March 28th. There are multiple other teams, outside of those attending Terminus, in the region looking to compete at HS Southerns, and with the growing popularity of the tournament, certain teams might get snubbed an invite regardless of their performance this weekend in Atlanta.
At the start of April a period of practices, local scrimmages and round-robins will ensue for many as they prepare for the beginning of the post-season stretch.
Pool Play
Terminus will be relatively shorter than last season's to accommodate the long distance traveling teams and to allow more playing opportunities for the junior varsity teams.
Pool A
A couple seasons ago this pool would be seeded differently and really tough to win the top seed outright. Programs in high school, no matter how prestigious or storied, still suffer as a result of graduation of players. Blackman High School and University School of Nashville are no exception to this rule; Blackman came in second at Terminus in 2012 with a bevy of senior talent, and USN's seniors dominated Terminus last year. Neither team is as good as in year's past, but both are very well coached and will give Birmingham Forge a push for the first place in the pool.
The fourth seed Alpharetta High School is a first year team that will learn a lot from their opponents on Saturday, but do not expect any major upsets from this team. Overall, this is a really strong pool with tons of potentially close games to be played Saturday.
Pool B
Woodward Academy has yet to partake in a two-day tournament but the War Eagles have plenty of scrimmages against local teams to prepare for the weekend. Having a consistent program and a couple of players that attended the Spin Ultimate Academy, Woodward is not to be overlooked by any means. Same goes for Chamblee, although not one of the best-rounded teams they still have some experience that can propel them into the championship bracket.
St. Paul is a very interesting team to watch. Not much is known about one of the two schools traveling from Louisiana. Usually when high school teams are willing to travel large distances, they are going to be a worthy opponent. Look for Woodward, Chamblee, and St. Paul to fight out for the two spots to advance to pre-quarters while Independence advances straight to the quarters.
Pool C
Lakeside High School and Grady Gauntlet are by no means strangers to each other. Their game is likely to be the best 1 v. 2 matchup at the tournament. Grady, led by a pair of strong senior captains, started the season at Queen City Tune Up, with two one point victories over Lakeside. However, Lakeside did beat Grady at a round-robin local tournament a few weeks ago. Both of these teams have the potential of reaching the semi-finals come Sunday.
Cardinal Gibbons, from North Carolina, has a steady program. Gibbons placed tenth at their state tournament last season, and look to improve this season after a disappointing 1-6 start at Queen City Tune Up. Parkview has been primarily a division two team from Georgia and look to test their skills against tougher competition in the varsity tournament rather than the junior varsity.
Pool D
The fourth and fifth overall seeds, Brookwood Inferno and Catholic Bayou Hazard, respectively, played each other twice at Deep Freeze, splitting wins; they'll get another shot at each other in pool play this weekend. Catholic, one of two schools representing Louisiana, always travels long distances to improve, grow, and contend with the best in the southern region. Each program has well-disciplined players, and their game at noon on Saturday will be worth watching.
Knoxville STEM has a good amount of solid players thanks to the surrounding area's push for youth development. Knoxville will win games but they may not make it deep in the championship bracket.
Decatur High School is another Georgia program that competed in several local tournaments and their state tournament in the past. Decatur should gain a lot of needed experience this weekend to help them prepare for the state tournament in the following month.
Predictions
After four rounds of pool play, prequarters will be played among the 2 and 3 seeds while the four top seeds receive a bye into quarters on Sunday. The predictions below are all subject toward how pool play and pre-quarters will play out on Saturday. Feel free to comment and discuss your 'elite eight' and 'final four' in the comment section below.
Elite Eight: Birmingham, Catholic, Lakeside, Independence, Woodward Academy, Grady, Brookwood, and USN
Final Four: Birmingham, Grady, Lakeside, Independence
Players to Watch
#8 Sebastian Di Francesco – Grady (committed to University of Georgia)
#6 Riley Erickson – Grady (committed to University of Georgia)
#37 Grant Given – University School of Nashville
#46 Chidike Iromuanya – Brookwood
#7 Micah Jo – Brookwood
#2 Mac McClellan – Independence (committed to University of Tennessee)
#4 Eric Sjostrom – Birmingham (committed to Auburn University)
#11 Leo Warren – Lakeside
#9 Dylan Zerginue – Catholic (committed to Louisiana State University)