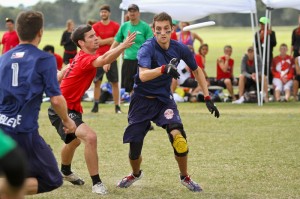 Denver club team Johnny Bravo continues to grow its talent base. After a splashy 2013 roster release, the team is set to announce some new stars on their 2014 roster later this week.
Kurt Gibson (formerly of Austin Doublewide) and Sean Keegan (formerly of Washington DC Truck Stop) are among the roster additions for the 2014 season. Gibson is widely considered among the best players in the world. Keegan, a captain of Truck Stop last year, was one of the team's most important contributors.
Keegan had been mulling a move to the Denver area and will now definitely be relocating. Gibson already lives in Denver.
Johnny Bravo is one of the four US men's teams playing at the World Ultimate Club Championships this summer in Lecco, Italy, alongside San Francisco Revolver, Seattle Sockeye, and Boston Ironside. They finished fourth at the 2013 Club Championships after falling to Revolver in semifinals, and Ironside in the third place game.