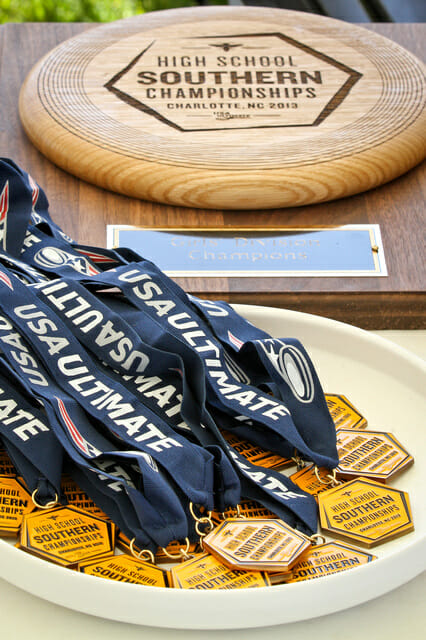 The Southern Region's best high school teams come to Greenville, South Carolina, to compete for the 3rd USA Ultimate Southern Regional Championships this weekend, served by the Local Organizing Committee, Greenville Ultimate.
Since the expansion of the High School Regional Championship tournaments, the South Region has seen a steady incline of competition and talent that has led to growth for many preexisting and new teams. Sixteen schools from Virginia, North Carolina, Tennessee, Georgia, Florida and Louisiana are represented in an effort to become one of the country's best high school teams.
The past two Southerns tournaments saw one school rise victorious from the Volunteer State — the University School of Nashville — and for good reason: the program had hit its stride. After the departure of their founding coach and mass of graduating key players the odds do not look in USN's favor for a three-peat, giving other schools an opportunity to become the second school to win Southerns.
The schedule, posted Wednesday, shows that multiple teams have a great shot for advancing to bracket play and achieving their goals. Whoever wins each pool receives a bye into the quarterfinals and this makes every matchup Saturday crucial. As those who finish second or third in each pool must win an additional crossover game to be placed into the championship bracket.
Perennial Favorite Looks for Sweep
Carolina Friends Fighting Quakers has played as the top team in the region and deservedly earned the top overall seed and perhaps the easiest schedule to advance as far as they need to win it all.
Last season Carolina Friends made the semifinals and lost by one on hard cap to Paideia School. The team from Durham lost a couple seniors from last season but has not altered their goals of returning to the championship bracket play and this time sealing the deal to reach the finals.
It comes as no surprise that a private school, such as Carolina Friends, does not have a large student body to draw from, but they continue to find athletes to train into ultimate players. For high school ultimate it is not necessary to have a large roster, but properly using the roster and its depth can be your advantage. The Fighting Quakers should have no problem advancing to at least the semifinals on Sunday, but one glaring weakness might be the key toward beating the Fighting Quakers.
Relying on a top heavy roster full of talent does come at a price for most. Carolina Friends have survived this season given the circumstances of their depth. Potential All-Region players such as Captain Sol Yanuck, Matt Gouchoe-Hanas, and Freshman of the Year candidate Liam Searles-Bohs highlight the starting seven. But the depth down the roster is not on par with some of the other programs at Southerns.
The team has multiple zone defensive sets that can help rest their top tier players while confusing the opposing team's offense. Their closer games have come later in tournament games; the strategy is to get break scores early so they can afford to substitute their main line out, thus affording to give up points and depend on scoring every offensive point when switching back to their starting line.
As one who has seen the team play in person at Deep Freeze and Paideia Cup, the roster is full of athletes and quality players that can get the job done against most teams. Depth during Sunday play with their game plan could be the defining feature of a tournament victory or a disappointing finish.
Different Programs Seeking Same Prize
Paideia Gruel and Independence Flight have many differences historically and strategically, yet find each other neck and neck in becoming the region's best. In March, Gruel came out on top 12-10 in the only head-to-head matchup this season; Flight has not beat Paideia once in five games since 2011.
Gruel started in 1992 and since then the private school team from Atlanta has produced many common names in the ultimate community. Paideia is looking to reclaim their dominance in their 22nd season. Having a core group of senior players including Anders Olsen, Ben Mapes, and Nathan Haskell, Gruel maintains a young and deep roster always ready when it counts the most.
This season Gruel placed third at Deep Freeze, first at Music City Mash-Up, fourth at their own invitational, and continued their home state supremacy winning the Georgia State Championship two weekends ago. Their patience as an offense rivals those of major club teams while still able to pull the trigger at any point.
As versatile as Gruel is, teams with more athleticism seem to give them the biggest challenge; five of their losses this season were to Holy Family Catholic, Carolina Friends, and De Smet, teams who were all athletic and whose defenses tested the Gruel offense. Their two losses to Carolina Friends were decided by a total of three points, first by two and the second on double game point. A victory was well within reach; with the time off, Gruel will look to bridge the gap in a final showdown on Sunday.
Independence has a short school and team history but that has not shortened their stout goals for this breakout season.
Established in 2006, the large public school has many students and various club sports; 2009 started the humble beginnings of the team with the small goals of just competing at the state tournament. Since its inauguration, Flight has increased up one place at the Tennessee State Championships every year and reached their goal of winning the state tournament last weekend for the first time.
Flight's long 2014 season consist of winning the MBA One Day, placing fifth at Deep Freeze, second at Music City Mash-Up, first at Terminus, first at Blackman Series Tune-Up, and first at the Tennessee State Championships. With wins over other top regional teams De Smet and Neuqua Valley, and multiple wins over teams attending Southerns, two out of their three losses have come to Carolina Friends and Paideia.
It is no secret three senior handlers Mac McClellan, Chase Hammond, and Carter Rae are the bread and butter to the team's success. Their motivation comes from last season, where a majority of the players remember finishing a disappointing 11th place at Southerns.
Sixteen returning players remember the sting of dropping seed by eight spots and underperforming on the biggest stage last season. With a chip on their shoulder Flight has been working toward this weekend and forward to the challenge of peaking when most important. When they are hot they are hard to stop, but when they are cold they are vulnerable to anyone.
Pool D Stands for Pool of Death
Each school is not the best from their respective state, but every team does have what it takes to reach bracket play on Sunday.
Lakeside and Chapel Hill both started their season at Queen City Tune Up with the Vikings winning by one. Chapel Hill had the last laugh by finishing higher at the tournament, but the one head-to-head matchup looked to give Lakeside the higher initial seed for Southerns. Their matchup should be a very interesting game to watch — it could decide each team's season.
A disappointing 14-9 loss to once sibling team HB-Woodlawn at the Virginia State Championship gave Yorktown motivation to prepare for Southerns. The Patriots have played top level talent at Paideia Cup including Chapel Hill (11-14 loss) and the experience could give them the edge needed to break seed.
With the three top schools — Lakeside, Chapel Hill, and Yorktown — fighting over the top overall spot, the sixteenth seed Fernandina Beach could squeeze into the third seed, but this is highly unlikely.
The Dina-Saur's now have an established program and are coached by Thomas Rowan, involved with ultimate since 1986. The team has been slowly progressing, since the inauguration back in 2010, but has yet to play any real regional competition. That of course will change and teams will see what the squad from Florida has to offer.
Scouting Reports
Carolina Friends School Fighting Quakers (25-2) – Best team coming in, looking to stay that way with a respectable balance of knowledge and athleticism in their roster. Everything from attacking deep or break side or quick handler give-and-go is on the table; the starters really complement one another on the field. All the clean motion and cuts on offense give the top heavy roster a chance to pull out all the stops one last time to have enough energy to finish on top.
Paideia School Gruel (19-5) – The legacy program has what it takes to regain the top position the only way they know how. Gruel has patient, smart, well coached players, top to bottom, that can put them in the position to succeed.
Independence Flight (33-3) – Tennessee State Champions have something to prove with their deep, athletic, experienced roster and a record that can back it up. While playing fast is their strong suit, they get ahead of themselves enough to let teams make runs against them.
Lakeside Vikings (21-6) – A young, athletic and fast paced team that will test you in every aspect of the game. Coming in second place at the Georgia State Championships helped the Vikings prepare, but their depth will be put to the test.
Chapel Hill Ultimate Frisbee (15-4) – CHUF has always been an athletic and proud team from North Carolina, and their experience gained from may put them over the top. Strong zone offense ran by their handlers that are fluid when running, but will be tested on Sunday during bracket play against other teams that can match their athleticism.
Catholic Bayou Hazard (9-5) – A very well coached, maximum effort team that makes you earn every point. CHS is a huge feeder program to Louisiana State University. They have always had a top heavy roster and a slight disadvantage having to travel to other tournaments.
HB-Woodlawn Secondary Program (15-3) – Sleeper team that won the Virginia State Championship with patient handler offense and great zone defense. Team with 12 seniors on their roster seems deep but could be too reliant on starting seven.
Grady Gauntlet (20-14) – Another program from the state of Georgia who has two stud senior players, and is a very capable team. Two players may not be enough for Grady to go deep into bracket play but it depends on their surrounding cast.
Yorktown Patriots (10-8) – Second place finishers at Virginia State Championship that has a Chain Lighting mentality: chicks dig the long ball. Smart and tall cutters downfield give them big targets, but their handlers are shut down by good zone or man defense forcing them to throw a lot of short passes.
Brookwood Inferno (16-12) – Georgia team out of Snellville returning to Southerns for a third time with a hot or cold team looking to peak. Inferno has a large roster of juniors and seniors that show poise but still at times can seem a little impatient.
Blackman Blaze (20-15) – Large upcoming program returning to Southerns after a one year hiatus with multiple defensive looks and skilled throwers. Coming in second place at the Tennessee State Championships, Blackman hopes to neutralize the other athletic and taller competition with fundamentals.
University School of Nashville Brutal Grass Burn (13-14) – A storied program from Nashville, Brutal Grass Burn hopes to make some noise as the reigning Southerns Champions. Although not as strong from a season ago, USN looks to prioritize their core group of players and to use their depth as much as possible.
Woodside Wolverines (5-7), East Chapel Hill (9-5), Carrboro Clams (10-5) & Fernandina Beach Dina-Saurs (9-4) – Each four seed is capable of pulling off a win or two at Southerns. While these teams have not competed as much during the regular season, the element of surprise can never be over looked and might shock a few teams this weekend.