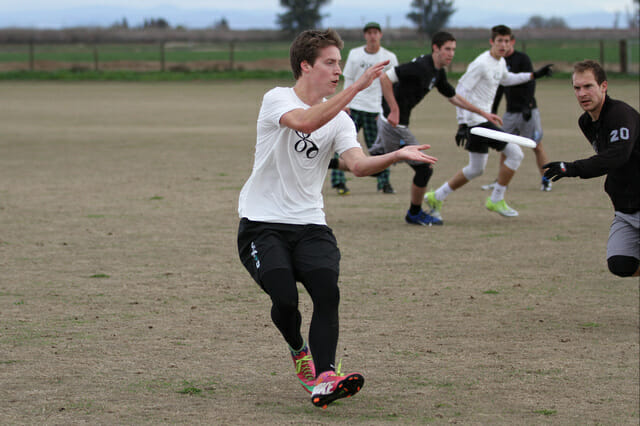 The showcase field featured a showdown between Texas TUFF and Oregon Ego. The 15-10 victory for Oregon may seem like domination, but Oregon's offensive mistakes won't fly against Colorado Mamabird.
Texas Can't Convert the Chances
Oregon began the game on defense, and started out in full force. Two quick breaks forced Texas to start climbing back before the defense even saw the field. Ego's defense used a two man skill rotation to rest players yet also provide some consistency. The first set featured Dylan Freechild and Trevor Smith. That set hucked for a break, to bring on Brian Penner and Chris Strub on the following point. Penner and Strub took away the resets and punched in another break. A quick 2-0 for Oregon showed off their speed and immediately challenged Texas' gameplan.
Ego's win would've been easier if their defensive efficiency was matched on offense. The Ego defense converted six out of the eight possible break chances throughout the game. The offense, however, turned the disc over six times, providing Texas with more than enough chances to climb back up the mountain. Luckily for Oregon, the TUFF D-line offense couldn't efficiently move the disc. By the end of the game, Texas had converted three out of their seven break chances. Oregons O-line defense was lock down in their man to man, playing with only smart poaches on deep cuts to throw off the TUFF D.
Texas kept looking deep to Will Driscoll, even when he was being picked up by multiple defenders. Oregon earned a number of blocks by simply double and even triple teaming the big man.
"We live by the sword, we die by the sword," said Texas coach Calvin Lin. "We've been so reliant on Will (Driscoll) to make big grabs. But now there's three white shirts around him. That was our undoing."
Oregon adjusted their gameplan to play team defense. There were consistent poaches from the back of the stack. The team will look to use the same game plan against Colorado's Jimmy Mickle tonight in the semifinals.
Oregon Matches Up Well
Despite the height difference, 2013 Callahan Winner Dylan Freechild, who stands at 5'10", matched up against 6'3″ Will Driscoll at multiple points throughout the game. The five inch difference never came into play, mainly due to Driscoll being forced to stay near the disc. With Mitchell Bennett throwing four turns and only one assist, the weight of the offense fell on Driscoll's shoulders.
His targets were few in number. Bennett was being neutralized by Brian Penner, who epitomizes the typical Oregon defender: fast, fast, fast. With Freechild able to take Driscoll, 6'4" Gabe Fruchter was able to limit deep threat Jon Clutton, and match his height. Ego's Mario Bundy switched between the TUFF handlers and snagged an effort layout D late in the game that would lead to the winning break. Driscoll still managed two goals and two assists, but for a player that carries the weight of his team, it wasn't enough.
Oregon had a surprise performance from freshman Connor Matthews, who caught three big goals. When Ultiworld caught up with Matthews, he talked about climbing the ladder on such an elite team. "I started out on the D-line this year and worked my way up," he said. "It's great to have such amazing players around me like Dylan, Wilson-Moses, Trevor, Jack, all those guys. It feels good." Those top guys definitely appreciate Matthews too. One of Connor's three scores came on a wide open, speedy deep cut to take half 8-7.
***
Despite a heavy amount of Roster Turnover, Oregon showed their depth against a tough Texas team. Texas' year comes to a close, but not without getting the championship bracket monkey off their back. "Its disappointing because we had a lot of weapons, but they're a good team," Lin said.
Ego will look to prove that they belong when they play number one seed Colorado Mamabird in tonight's semi-final.