Colorado and Oregon are both legacy programs with graduating Callahan winners and a great chance at a National Championship. They also happen to be facing off in the semifinals.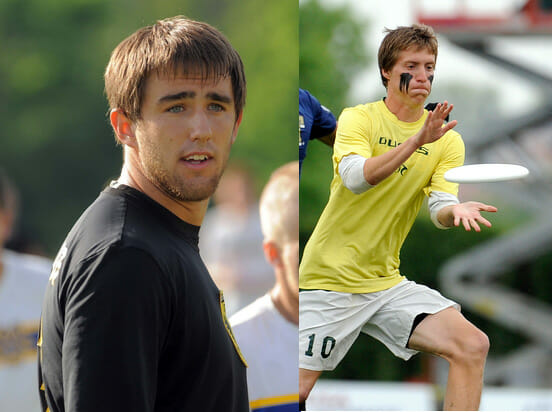 Two teams, both among the perennial contenders of the last decade and both making it out of quarters with sound victories, will battle in the semis for a spot in the title game. Both Oregon and Colorado will be looking to justify their early season hype.
The similarities go even deeper.
Ego and Mamabird both made earlier exits than they would have liked last year: Oregon falling in semis to eventual champion Pitt; Colorado succumbing to a shocking upset at the hands of UNC Wilmington in prequarters. Both favor fast, athletic, and confident styles of play that have been frustrating teams all weekend. And both will be graduating their best player in 2013 Callahan winner Dylan Freechild for Ego and 2014 Callahan winner Jimmy Mickle for Mamabird.
Which is essentially all to say that Oregon and Colorado will both be ravenously hungry for a championship, as each program might be in the midst of their best chance in years at succeeding in their title quest.
To make it even more interesting, despite Mamabird's depth of athleticism and Ego's relatively young roster, the two squads match up well, particularly in the wake of Oregon's convincing 15-10 victory over Texas in the quarters earlier today.
TUFF has thirteen players above six feet, but Ego managed to contain their deep threats, including the always dangerous Will Driscoll, using smart poaches and plenty of double and triple teams.
When one of Texas' trees broke free deep, Oregon did a great job of providing help defense and switching. No small feat with such a young team.
They'll need to employ this defensive chemistry if they hope to keep step with the frighteningly versatile Mamabird. If they can continue the kind of break conversion percentage from their Texas game, where they punched in six of eight break opportunities, Ego will have a very real shot at taking down Colorado — assuming, that is, they're also able to maintain possession on offense and not hand their opponent too many break opportunities in turn. Oregon survived many of their offensive turnovers in the game against Texas: Tuff converted only 3 of their 7 chances.
Mamabird, on the other hand, will need to return to the kind of offensive efficiency and dynamism they displayed all weekend. Their offense was similarly sloppy, turning it over seven times against Michigan. Had the latter been more disciplined about taking advantage of those chances, it could have been a much different story.
Given Oregon's ability to make defensive adjustments mid-point, Colorado will have to be smarter about their looks and not rely too much on ripping it to their big guys or taking risky over-the-top shots.
On defense they'll need to find a way to counter Ego's speedy, give-go attack and force their opponent to win with multiple contested unders and veteran patience.
Such an approach would certainly favor the aggressive man defense of a bid-happy Mamabird.
Yet, even with all the talk about how the teams stack up against each other and what tactics they might need to utilize to neutralize strengths, it will still largely come down to execution.
Both Colorado and Oregon are experienced programs that know how to win.
All they'll have to do is prove it.