UNC Wilmington is headed to the semifinals of the 2014 College Championships after stunning Pitt 14-13 in quarters with a break on double game point.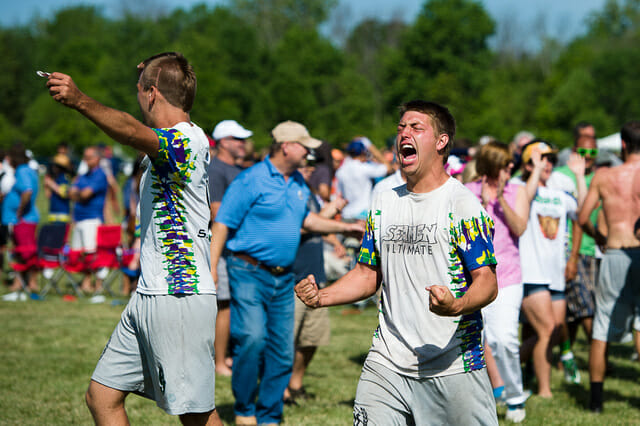 There were a lot of possible storylines a college Ultimate fan could dream up by glancing at the quarterfinal matchup between Pittsburgh and the University of North Carolina at Wilmington.
Headlines like 'Pitt Rolls Through Quarters, Readies for Semis' would probably come to mind. Maybe something about Pitt's core of North Hills High School players in Max Thorne, Pat Earles, and Aaron Watson, who accounted for 18 of a possible 26 goals and assists.
One headline nobody had was 'UNC Wilmington Stuns Pittsburgh In Quarterfinals Thriller' 14-13.
Wilmington's head coach Greg Vassar agreed.
"Who out here expects us to be in semis?" an elated Vassar remarked over the riotous scene following the game. "Nobody. Except for our 23 guys."
After the game, the packed sidelines have started to spill on to the field. The Wilmington faithful setup a human cheering gauntlet for their team and coaches to run through. People are crying for joy, crying for disappointment. Jerseys are off. It's a madhouse.
"This is where we wanted to be," said Vassar. "We believed and we executed. That's all the difference."
Really, who else could believe it? A defending two time national champion against a team that went 0-2 on Friday…a game that didn't see a single break until 13-13…Pitt Kill lines failing to get breaks for the first time all season. If you had this in your bracket, you can collect your billion dollars.
There's a big difference between saying you believe, and actually believing. Everyone says they believe. UNC-W showed it with their actions and, really, all facets of their game.
Man Defense
For most of the weekend weekend, Pitt had seen zone or transition from teams that didn't want to run with them. Wilmington showed no fear of running man defense against Pitt's offensive line. The Seamen came down man on the first point, creating some pressure with hard bids. Even though Pitt held, there's that word: pressure. Vassar and company kept Pitt on their toes by mixing in some junk defenses here and there, like good teams do. But when they pulled to Pitt at 13-13 – for all the marbles – they believed in man defense.
Hammers & Hucks
When you're favored like Pitt was, the onus is on you to play flawless offense. Wilmington, on the other hand, played nice and loose with their throws. Comfortable. Huge, screaming huck came from Xavier Maxstadt (#80), Trueman Nottingham (#21), and Luke Hancock (#10), who led the Seamen with six assists. Sophomore Jack Williams (#11) got past Pitt deep several times. Pitt had shown vulnerability deep and UNC-W knew it.
The relaxed offensive attitude of the Seamen really showed in the amount of hammers they threw. Good hammers.
Senior Nick Jackson provided some insight. "We like to play some playground style if we can incorporate it. Lots of goaltimate and lots of mini, early in our training," Jackson shared after the game. "I know Luke (Hancock) is going to look for me on that open side hammer if someone's poaching. In Wilmington, we live and die by the hammer and we use it to our advantage whenever possible."
UNC-W Survives Pitt's Kill line
The game is on serve 8-7 at half with Pittsburgh in front. UNC Wilmington is upbeat. Pitt is pissed off. Predictably, Pitt coach Nick Kaczmarek goes to the bullpen and brings out his ace. Here comes the Kill line: Max Thorne, Pat Earles, Tyler Kunsa, Trent Dillon, Marcus Ranii-Dropcho, Aaron Watson, and Christian Pitts. That's five first team All-Region players. Whammy.
Wilmington is unfazed. Luke Hancock sends it deep. 8-8.
At 10-9 the Kill line goes out again. Good thing, too, since Pitt took an uncharacteristic third technical (for rushing the field early and language) so UNC-W started with the disc at the opposite brick.
Pitt's Kill line got the turn. Four turns, actually. But Wilmington also gets four turns, wins the hundred years war, and punches it in. Still tied. Still no breaks.
The next Wilmington possession is more of the same. Wilmington is taking haymakers on the chin and standing tall. A perfect hammer from Hancock to Williams sends it to double game point.
The Final Point
Here comes UNC-W in man defense after a great pull. Pat Earles finds Trent Dillon on a deep shot short of the end zone that Wilmington's Robert Goode just missed. They move the disc around a bit. Pitt captain Aaron Watson muffs a routine swing pass and a bidding Max Thorne can't reel it in, watching it bounce off his fingertips. UNC Wilmington has a shot at the first break of the game.
Xavier Maxstadt breaks force backhand with a big around flick, saves possession with a quasi-layout and a great adjustment, and finds Cale Ward at the front cone with a quick break flick. The observers signal goal.
Chaos ensues.
The Upset
When it looked like there was a chance at the half that the most obvious storylines for this game could go out the window, decorated Pitt Ultimate alum and current assistant coach Tyler DeGirolamo may have foreshadowed another thing this current group lacked.
"There's a lot of youth on this team," he said. "Still learning. The majority of them haven't lost at Nationals."
Nationals experience isn't just about winning at Nationals. It's about also losing. There's a lot a team can take away from a loss. The Pitt teams DeGirolamo finished his college career with had lost in quarters twice. They'd lost in semis, too. They'd measured themselves against other teams and they knew exactly how good they had to be.
Most of all, Pitt ran into a red hot team. How hot? Wilmington has now won its last three games at the tournament by breaking on double game point.
"I knew we had the heart. Whether they were going to cough it up? I don't know," reflected Vassar after the best signature win in recent program history. "We made the disc heavy. We made it really hard for them to score and they coughed it up. The pressure was too much."
Intensity and belief is ever-present for Wilmington.
At 9-9 I watched along as a feisty Wilmington defense forced Pitt to really work to move the disc. I made a comment aloud about UNCW playing fierce, while turning to see Vassar standing right behind me. "Of course we are," he said.