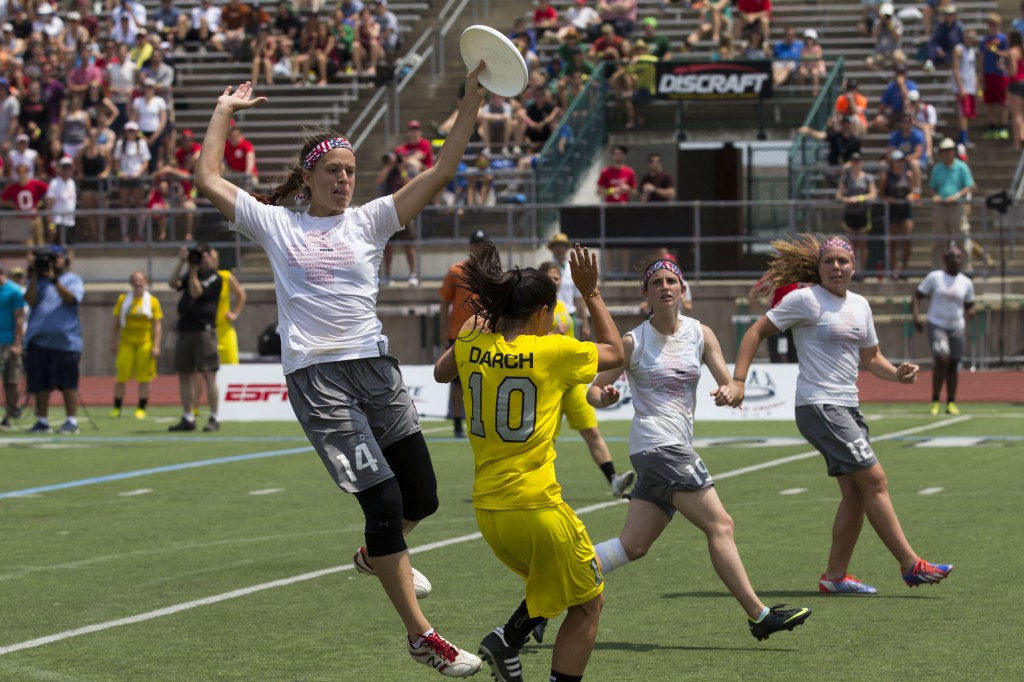 Ohio State Fever solidified a 43 game winning streak and their first National Championship with a 15-11 win over Oregon, ending Fugue's dynastic dreams. Ohio State played their game for all 98 minutes, and despite moments of greatness from Oregon Fugue, they were unable to launch an offense and a break game that could earn them a title.
Oregon scored first on a longer point with commanding play from Sophie Darch that showed Oregon's hunger. Fugue locked in the first point on a throw from Hayley Wahlross to Ashley Young. They came down on Ohio State in their patented junk defense that has won them so many breaks. But a defensive strategy that waits for errors won't work against Ohio State, and Fever scored after rounds and rounds of resets and calm looks.
Great endzone defense from Lauren Franke gave Fever the chance to capitalize on a break, and they broke again on a throwaway from Alex Ode to make it 3-1. Oregon made some decisions early that they didn't need; their offense was running at Fever's speed, and it disrupted their rhythm.
Darch and Young worked to gain a score, but their ensuing junk defense – actually a loose box and two – failed to stop Ohio State. The defense wants to slow down their opponents' game, but that's exactly how Fever plays. They scored, and they took advantage of another Fugue turn to earn their third break: 5-2. They would hold this lead through much of the rest of the half as Fugue tried to fight back.
There were glimpses of the game that Oregon wished they were playing, from the big put from Jesse Shofner to Kasey Harris to Sophie Darch's soaring backhand hucks. They wanted to score their points on two or three resets that opened up space downfield into which Fugue would launch the disc. Freshman Hayley Wahlroos had the most assists of the game, finding Fugue receivers four times to earn Oregon points throughout the game.
Oregon maintained their pattern of junk defense and side stack offense throughout the first half, but they were only able to scrap back one break before Ohio State took half 8-6.
The Fugue junk defense is effective at limiting downfield options, but they gave Soper and Swafford easy resets that they used to calmly hunt for exactly the play they wanted. The junk defense took offensive routes away, but it didn't apply pressure to squeeze the Fever handlers into rushed decisions.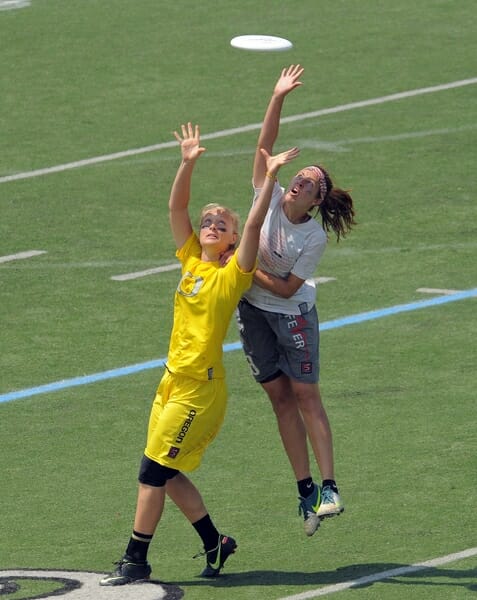 Fugue used this same strategy out of half, but Stevie Miller hucked the disc downfield to Swafford who nearly destroyed Gabby Aufderheide with a huge grab to earn the eventual score, 9-6. Oregon dug deep and inflicted their force on the field, with flying hucks from Darch, grinding defense from Shofner, and a thorough commitment from the entire roster as they desperately sought breaks. But it wasn't working well enough.
For their part, Ohio State effectively shut down Oregon's deep game primarily through their help defense downfield. When asked how Fever shut down Adrienne Bovee, Swafford said, "We have been making sure that our defenders, particularly downfield, have their eyes open, not just on the person they're guarding. I think there were a couple of times that she started to go or was in a position to go and we had a second defender close enough that they wouldn't risk it."
At that moment, down two breaks, why didn't Oregon switch to hard man defense, after nearly a full game of ineffective zone? Simply put, they were too tired. They played a lot of points this weekend, and their all-out battle to reach the final game drained their stores.
"We're pretty beaten up physically from our day yesterday, so we really tried to play to our depth," said Oregon coach Lou Burruss. "We're okay going down, and then trying to play from behind, but when it came down the stretch we didn't have quite enough."
Ohio State marched on, like the relentless ticking of a clock that Oregon knew they couldn't stop. The term "textbook" is thrown around quite a bit, but the College Championships have rarely seen play from a women's team that so resembled a diagram from a playbook. But their plays aren't diagrammed or planned: Ohio State has the most regimented yet intuitive game in the country.
Oregon was still in the fight at 10-12, and they earned a turn after a miscue between Liz Gates and Soper. Darch sensed the opportunity and launched a classic backhand huck down the field to Adrienne Bovee, Fugue's fastest receiver. But Bovee couldn't run it down, and that's when Oregon realized that they didn't have the energy to close the distance.
Fever rattled off two more points, and Fugue moved to man defense in the final moments of the game. Their man defense was good, and it offered a tantalizing glimpse of what the final could have been with a well-rested Oregon on the field.
Ohio State worked it up the field for their final point, embodying their season in their mature, composed passes. Cassie Swafford found Jenna Galletta to win Ohio State Fever their first College Championships title and make the biggest statement in program history.
Riding high on the win, Fever's 2014 Callahan winner, their rock, Cassie Swafford, simply said, "We've arrived."