The Major League Ultimate playoff picture is starting to round into form, and it doesn't look much like last season.
With two even divisions of 4 teams each, the MLU playoff format is simple.
The two division winners will host the semifinal matchups against the 2nd-place team in their respective division. The winners of those games will play in the 2014 MLU Championship Game at PPL Park in Philadelphia on Saturday, July 19.
MLU West
1. Portland Stags 5-1 (Remaining games @SF, @Sea, @Van, Sea)
2. Seattle Rainmakers 4-3 (@Van, Por, @Por)
3. Vancouver Nighthawks 3-4 (Sea, Por, @SF)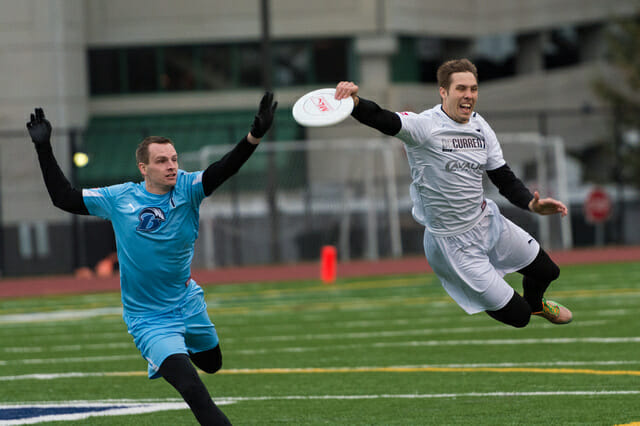 Over in the Western Conference, the great divide that split the division in 2013 — with San Francisco and Seattle at the top and Vancouver and Portland at the bottom — no longer exists. First and third are separated by only three losses. Portland has used its unusual combination of experience and youth to jump out to a division-leading 5-1 record.
Coming off a 1-9 season, Portland brought in a new coaching staff. "We're cultivating a new culture within the team that is all about selfless play and sacrificing for the team," says GM Nathan Schorsch.
Seattle's coaches have also done an excellent job of maximizing their team's output, compiling a winning record despite having a negative point differential.
In their only matchup of the season so far, the Rainmakers won a close one at the Stags' home stadium – handing Portland its only loss to this point in the season. Seattle and Portland will play two more games against each other, and a third if they both manage to stay on top of the division. However, the Vancouver Nighthawks will have something to say about that.
Vancouver has looked dominant at times, but only has three wins to show for it. Despite their record, the Nighthawks are a dangerous team, chosen by many before the season as the top team in the West.
"There is no doubt in my mind that the Nighthawks can beat any team in the MLU," says Vancouver GM Brian Gisel. Despite sitting in third place, Vancouver still controls its own destiny; if they win out, they would overtake Seattle and qualify for the Western Division Finals.
Meanwhile, the Stags will play three of their final four games on the road, including a doubleheader weekend at Seattle and Vancouver. Although they currently sit in first place, the remainder of their schedule is difficult, which could lead to a very tight three-way race for the two spots that will have a shot at playing for the MLU Championship.
MLU East
1. DC Current 6-1 (@Bos, NY, @Phi)
2. Boston Whitecaps 4-3 (DC, @Phi, @NY)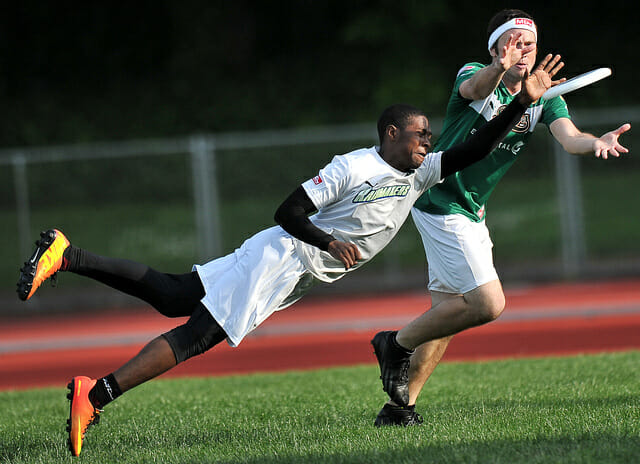 After dominating the 2013 season to the point that no other Eastern Division team had more than four wins, the Boston Whitecaps find themselves  this year in 2nd place in the division behind the DC Current.
Current head coach Keven Moldenhauer attributes his team's breakout to retaining its coaches, who now have a better idea of how to adjust to how the game is played in MLU. It also helps that Alan Kolick is having an MVP-caliber season, dominating the larger field and working seamlessly with Sean Keegan and new addition Peter Prial.
That being said, DC knows that Boston is still the team to beat. "Boston may have three losses, but that doesn't mean much going into the semifinals," says Moldenhauer. Although this season has been tough for the Whitecaps, they still figure to make the semifinals. They know they have work to do to advance beyond that.
"We've had good quarters of play and ones where we've faded," said Whitecaps GM David Kucherlapati. "Going into the last section of the season, we need to be able to put together a full game."
Both teams are confident and playing well of late, which should lead to an exciting finish.
"We don't worry about what they do," says Whitecaps handler Brandon Malecek. "If we play our game, it doesn't matter what they do."
With five losses each, the New York Rumble and Philadelphia Spinners are both suffering (now consecutive) disappointing seasons. While either squad could win out and force their way back into second place, they would need help and thus stand basically outside of the playoff picture.
The point differentials for the Eastern Conference squads are as telling as the wins and losses. The Boston and DC squads are both around +30, while Philadelphia sits at -16 and New York lags behind at -46. The MLU East is more or less decided even with a month to go.