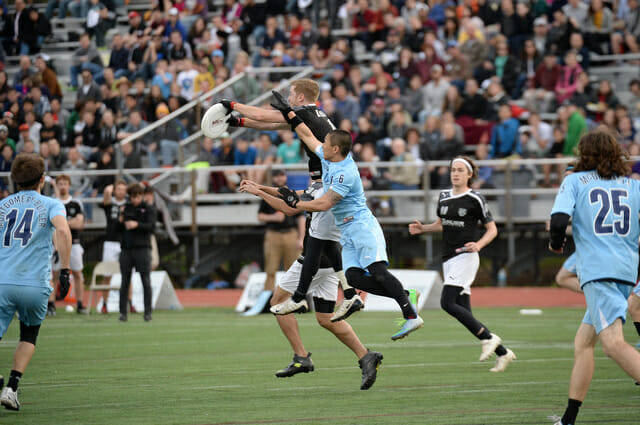 NEW YORK — For the second straight year, the Washington DC Current (9-1) will face the Boston Whitecaps (6-4) in the MLU Eastern Conference Finals. But the similarities to last season stop there.
After a remarkable undefeated 2013 season, the Boston Whitecaps have played pedestrian ultimate this year and won't have the pleasure of hosting the first round of the playoffs. Instead, they must take the long drive south to Washington where they will play in an unfamiliar role: as the underdogs.
The Current enter the playoffs on a seven-game winning streak. Their lone loss of the season came on the road in Week 3 against the Whitecaps in a sloppy, low-scoring game. The sting of that loss has been left behind as they have annihilated the opposition since then, averaging over six points more than their opponents per game.
"We are on a fairly good winning streak, but it's more a fashion of how we've been executing in those games," said Current handler Markham Shofner.
The success of the regular season — and their 2-1 record against Boston — has imbued the team, and the city, with confidence.
"I haven't seen DC ultimate ever in this stage, not only to have won so many games in a row but a lot of them to have been in a fairly controlling and dominant fashion," said Shofner.
That points to a potentially deeper meaning to this game, an opportunity for DC to assert itself against Boston, a city with much greater historical success in ultimate.
"If we can beat Boston," said Current cutter and former Whitecap Peter Prial, "it would be a great thing to show that DC is a city to be reckoned with in the ultimate scene."
Last year, the Current had high hopes after reaching the playoffs with a big win against the New York Rumble late in the regular season. But Boston ran away with the game; DC never had a chance. The Current are ready to rewrite that script that has played out so many times, both at the semi-professional and club level. The Current's added depth — particularly on the defensive side of the disc — has strengthened the team dramatically.
"Top to bottom on the roster last year, there were a few guys on Boston that had weaker matchups," said Prial. "That's not the case this year."
But Boston has reason to be quietly confident heading into this game. Not only is history on their side, but the team feels it hasn't played its best ultimate yet this year.
"It's pretty clear that we've made way more unforced errors than we did last year," said the Whitecaps' Jack Hatchett. "We've regressed to the mean a little bit." But, he added, the team hadn't had a lot of opportunities to gel early in the season, as games often featured different lineups and lots of missing personnel.
"We trust in our system and we'll be able to run it a lot better this weekend than we have the previous times we've played DC," said Hatchett.
Both teams are packed with firepower. Boston, while perhaps not running as smoothly as last year, still has premier playmakers in Jeff Graham, Josh Markette, and Brandon Malecek. DC's innovative spread offense has been nearly unstoppable with versatile players like Prial, Alan Kolick, Jeff Wodatch, and Sean Keegan on the line.
"All those guys can cut and throw," said Hatchett. "You can't just take away one thing from any guy and neutralize him."
But considering their earlier contests — slugfests defined more by grinding than smooth offense — both teams will expect to lean on their defensive units to find some scoring.
It's an area where DC has had the edge this year with lots of young defensive-minded players joining the team.
Don't overlook the importance of DC playing at home, either. With a strong home-field advantage and the luxury of not traveling eight hours to play the game, DC should be considered the favorite. Boston has just one win on the road in 2014 (versus the lowly New York in Week 9).
"I can't overstate enough how important it was for us to get this home game," said Prial.
For Boston, a second consecutive MLU title is in sight. For DC, it is a chance to finally show Boston that they can play at their level when it counts.
"It's the team we've been gunning for. I'm glad we're going to get to play them," said Shofner. "They're the team we're measuring ourselves against."