Cape Town Ghost has had to overcome a bad reputation, but has consistently proven to be the best team in South Africa. They come into Worlds seeded 48th out of 48, but they have earned their spot.

I was going to cry. Standing near the endzone during a stopped disc, I felt my chest tighten as my teammate continued to argue through a call, and I suspected she was close to crying, too. Saturated sunlight soaked the stadium, and we stood in the tall shadow of Table Mountain. We were playing in the semifinals of the 2012 South African nationals.  And it was fast becoming one of the worst games of my career.
I played that season for Khayoba, the first mixed-race Ultimate team in South Africa. We ended up losing that windy and contentious semifinals game to Ghost, the team that would go on to win nationals and the team that's heading to Italy this week.
The game was intensely bitter on many levels: not only had Ghost players previously played for Khayoba, but a small yet important cultural rift colored the game. Khayoba featured a core of guys who learned the game together in Khayelitsha, a prominent township in South Africa, while Ghost featured a medley of white South Africans and experienced Western ex-patriots. Argued calls were intensely personal, yet nobody was successfully communicating.
Ghost was fiercely competitive and relentlessly disciplined; they were often right when they made calls, but they made them a lot.  They would move past Khayoba to win nationals, but they were surprised to find that many Cape Town locals weren't rooting for them in the finals. They were the best team in 2012, but few had wanted them to win. I hadn't wanted them to win.
But a different, better team will step on the field in Lecco, Italy. This is Ghost's story, yet it isn't theirs alone. At WUCC, Ghost will represent a thriving South African ultimate community, a community that's grown from a smattering of pickup teams to a deep lineup of talent. South African Nationals is now limited to 16 teams, when only 3 years ago anybody could attend. Skill and enthusiasm is blooming across the country, from Johannesburg to Cape Town. Like the country itself, South African Ultimate is complicated, difficult, beautiful, and totally unique.

South African Ultimate
Famously known as the "rainbow nation", South Africa is one of the most diverse countries in the world. This diversity imbues the ultimate scene with color: before Khayoba, my Xhosa teammates played for Khaya, and they were by far the best team in the country. Nobody could match their athleticism or their throws, so other teams had to learn from them. South African Ultimate has been strained through so many cultural filters, from Afrikaans to Xhosa to American, that it can't be traced to any one origin story. In any one point at WUCC, Ghost's opponents will mark up against an Afrikaans deep threat, a German cutter, or a Xhosa defender.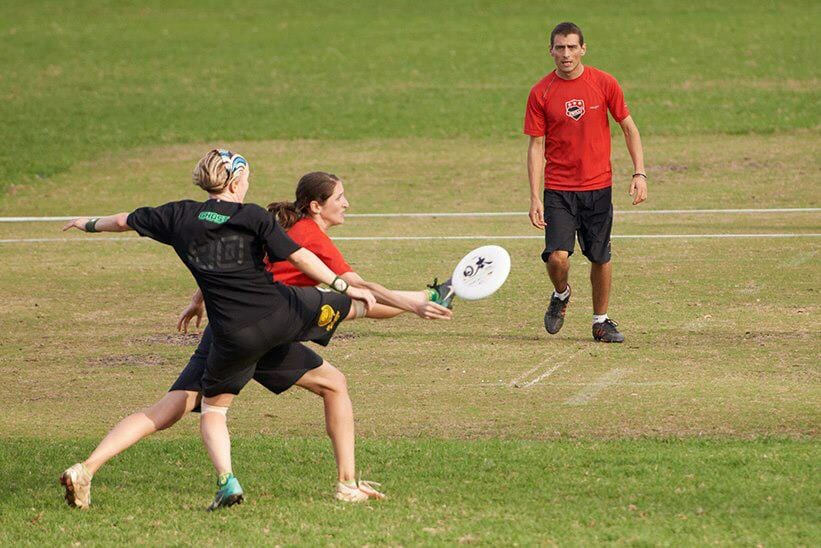 South Africa has long been an isolated outpost that attracts, collects, and fosters a large set of cultures and characters. Uganda and Mozambique are the only other countries on the continent with any Ultimate scene to speak of, and South Africa's limited access to international tournaments means that their opportunities for growth and progress are limited. When South African Ultimate does evolve, it's often through the nomadic Ultimate players who find themselves working on the edge of the world.
The Ex-Pat Effect
My team may have been predominantly Xhosa guys who grew up outside Cape Town, but the rest of us were American ex-pats. Similarly, Ghost has a solid core of American, Canadian, and European players who typically come to Cape Town to do non-profit work. These foreigners bring experience, talent, and new strategies to the sport in South Africa, but they all bring impermanence.
"Something I've learned, the hard way, is that a lot of ex-pats come to South Africa, and they all leave eventually," Ghost captain Finn de Haan recalls. It's not unusual for teams in any country to lose players to other teams or other cities, but few players leave the impact that these foreigners do on the game itself.
And few foreigners in South Africa have ever left an impact like Ryan Purcell.
"Ryan Purcell for Ghost, and for South African Ultimate, was huge," de Haan emphasizes. "He definitely revolutionized the way coaching happened, the way practices were set." Purcell came to Cape Town from Michigan University's MagnUM, and he founded Ghost with de Haan in late 2011. Purcell brought an unprecedented level of discipline and strategy to Ghost and to ultimate in the Cape.
He would set out detailed practice plans, often down to the minute, so that drills could be run productively with little dallying. He translated his own experience and talent well to newer players, and his drive for intense, fun ultimate infected the team. Ghost's motto is "Work hard, get better, have fun," a motto that encompasses Purcell's work ethic and his elaborate array of in-game accessories. He took the team to two national titles in their first two years of play, and he introduced a new way to excel at the game beyond raw talent.
This Spring, however, Purcell moved to Austin, TX (check the Doublewide roster), leaving big shoes to fill. de Haan is frank about his team's struggles in Purcell's absence: de Haan is an experienced player and a veteran leader, but he has had to work hard to command alone the full attention and focus that he once shared with his co-founder.
The New Ghost
The Ghost that will play at WUCC isn't the same team I played 2 years ago.

"That [2012 finals] made us look into our team, into how we were perceived in regards to our spirit and our attitude," de Haan remembers, "and we drastically changed that." Ghost started simple: they stopped contesting calls. Gradually their reputation improved, and their roster grew, from 18 players to 24. They had fielded two nearly savage teams the summer before, and suddenly they could fill two rosters with ease.
Going into 2013 South African Nationals, however, they were only able to bring 12 players into the weekend that would determine the WUCC bid. The small roster forced the 12 experienced Ghost players to stay in the game, and their smaller squad still dominated, using a smaller pool and increased focus to their advantage. They won Nationals again, and they punched their ticket to the big leagues as a new team.
Ghost in Lecco
To prepare for Worlds, Ghost added fresh collegiate blood to their roster from the University of Cape Town, including young players like Peter Jessop who has already become a versatile and physical playmaker for Ghost. Purcell will rejoin his team in Lecco, guiding their offensive line with his expert handling and his steady leadership.
Ghost has held regular training camps and frequent workout sessions in the off-season as they develop their fitness and a new team identity. They scrimmage their local rival, Chili, and they adjusted their strategy to match a younger, faster roster.
Ghost plays a traditional vertical offense that gives their downfield threats like Theuns Van Der Merwe and Marie Muehe freedom to make plays, but by nature they are a strong defensive team. With de Haan as the D-line captain, Ghost will use its youth and speed to earn and keep breaks through dynamic and disciplined defense. Sandra Jordaan and Thulie Mataba are fast, hungry defensive cutters to watch for.
Ghost is seeded 48th out of 48 teams. They're isolated, internationally inexperienced, and young. Their games probably won't be streamed, and they won't go home with any trophies. That's okay. They're there to work hard, get better, have fun, and show the world how complicated, difficult, beautiful, and totally unique South African ultimate can be.