Riot topped Scandal for the second time this season as Fury again defeated Showdown in bracket play.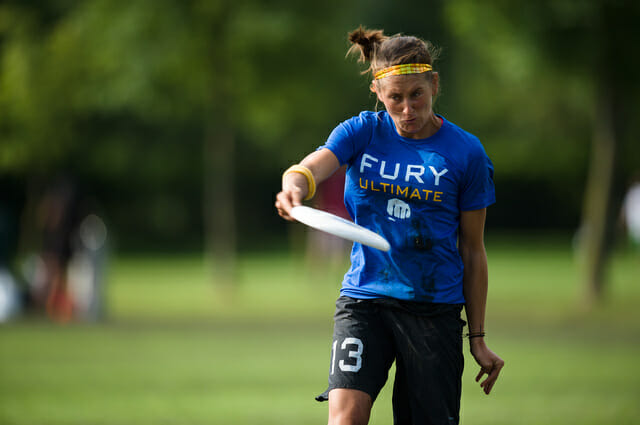 LECCO — The World Club Championships will play host to a familiar final in the Women's Division: San Francisco Fury v. Seattle Riot. In rematches of the 2013 USA National semis, Fury topped Showdown 17-12 and Riot bested Scandal for the second time this season, 13-11.
As the score lines indicate, the Riot v. Scandal matchup was the more interesting game.
Scandal opened the game with a break and extended their lead to two with another at 3-2. Scandal looked confident and their defense was playing well.
But Riot took advantage of some execution mistakes by Scandal to rattle off five straight points to take a 7-4 lead that proved to be enough to hold off Scandal for the rest of the game.
"We were just a little bit away from making plays," said Scandal coach Alex Ghesquiere. "Fingertips on discs, just missing layouts."
Case in point: Molly Roy just missed making a catch on a huck at 8-5, giving Riot an opportunity to break into halftime leading 9-5.
That four point lead looked tenuous in the second half as Scandal started to play sharper on offense and put continued pressure on Riot defensively. After holds by both teams to start the second half, Scandal went on a 3-0 run with Sandy Jorgensen finding open space on both breaks to close the Riot lead to 10-9.
"Offensive efficiency was in and out," said Riot coach Andy Lovseth.
Scandal had their chances down the stretch, but could never manage another break. Riot's Dominique Fontenette made a beautiful upfield cut from the handler position, received the disc, and put up a perfect backhand to Sarah "Surge" Griffith to put up a quick point and make it 12-10.
Griffith was a force all game, generally getting the best of her marquee matchup with Octavia "Opi" Payne. Payne had some huge bids, but never quite made the play.
"If you see Opi in another game, she guards one and a half people," said Lovseth. "Here, she had to focus only on guarding Surge."
Lovseth also praised Calise Cardenas, who was being covered by threatening deep defender Sandy Jorgensen for most of the game. Cardenas was often forced to sit on the rail position in the horizontal stack, keeping Jorgensen out of the play. "Calise did very well," said Lovseth. "We didn't throw it at Sandy at all." At last year's US National Championships, Jorgensen dominated the deep space and Riot got blown out by Scandal.
Riot continues their hot play, but Scandal has to feel good about this game. They are vastly improved from their US Open performance, and look like they are progressing nicely towards this year's National Championships. Scandal was the better team for three quarters of the game; it was the string of poor play during the 5-0 Riot run that lost them the game.
***
Fury and Showdown met in the other semifinal, a sloppy game from both teams.
Like Riot, Fury got ahead with a big run — four straight scores — to seal the game. Fury was down at 5-4, but quickly made it 8-5 with some nice defensive pressure, using both man and zone.
Fury would score four in a row again in the second half, blowing the game open. Though Showdown would break late in the half, they were too far behind to really contest the game. Fury took the game 17-12 after a Nancy Sun huck to Claire Desmond. It wasn't a pretty game, but Fury was better after the turn and used some strings of good play to get ahead and ride out the game.
"Both of us were playing ugly ultimate," said Fury coach Matty Tsang. "It was kind of a fifth day of ultimate, especially after all the heat yesterday."