Oregon may not have quite the star-packed roster we expected, but they are still in the hunt for a 2015 title.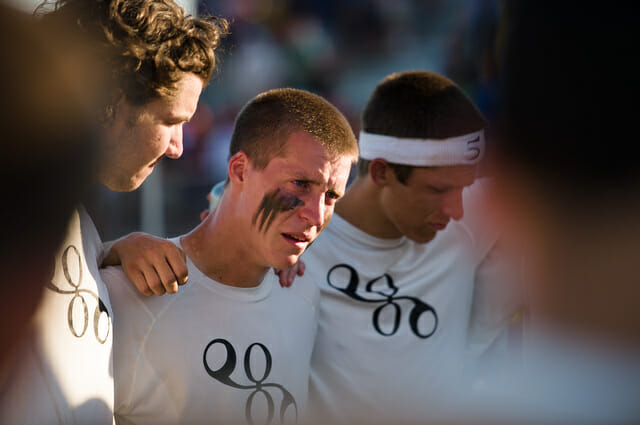 One Ego.
The motto of the Oregon men's team is about more than solidarity or brotherhood. It's also about the belief in the Eugene ultimate community, starting as early as middle school, up through powerhouses like South Eugene High School and continuing on through one of the most respected and feared college programs in the country.
Ego may occasionally catch some flak for their saucy attitudes (symbolized nicely by the nickname of star player Dylan Freechild: Spikezilla) or their inability to bring home any national titles since 1992. But these kinds of quibbles do little to take away from the status of a program that has remained one of the top competitors just about every year for the last two decades.
Based on their impressive 9-0 sweep through the Presidents' Day Invite last weekend, 2015 will be yet another year with a powerful Ego squad looking to make a deep run at Nationals.
Personnel
Much has been talked about Oregon's failure to secure either Nexgen stud Aaron Honn or San Francisco Revolver standout rookie Simon Higgins. Honn did not return to Ego this season after his year abroad in 2014 due to a very busy schedule and various other obligations, whereas Higgins had complications with deferred financial aid.
Many speculated about the ridiculous firepower of an Oregon squad with both threats, then wondered what would become of the perennial contender when it was announced that neither would be joining the team this season.
After winning both of their two most difficult games in San Diego last weekend without even the help of star cutter Dylan Freechild, Ego sent out a pretty clear response to that concern: we'll be just fine.
Handlers Trevor Smith, Chris Strub, Jack Slevin, and Colton Clark can hit open cutters anywhere on the field. Workhorses like Mario Bundy and Adam Rees can initiate downfield flow or apply stifling pressure to opponents' best cutters, laying out for huge grabs and huge Ds with equal aptitude. Connor Matthews, one of the most talented sophomores in the country, will continue to eat up big yardage and provide a slurry of highlight reel plays, like his game-winning, toe-the-line snag in the President's Day final.
Playing Style
Much like Revolver, Ego like to use a horizontal stack with lots of spacing in the active lanes to give their athletic cutters plenty of room to work.
When asked about the team's strategy, Freechild had no qualms about relating how Oregon's offensive sets work or what they're trying to do. "[We] don't mind if other teams know our system," he said. "People who watch our footage or read about us aren't going to learn a lot."
This certainly seemed to be true throughout Pres Day, as Ego would trot out the same horizontal set — with the occasional pull play side stack thrown in — every point. Teams would sometimes try to bracket or poach the lanes, but rarely did it seem to fluster Oregon. They'd just cut to the open spaces, break the mark, and routinely punish poaching opponents.
Even with their isolation set-up, Smith said Oregon is ideally trying to attack through motion. This means that although they might start with a one-on-one match-up downfield to get things started, Ego are looking for hucks out of continuation and big, 30- or 40-yard unders, while breaking the mark and moving the disc a lot to help open up new lanes.
Such a premise isn't exactly new. Oregon just happen to be better at it than most — especially when it comes to converting crucial break opportunities.
Much of this comes from their ability to implement basic concepts like attacking defenders' shoulders and making them commit, then chopping and going the other way. While pretty much all players seek to achieve the same, Ego's isolation system gives cutters more room to drive at their man and repeatedly practice strong misdirection fundamentals.
With five of their top guys playing with Portland Rhino this last summer in what turned out to be one of the club team's most successful seasons, one begins to get a sense of why Ego are able to actualize the baseline concepts that everybody knows better than most other squads.
Developing A Program
For a team that's made semis each of the last three seasons and routinely fights through the bracket at Nationals, Ego don't seem to draw quite the reverence as a program that colleges like Wisconsin or Colorado do.
To be fair, an understandable part of that can be attributed to the fact that teams like the Hodags and Mamabird have managed to take home multiple national titles in recent years.
Freechild said, however, that even given that fair point, teams like Central Florida or North Carolina — teams that also have yet to win a championship (and not just in recent memory) — tend to receive more praise for the excellence of their program and the community they foster than Oregon does.
Yet, Freechild and Smith both lauded the quality and connection of the Eugene and overall Oregon ultimate community, noting all the hard work that Ego coach Jay Janin and other community leaders have put in to develop youth players and work them into a flourishing system.
"People look over that and think it's just that easy for us," Freechild said. "Other teams like Pitt and Carleton get that praise. We don't."
He said that it's not just about being the benefactor of great athletes coming to play for Ego, but more so about Janin and other veterans of the area really putting the time and energy in to develop and grow a truly great ultimate scene in Eugene and the surrounding locales across all divisions and levels.
If the current and recent incarnations of Ego are any indication, that scene is indeed thriving.
Tournaments
President's Day Invite (1st place)
Stanford Invite
Easterns
Likely Ceiling
A finals appearance. Ego definitely has the pieces and chemistry to make it to the big game this year, provided they can maintain the level of focus and execution they displayed at Pres Day.
Likely Floor
Quarterfinals exit. It's tough to know how Oregon will stack up against some of the other heavyweights like Pitt and North Carolina until they face off at Stanford Invite. If Ego slips up in pool play and has to face a tough squad like Carleton in quarters, there's a legitimate chance that Oregon might be bowing out a little early this year.