The final weekend of the regular season was on full display at Easterns.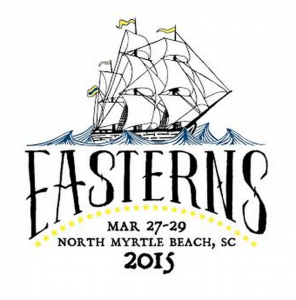 MYRTLE BEACH — With bids on the line and Nationals seeding in the mix, Easterns was a fantastic way to end the regular season. Despite cool temperatures near the beach in South Carolina, the ultimate was red hot. Here's a recap from the weekend.
Pittsburgh Takes The Title, But Not Without Some Hiccups
On the whole, things are looking good for Pittsburgh. They have won Warm Up, Stanford Invite, and Easterns in succession, accruing a 23 game winning streak while doing so. It can be tempting to look at their wire-to-wire domination this season and anoint the team as champions before the series even begins. However, doing so would pave over some of the problems that Pitt had this weekend, problems that show that while Pitt has seemed untouchable for the past two months, they definitely aren't unbeatable.
A burgeoning storyline all season that was brought into the spotlight at Easterns was Pittsburgh's D-line offensive efficiency, or lack thereof. Even though they were largely untroubled during pool play on Saturday, it was their offense's staggering effectiveness that kept games out of reach for other teams. Instead of burying teams with loads of breaks, the D-line was able to get just enough for their nearly unstoppable O-line to be comfortable.
What is interesting about En Sabah Nur's problems at converting breaks is that the defense is loaded with talented offensive players, including several O-line players that rotate onto the D-line. It seems as though somehow several of Pitt's players perform worse because of their position on the defensive line. Max Thorne, who played virtually perfect ultimate on offense all weekend, was put on the D-line at one point in the championship game against Wilmington and after picking up the disc off of a turn promptly threw the disc right into a poach. This was a jarringly uncharacteristic mistake from one of the best offensive players in the country, and indicative of a trend that had fans scratching their heads all weekend.
Team assistant and D-line coach Dave Hogan had some ideas on Pitts' problems turning their turns into breaks. "We relied too much on disc movement and throws to get open, as opposed to cutters just deciding, 'I am going to get the disc and get open 20 yards in, and if he shuts me down there I am going to get open deep,'" he said. "It's kind of like, just stop thinking and start running."
Of course, despite their profligacy on the D-line, Pitt was able to overcome all obstacles in front of them and emerge with the title. One element of the weekend besides the tournament win that En Sabah Nur and their fans have to be happy with his Marcus Ranii-Dropcho's resurgence. After looking a little out of sorts at times in the first half of the season, the U23 star pulled it together and played brilliantly Sunday during the finals (despite some poor play earlier in the day).
At his best, Ranii-Dropcho's combination of size and speed make him almost unguardable in the give and go, and he is one of the most dangerous players in the country near the endzone. If his play against UNCW is indicative of the direction his game is heading, the rest of the country needs to watch out, because a dominant Ranii-Dropcho could certainly be the final piece in the puzzle for Pittsburgh's D-line.
Pitt was far from perfect this weekend, and there will be a lot that Nick Kaczmarek and his coaching staff will be working on in the coming weeks, but the fact that they were able to win all three of their major tournaments this spring and still have room for improvement should really scare teams. The problems demonstrated all seem fixable, and the talent level is staggering. Pitt came into the weekend the prohibitive favorite to take home the national title this year, and Easterns did nothing to change that.
UNC Wilmington Is Better Than Second Place
Catch swill to win the game that keeps you in bracket play once, call it luck. Do it twice in one day and it call it something else: grit.
UNC Wilmington rode their incredible win streak (no games lost since Carolina Kickoff) all the way to the finals at Easterns, and even had two chances to break to win against Pittsburgh before the 16-17 loss. Along the way, Wilmington managed a comeback win against Georgia in quarterfinals — a game that ended on a last ditch effort to catch a tipped disc on the way down.1 It happened again in the semifinal against Oregon, one of (if not the) fastest offenses in the country. Even when the offense continued to make mistakes, the Wilmington defense continued to dig in, get turns, and somehow score.
"Yeah, there are things we want to clean up, but we still walk away with the W, so how can you say no to that?" said coach Greg Vassar as Sunday came to a close. Vassar and his coaching staff were continually impressed by the resilience of the team throughout the weekend. Where creative defensive sets and rule-breaking throwers had put away teams earlier on in the weekend, the Wilmington leadership often matched their defenders up with the marquee O-line of Pittsburgh in the final and got results. "I'm really pleased with how the guys played; they came out and answered the bell," he said. "We went toe to toe with Pittsburgh, which is tough to do."
As a cap to the regular season, the Seamen have to be pleased. Many coaches throughout the weekend commented on improving efficiency in converting breaks and while that's still on Vassar's list, he was less concerned with his defense than his high octane and risk taking offense. Xavier Maxstadt was outstanding at Easterns, making big plays on both sides of the disc throughout the tournament. Still, though he's nothing close to a liability, Maxstadt's penchant for risky hucks did occasionally cost the Seamen.
It's also officially time to stop calling Jack Williams the player that broke out at nationals last year, and start calling him a super star for Wilmington. Williams moved onto the D-line during crunch time in bracket play and came through with both interceptions and scores that kept the team rolling. He's become a dynamite receiver, and there's a lot of chemistry between Williams and his big throwers Maxstadt and Luke Hancock. When the team needs a score, they look to Williams. He usually delivers.
Charlie Lian was his usual self, which is to say a defensive menace, often taking on number one matchups and calling out defensive sets mid-point. Wilmington also may have a new phenom in their midst; Cale Ward has already proven to be a super defender, but he's played so consistently that he also moved over to the O line a lot during Easterns.
Though the Seamen retain their ability to play down and bleed breaks here and there, Easterns solidified them as the #1-B team in the country, full of big plays, smart sets, and endless grit.
Florida State Looking Ready To Take The Southeast
Florida State were the benefactors of a morning bye on Saturday, so all signs pointed to a big win over their first opponents, NC State, who had suffered a mental breakdown against Michigan in the first round. FSU, who made waves early in the season with a physical defense ready to hit the deck, looked poise for a boisterous first win. Surprisingly, the game was neck and neck until the very end, when DUF landed a pair of breaks and took the game 13-11.
That would be a pattern repeated throughout the weekend for FSU, right up until their semifinal 15-13 exit at the hands of Pittsburgh. Like boxers jabbing to gauge reach, they'd at times pace themselves out of the gate, wait for a dozen or so points to pass on serve, and then start throwing haymakers. Chris LaRocque, to the enjoyment of most and surprise of hardly anyone, dealt his fair share of those blows while acting as a field general for the DUF O-line and the occasional spark plug on defense after the turn. "When we need breaks we can load up lines and get breaks. We try not to do that very often, but that's happened in a lot of our games this year," said head coach Peter Van de Burgt as Sunday came to a close.
Van de Burgt and his assistant Matt Childs were humble when they spoke with Ultiworld after the loss to Pittsburgh, both confident that the DUF ceiling was higher and that the team would need to work on pulling away earlier whenever possible during the upcoming series. "As a team, we're pretty good at feeling out the other team and then adjusting and pulling away when we need to. Obviously we need to do a better job of doing that earlier in games," Van de Burgt said.
DUF's first three games were won by two points this weekend and none by more than four. In bracket play, LaRocque's performance was complemented by the contributions of Andrew Roney, Connor Holcombe, Brian Phillips, and a number of others. The offense was freakishly efficient, and battled well to get the disc back if they coughed it up during opening possessions. Both coaches agreed that the system in place is a good one, they'd just need more commitment to it from Andrew LaRocque and the rest of the D-line.
Easterns was something of a reemergence for this DUF team after a lackluster appearance at the Stanford Invite, and they'll take their six quality wins with them to the series, where they should be the favorite to snag the first bid to Nationals out of the Southeast.
Oregon Makes Semis With Few Subs and Close Wins
Oregon demonstrated this weekend that while there are definitely still questions about their ceiling, the team's floor is very high. With a short 15 man roster and no coach this weekend, Ego came within a hair of reaching the finals of their second major tournament of the year. Despite losing to UNC Wilmington in semifinals, Oregon locked up a pool one seed at Nationals with their performance this weekend, and gave themselves some momentum and motivation heading into the series.
Oregon won their pool on Saturday by staying close to their opponents and pulling out victories at the end of games, with the notable exception coming in their last match of the day against UCF in which they had already clinched the top spot in the pool and played fairly relaxed lines. Oregon kept the trend of tight games going on Sunday, in which they beat UNC Darkside on double game point in quarterfinals before falling 16-14 to UNCW in semis. Ego has played close games all year, with only 2 of their games at Stanford and Easterns decided by more than four points.
A big part of why Oregon's games always seem to be so close comes down to roster size and how the team manages games. Deeper teams will often run larger rotations on defense in an attempt to inject energy into the squad and wear down teams with their legs. Oregon doesn't have the luxury of throwing out an army of D-line cutters that a team like Wisconsin can, and instead they have to pick their spots. Players on Ego's D-line need to play almost ever D point, and because of that they need to choose when to expend a lot of energy. By getting just enough breaks to win, Oregon is able to survive with a small roster.
This strategy requires two things to succeed, and both were highlighted this weekend. First and foremost, it requires Oregon's D-line to convert their chances when they get them. They simply don't create as many turnovers as other teams, so they need to hit on a high number of their break chances. This weekend they showed the capability to do that, as their D-line punched in break opportunities at a good clip, perhaps a result of the chemistry they have gained over the course of the year playing with a small roster.
Ego captain Freechild commented about this strategy, claiming that team has confidence in their ability to get breaks when they really need them. "If we pick our moments, like we need to with 18 guys, we can get a break on anyone, and I think we proved it there."
Throughout the weekend, this strategy seemed to pay off, and the team was able to generate breaks when they really needed them. Against Wilmington, Ego was able to jump out to a two break lead right off the bat, and then again in the second half when stacked D-lines gave Ego a 13-11 lead coming down the homestretch of the game.
While Oregon's D-line did what they needed to do, it was the other side of the disc that let Oregon down on Sunday afternoon. Because Ego can only go all out for breaks so many times a game, they need to have a super steady O-line that keeps the team in the game. Against Wilmington the O-line failed to protect both of the leads the defense gave them, and ultimately cost Ego the game.
Freechild recognized the offensive issues the team had in the semifinal, but seemed to believe it was a part of a process the team needed to go through in order to be mentally and physically ready to challenge for a title. "Our O-line just got lazy, started taking shortcuts, wanted to win quickly," he said. "It's just a lesson you learn when you are building up to nationals. Too many shortcuts, tried to win quickly and it bit us in the ass." Based on their performance this weekend, O-line discipline will likely be a big part of Ego's preparation as they turn to the series.
When the offense was right, though, it looked almost unstoppable, a whirling dervish of inside breaks, high release bumps to the open side, and Freechild upline cuts. The offense suffered a bit when teams slowed Ego down and made them make tougher decisions. One of Wilmington's strengths in the semis game was their ability, through zone looks and poachy sags, to make Ego stop and think. While the zones didn't always lead to turns, they made Oregon think about the defense instead of their own offense, which was crucial to slowing down the assault that Trevor Smith and Freechild were unleashing.
One of the quickest teams in the country, Ego will punish those who can't find a way to slow them down. Opposing teams should take notes from Wilmington and try something, anything, to take Ego out of their game, because if Oregon is allowed to dictate the pace and style of the game then they will be very hard to beat.
Wisconsin Coming Together As A Team
Steady improvement has been the name of the game for Wisconsin this year, and if nothing else the Hodags have been looking better each time they take the field this year. Holding seed, putting up a good fight against top seeded Pitt in the quarterfinals and doing well in the consolation bracket isn't a bad result for most teams, especially after a shaky start to the season at Warm Up. The Wisconsin Hodags are not like most teams, however, and they certainly won't be satisfied with what they have achieved so far this year.
Wisconsin has their eyes on Nationals results, not regular season tournaments, but they are in a race against time to get their team ready to seriously compete. The defense is already there for the Hodags, several coaches remarked that Wisconsin's defense was the most formidable they had seen all year. The question is and has been their offense, and this question will stick with them throughout the Series.
There has been noticeable improvement since the start of 2015, but just as notably, Wisconsin's offensive efficiency lags behind that of other top teams. The place Wisconsin found the most offensive success was with their cutter continuation looks downfield. The Hodags' biggest strength on offense is in the physical advantages of their strong, fast cutters; when the Hodags get the disc into space vertically down the field, few teams are able to stop them.
Once the disc gets past the first level of the defense, Wisconsin's cutters are all able to put good looks into the isolated space, and many Hodag scores came off cutter to cutter hucks. Craig Cox and Aaron Speiss in particular were a handful for opposing teams when they got free into space, as they were generally able to run past or over anyone in their way.
The vertical axis has not been a problem for Wisconsin, but horizontal movement has been much trickier for them. The Hodags had a disproportionately high number of turns on turfed swings, miscommunications, and a general breakdowns in the reset scheme. Whenever the disc stopped moving vertically up and down the field and teams were able to force Wisconsin to go through multiple progressions, the Hodags struggled.
While they were able to run and gun their way past weaker squads, good teams have been able to stop Wisconsin's deep game and force them into uncomfortable situations. In the quarterfinal matchup between Pitt and Wisconsin, the Hodags came out on fire and connected on several hucks to start off the game. Over the course of the first half Pitt made adjustments that slowly started to limit the Wisconsin vertical attack, by shifting the mark and trying out different downfield switches Pitt forced Wisconsin into playing a horizontal game by the second half. Wisconsin couldn't find an answer to Pittsburgh's pressure, and despite going into halftime down only a single break, the Hodags couldn't keep up with Pitt in the second half, falling 14-11.
Good teams can make the adjustments necessary to take away the things a team wants to do, and when plan A hasn't worked out for Wisconsin, there has been no workable plan B. At Nationals teams need to be able execute plan B, if not plan C, to survive deep into the weekend, and we haven't see that yet from Wisconsin. They have been improving over the course of the year, and it is certainly too early to count them out as a semis contender, but we will need to see something more out of them at Regionals before they can really enter the conversation as one the top teams in the country.
The Teams That Rose And Fell
It was a marquee weekend for Maryland . Arriving in Myrtle Beach ranked #22, they were four slots away from staking a claim to a third bid for the Atlantic Coast, a region that has been owned by UNC and UNC Wilmington for some time. Maryland returned pretty much the entire top end of their roster from last year's third place finish in the region, sent almost all of their players to their summer club team Town Hall Stars, and have now battled their way into the national conversation. The Space Bastards notched upsets against Auburn and UCF on Saturday and then ran undefeated too take the ninth place bracket on Sunday, notching more big wins over Florida and Massachusetts. To borrow a favorite label, Maryland have serious "Nobody Believes In Us" potential and are poised to take the third bid they've earned for the Atlantic Coast.
If a few plays had gone the other way, the headlines could be telling a very different story this weekend for Georgia, who followed up a solid Saturday with a wild quarterfinal game against UNCW on Sunday morning. After staking Wilmington an 8-5 lead at half, Jojah clawed their way back into the game, only to come up just short, losing the game 15-14 on double game point.
Georgia actually had the disc 15 yards outside the endzone on game point, but Elliot Erickson was unable to pull off a difficult I/O crossfield break as the stall count rose. A few moments later, the game was over, as UNCW pounced on the opportunity and scored in two throws. That costly turnover was a microcosm of the problems the team had all weekend resetting the disc and jump starting the offense when the disc stopped moving. Their cutters are great in space and they can frequently score in just a few throws off of cutter-to-cutter connections, but when games got tight and disc movement was at a premium, the lack of true handling prowess on Georgia's roster became apparent.
Rebounding from the tough quarterfinal loss to notch wins against UNC and Wisconsin in the 5th place bracket is an encouraging sign from Jojah's team, as they will try to carry that momentum forward into the series. The team is fearless and won't be afraid to face anyone, but if they can't bring some polish to their dynamic style, there will be more "what could have been" moments in store.
Speaking of polish, after the big loss of Jeremy Nixon, Harvard brought some finesse and consistency back to their play after a rough start to the season. Though they underperformed in their quarterfinal against FSU, Red Line brought the heat on Saturday and took second place in the pool with wins over UCF, Auburn, and Maryland. It wasn't enough to earn another bid for New England, but it was plenty to make UMass and Tufts nervous come regionals.
Execution was lacking, however, for UNC Darkside this weekend. Losses have begun to erode at this team's claim to a place in the nation's top 10, but their coaching and athleticism is still too good to count them outside some of the best. Star thrower Jon Nethercutt looked alone at times without Ben Snell on offense to help pace and reset for Darkside, and defenses were able to gang up a bit on Nathan Kwon when he went deep for Nethercutt. Snell spent the weekend on the sidelines helping coach, along with top defender Tim McAllister, who's yet to be fully healthy this year. While still undoubtedly good, the 2015 version of Darkside is vulnerable where the 2014 team wasn't and it showed in their O-line miscues.
Easterns was a make or break weekend for the narrative of Massachusetts's season. Coming into the weekend they carried an excellent early season record that had been soured by a disappointing Centex performance. A big weekend in North Myrtle Beach could have wiped Centex from their record as an aberration, but another poor showing would give credence to the team's critics. The verdict coming out of Easterns is somewhere in the middle, as on the whole the team got some good wins but still did not truly look like a national title contender.
Wins over Georgia and Central Florida show that the team can certainly compete at a high level, but failing to make the championship bracket after choking away their game against Carleton puts a dark cloud over the weekend. Looking past the results, the team just didn't look right at many points during pool and bracket play. The chemistry was lacking on their O-line, which resulted in some unnecessary turns after dump schemes failed and bailout looks didn't materialize.
There are some explanations for the team's late season funk, the injury to dynamic cutter Conor Kline certainly doesn't help, and the team has plenty of time to turn itself around before the series. UMass has the athletes and the tactical acumen to be elite, but if they continue to play the way they did this weekend they could be at risk to entirely miss Nationals. With a resurgent Harvard nipping at their heels in a potentially one bid New England region, UMass has their work cut out for them. Easterns neither made nor broke UMass's season, but how they react and adapt to it in the weeks leading up to the series will.
Carleton came into Easterns just outside of strength bid territory, and a big weekend could have put them over the top. While they did notch a big win over UMass in pool play, a close loss to Georgia knocked them out of the championship bracket and mixed results on Sunday show that the team is still not in top gear. We all know that the season doesn't really start for Carleton until Regionals, but they will have their work cut out for them, as they need to take down either Wisconsin or Minnesota to make it to Nationals in May.
CUT definitely looks capable of doing just that, as the pieces are starting to come together for Phil Bowen's squad. Justin Lim is able to move the disc around the backfield at will, and the advantageous angles of attack he creates leaves defenders in difficult positions against Jesse Bolton, Sol Yanuck, and the rest of Carleton's stable of cutters. The health of captain John Raynolds will be a big question mark for CUT, as the Sockeye standout still isn't in game shape following an injury plagued season and has yet to really make an impact on the field this season. He will be a vital piece of their postseason hopes. Without a third bid in the North Central, Carleton's road ahead will be harder, but they definitely have the talent to get the job done and they should make Nationals.
It was not a banner weekend for Florida, as the Gators failed to make the championship bracket and fell to the surprising Maryland on Sunday. A 13-10 win over Carleton on Sunday morning gave them a quality win to take away from the weekend, but in general Florida missed their chances to make a splash as they ran out of gas down the stretch in their games against UNCW and Wisconsin. Florida remains in good shape to make nationals in the bid heavy Southeast, but it is still to be seen how far the team can really go when they rely so much on Bobby Ley and James Dahl to make everything happen.
---
Unfortunately for Jojah, this marked the second double-game point loss to UNCW in a meaningful game so far this season. ↩