Tapering properly is vital to a great tryout performance.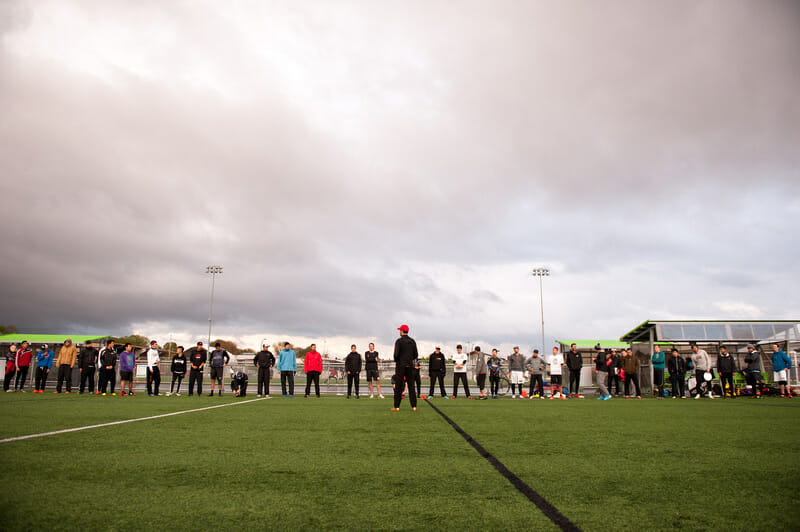 Disclosure: This post is sponsored by SAVAGE Ultimate. Ultiworld was compensated for writing it, but all opinions are 100% that of the writer. Thank you for supporting the brands that make Ultiworld possible!
As with all moments in our training, injury prevention is a primary objective during tryouts. Risk for injury rises in these situations because stakes are high, preparation level is relatively low, and in many cases the actual demands of the day are only revealed that same day. These factors mean that we need to be especially careful to prepare, listen to our bodies, and recover well, as tryouts are rarely a single day event, but can comprise up to one third of a player's season.
One Month Before
Since you've all already been doing extensive injury prevention work and strength work, we'll forgo reiterating those crucial foundational pieces of your tryout prep. We'll focus instead on the elements of preparation that ultimate players tend to forget about and those that are within the tryout timeline.
SMR every day – The value of soft tissue work can't be overstated, and a full body roll out session should only take about 30 minutes depending on thoroughness. Don't let regularity turn into a rut though, you should be progressing your SMR and soft tissue work just like other aspects of your fitness. This may mean upgrading some equipment (trade your foam roller for a nalgene, lax ball for field hockey ball), and moving past the superficial muscles on the surface that are easy to roll to more penetrative techniques, and adding movement elements to your SMR. Examples of this would be gut smashes, hamstring tack and stretch, and unsticking scapulae.
Movement work every day – Every full workout and playing day should have full SMR/mobility/activation routine at the beginning, and flexibility work (ideally at both beginning and end). Off rest days, though, we still need to move. In the month leading up to your tryouts, going through warm ups *daily* will help muscles be loose and active.
Keep getting stronger – I've noticed most Ultimate players are constantly seeking specificity: "How does this apply to a game situation?" A great question to ask, and a great mindset, but don't let your sport specific workouts eclipse strength work, let them compliment it. By and large most athletes aren't pushing their single leg strength as much as they could, so those of you who think you are plenty strong, ask yourself if your single leg deadlift is at least 50% of your bilateral deadlift. We want specificity and strength. Your plan for this month should include a taper in the week leading up to tryouts.
One Week Before
Volume down – When you are within a week of your event, you will want to shift your focus to your fast-adapting cardiovascular system. Depending on your strength training frequency, taking a full three days off from lifting prior to tryouts is advisable, and a decrease of about 50% of the overall training volume for the entire week is recommended. The work you did in the offseason is what will dictate your performance level; don't try to cram.
Intensity up – Conditioning, as the word implies, is something you are accustomed to doing. This means that it is yet another aspect of your training that can increase in frequency along with your mobility work. To avoid overtraining, we will replace duration with frequency and intensity for an overall decrease in volume, which is appropriate for our taper this week. So you can sled push every day, but that's about all you would do in these last few days in terms of *hard* work. Get in, go big, go home.
Day Before/Day Of
Eat, sleep, center, throw. If you are going to push for some conditioning along with your last few rounds of mobility, make sure this comes early in the day so you can adequately eat to recover, finish with flexibility, and get to sleep. If you've been throwing more this week to fill in time while you taper, this is a fine time to practice tired throwing. 3-4 shuttle runs or sled pushes with focused throwing in between to allow full recovery is a favorite of mine. This also lets you get your heart rate up and is low volume.
On the day of tryouts, show up early and do you first. The team will probably have a schedule and will probably run behind schedule. There may be a 2 minute "stretch what you need" period after the initial warmups, but if you have 15 minutes of injury prevention, activation, and flexibility work to do, you will have missed your chance. Don't be afraid to get your heart rate up prior to playing as well. Some tryouts still rely on standing in line for minutes on end; don't let your heart rate fall during this time and then try to jump right in on defense. Getting your cardiovascular system prepared directly before playing is what coaches mean when they say "get ready to go in."
Lastly, take a minute during tryouts to breathe and remember you are lucky to be there. Good luck and stay strong!