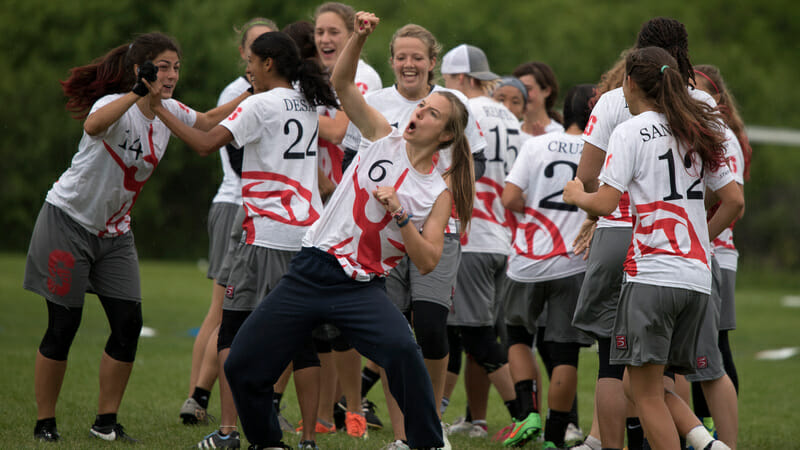 Here is a recap of the quarterfinals action in the Women's Division at the 2015 College Championships.
Oregon Sails Past Dartmouth, 15-6
Oregon rolled through their quarters game, easily outscoring Dartmouth by twice the amount and finishing 15 to 6.
Oregon looked smooth from the start, quickly finding the endzone in their first possession. A costly drop from Dartmouth gave Fugue the opportunity to break immediately afterward, and the rest of the game followed in a similar fashion. Oregon took half 8 to 2 after a 5 point run, and though Dartmouth improved in the second half, they never came close to catching up.
The handlers of Princess Layout were startled when Oregon first threw their zone, but quickly focused on splitting the middle defender of the cup and moved it up the field. Their downfield cutters, however, never figured out the spacing and turns further down the field gave Fugue the chances they needed to show off their disc movement. Julianna Werffeli ran Dartmouth's offense, with hucks that often moved the disc to just outside of the endzone. Patricia Neckowicz was solid on offense and defense, with a few D's and an assist and goal, but nothing could slow down Oregon once they got going.
Oregon hasn't been challenged yet this weekend, and this game just continued that streak. They had 9 different receivers for their 15 points, and 10 different players throwing assists. They played their game, throwing a junky zone with aggressive downfield defenders and quickly moving the disc on offense. Their stars were there, and Beth Kaylor, Ashley Young, Olivia Bartruff, and Jesse Shofner all made their mark. They expected to move into the semifinals, but still played in a way that left no doubt about their strength.
For a team that started the season with the goal of winning a game at Nationals, a quarters defeat at the hands of Oregon is an okay way to go out. Dartmouth captains Katy Peake and Amy Lu are hopeful for next year since they have such a strong freshman class. Their philosophy of playing every game to the best of their ability will help them, but we'll have to wait for next year to see what they do.
Oregon goes on to play British Columbia in the semifinals, and their biggest challenge will be coming out against a more formidable team than any other they have faced so far this weekend. It should be a good matchup, especially for the Fugue seniors who don't want their final chance to end in semis.
Stanford Bulldozes Colorado, 15-7
Stanford demolished their quarterfinals game, winning 15-7. Colorado knew they would need some magic to run with Stanford, but how much wasn't clear until Stanford pulled a 5-1 lead. While the usual suspects still executed for Stanford, but the Stanford freshmen ran the game, marking and besting Colorado's seasoned veterans.
Freshman Fran Olguin went toe to toe with Megan Cousins, grabbing big D's in the air and busting into dangerous space deep. Olguin had a phenomenal game overall, notching bookends to round out her 4 total goals. Fellow rookie Courtney Gegg scored 3 of her own on the day, and sophomore Caitlin Go racked up 2. Heavy hitters like Monisha White, Michela Meister, and Stephanie Lim still played, but they were able to take easier match ups and rest their legs when they wanted to. For every offensive point Colorado took in the first half – all two of them – Stanford answered with breaks.
Colorado ran their sets and played to their strengths, but their mainstays downfield were never able to gain meaningful separation, particularly on the break side where Colorado loves to look early.
"We tried to slow down their offense – I think we did a lot better job of that in the second half of the game – but Stanford just came out firing in the beginning," said Colorado coach Lauren Boyle after the game "I wouldn't say we dug ourselves a hole. They really stepped up to the challenge and built themselves a platform to stand on. They did a great job."
Stanford took half 8-2, and Colorado did indeed rally back in the second half. But it was a rally to lift them out of bagel territory into blowout score levels. Colorado defenders never stopped fighting, earning a break for their final point, but the points were just final gasps on the long march to Stanford's victory.
Stanford heads into the semifinals with a heavy roster and an even heavier record of blowout wins. I ask again: who can stop the big bad Superfly?
Carleton Bests Whitman, 15-10
Carleton showcased the strength of their program and the depth of their roster in a breakaway 15-10 win over the Whitman Sweets. This game was always going to be closely contested: both teams feature a small army of Seattle youth ultimate veterans, and Carleton's classic, fundamentals-based offense pairs well with Whitman's tight man defense.
For a fragile, hopeful period in the first half, Whitman looked like they would pull it off. They would go further than they ever had before; they would synthesize all the promising moments they've shown this year. Whitman earned two breaks early in the first half, capitalizing on Syzygy overthrows to confidently work the disc to Revere and Brenna Bailey in the endzone. Whitman was poised to maintain their lead for the rest of the game.
But when big chips are on the table, the house always wins. Carleton is not a team that chokes, and they're not a team that gives up. They weren't given Pool C; they stole it.
"I think we were a little nervous in the beginning, [throwing] some deep shots that were uncatchable," said Syzygy coach Logan Weiss, "Then we stopped giving them free turnovers, and once we made them work to get Ds, we got a lot better."
"A lot better" means regaining two breaks from Whitman. Carleton marched each Whitman drop downfield, with Buckner launching looks over the heads of Whitman players. Close defense on Julia Bladin, Margot Heffron, and Nina Finley limited Whitman's options, and the Sweets ended up taking their fourth and fifth options instead of the first looks they wanted. Carleton broke twice again to take half, 8-6.
"We went back to our fundamentals, our bread and butter, which is tight man defense" said Syzygy coach and alum Julia Snyder.
The second half was all Carleton. Their handler pressure on Bladin, Lozano, and Heffron stifled the Whitman defense, and their downfield cutters' attempts weren't opening space. With enough passes, Carleton would take the turn and convert, breaking four times to win 15-10.
The expected Carleton stars did their parts, but Claire Thallon and Ahna Weeks were also lethal in the midfield for Syzygy, giving Whitman more threats to match than they wanted to.
For Whitman this quarters loss was bittersweet. Their three seniors – Julia Bladin, Jessica Shatkin, and Carly Busch – all elected to miss their graduation to attend nationals.
"It's pretty big for them to be there, and for us to make it worth it for them," Whitman coaches Ben McGinn and Jeremy Norden agreed.
Reaching quarters, the furthest this program has ever been, and fulfilling their season's potential is pretty special indeed.
Carleton Syzygy will return to the semifinals for the first time since their run to the finals in 2013. They're facing Stanford for the first time since Stanford Invite, where Superfly took the game 13-7. 
British Columbia Locks Down Virginia, 15-9
UBC vs. Virginia would be a battle of depth. A battle of two of the game's elite offensive players – Mira Donaldson and Alika Johnston. A battle of top programs looking to break through years of quarterfinals losses. A battle of title hopefuls.
That was what we thought going in. What we got was a hotly contested opening before British Columbia – without Mira Donaldson – strangled the life from Virginia's offense with a defensive chokehold for a thorough 15-9 victory.
"That game felt like business as usual because we were able to executive the gameplan," said UBC Coach Tasia Balding after the big win. "That's how it's supposed to feel."
The efficiency of the UVA offense and the discipline of their team were the hallmarks their program was built on. And they displayed that to begin their matchup with UBC. They broke on their first opportunity and used several smooth offensive possessions, capped off by three straight scoring red zone sets. Their handlers were able to dictate their defenders time and again with strong reset cuts and hard fakes, in the classic mold of their leader, Johnston.
But UBC made decisive adjustments, apply intense pressure to Virginia's resets and unders. Once Hydra's offense slowed down from their racing pace, the Northwest squad was able to push the advantage with strong possessions of their own, patterned by good under cutting and disc movement. Naomi Morcilla, Jess Chung, and Ellen Au-Yeung – all three freshmen at their first Nationals – made big plays.
Au-Yeung asserted herself as a presence, despite being just 18, winning matchup after matchup. The 5'3″ next to her name on the roster belies her aggressiveness in the air and she came up with two big defensive plays on deep shots, including a late game roofing of Janie Mockrish that came after an incredible run to recover on the open reciever. She finished the game with four goals, two assists, and four Ds, and three bookend scores. But the play of the game came from Au-Yeung's jaw-dropping layout D on the first throw of the point and caught the ensuing score to take half for UBC, 8-5.
"We started to play a bit more transition," Balding said. "Then we were able to contain the handler up the line."
When UBC paired their oppressive defense with smarter offensive decision making, Virginia shrank away. Cutters became timid and throwers were put in tough situation. Hydra fell away from the system they had relied on as their backbone. Having a cadre of players, including central pieces Rebecca Meeker and Tess Warner, fall ill at the hands of food poisoning and miss out on the semi – or try to play through it – may have thrown them off their game, but it was the T-Birds never let Virginia recover after getting them on their heels. Four straight red zone possesions went as turnovers for UVA. The lead was extended out with additional breaks as British Columbia refused to relinquish control of the game's tenor. They had no trouble closing out 15-9.
"We started to play a bit more transition," Balding said. "Then we were able to contain the handler up the line."
For Virginia, it is sour note to end an impressive run for their season. The Alika Johnston era comes to a close having turned UVA into one of the country's top programs, but having yet to get past the quarterfinals. They finished higher in their pool each year at Nationals, culminating in winning Pool D this year. They'll face the test of their status as a program next season.
British Columbia advances to face a familiar foe, Oregon, in the semifinals. The teams have taken the line against one another four times this season, including in the Northwest Regional Final, where Oregon won 15-10. They'll have to face the top ranked team without their star, Donaldson, but have proven that they can rely on other playmakers to rise up to face elite competition.