GOAT got revenge for last year's Nationals loss as Bravo looked sluggish early again.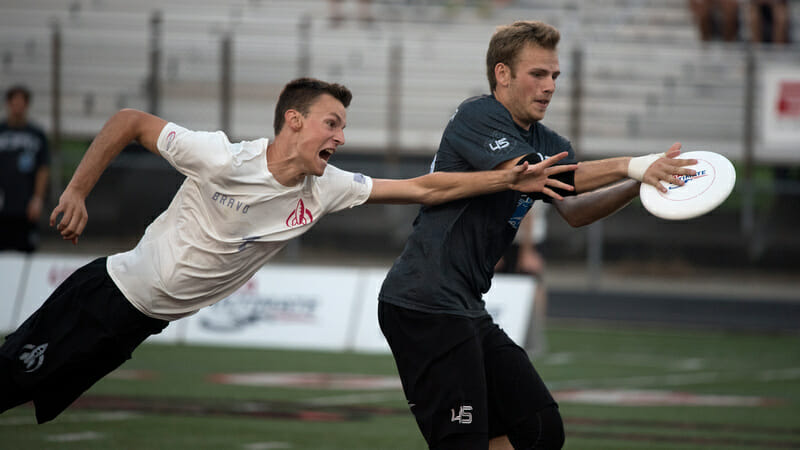 WEST CHESTER, OH — Underdogs all weekend, Toronto GOAT pulled off another big upset at the US Open, toppling Denver Johnny Bravo 14-12 and securing their place in the final on Sunday afternoon. It wasn't a dominating performance from GOAT, but just like yesterday, they managed to come up big when it mattered most and gutted their way to a two point victory over the defending national champions.
Bravo may have underestimated their opponents coming into the game, as GOAT was missing several of their top players this weekend. In addition to star playerMark Lloyd who is out for the year with an ACL tear, Derek Alexander, Anatoly Vasilyev, and a handful of other GOAT mainstays were unavailable this weekend. Early on in the tournament, the team really struggled to fill the roles those players vacated, leading to some poor performances in pool play. But with their backs against the wall in the last round of play against Ironside, the team began to click. They haven't looked back since.
We can't say for certain whether or not Bravo underestimated GOAT, but something was off about the Denver team. Right from the start they surrendered two breaks to Toronto with careless mistakes and errors of judgement. After moving Nick Lance over to the offense, Bravo was able to earn a quick hold, but it seemed clear that there was an energy gap between the intense GOAT team and the laconic Bravo.
Denver slowly ramped up to speed, as their defense managed to present some troubles for GOAT early on. Bravo played with an aggressive switching philosophy on defense, and, when it worked well, it forced GOAT into low percentage looks downfield that were gleefully gobbled up by Bravo's defenders.
As the game went on, GOAT became more and more comfortable with Bravo's defense, however, learning to recognize the switches and quickly attack any mistakes made by the turmoil happening downfield. GOAT's offense carried the team to a 6-5 lead with a series of nice hucks into space, confident hammers over the top of the defense, and hardwork from the handlers to consistently reset the disc.
Toronto's defense wasn't able to supply a tremendous amount of pressure, but when Johnny Bravo slipped up, they were ready to pounce. After Jimmy Mickle airmailed a swing pass at midfield, GOAT's David Hochhalter ripped an inside out break flick huck to Geoff Powell for the score and a 7-5 lead. On the ensuing point, more sloppy play from Bravo — this time from Lance — gave Toronto a chance to break. GOAT took it with aplomb and entered halftime with an 8-5 lead.
The lackadaisical play from Johnny Bravo was something we saw at several points this weekend. They got off to a slow start against Truck Stop and let Ring of Fire back into the game in the second half of that matchup. They were very sluggish to start against Inside Rakete, the German National team. Of course, what had always counterbalanced those low points for Bravo had been moments of ecstasy, when the team fired on all cylinders and looked unbeatable. It was no different on Saturday night, as trailing 12-8 Johnny Bravo finally found their stride.
GOAT's offense had been hitting on almost all of their shots throughout the game, but midway through the second half, the hits became misses. Hucks sailed too far and hammers found the turf instead of their intended targets, and Bravo launched themselves back into the game with a 4-0 run that tied the score at 12-12. Nick Lance was immense for Denver down the stretch, as he shook off a poor first half and almost singlehandedly threw Bravo back into the game in the second half with full field hucks and daring scoobers.
12-12 would be as close as Bravo got to completing the comeback though, as GOAT would score the next two points to take the game in the soft cap.
After a GOAT offensive hold, it seemed as though this game was headed for double game point, but Toronto ended it a point early. Jimmy Mickle couldn't get to a booming backhand huck from Sean Keegan, and, after the turnover, GOAT sent the disc deep to a streaking Remi Ojo.
Ojo has been a star all tournament for Toronto after making an unbelievable catch block in their game against Temper, and he put a cherry on the top of his breakout performance by holding off a bidding Jimmy Mickle to snag the winning score for GOAT.
One of the keys to victory for Toronto was their constant aggressive attitude around the disc. They were comfortable bombing hucks and hammers all game, even during Bravo's 4-0 run. GOAT coach Scott Hastie made it clear that he had faith in his team to shoot themselves out of their slump when the chips were on the table. "Being aggressive is where we had success early on, so we had to keep going to the same well," he said.
For Bravo, this loss will surely leave a sour taste in their mouth. It was clear that they didn't play their best game, and still have some work to do if they are going to retain their crown this fall. "We're figuring it out. It's early," said Bravo captain Jimmy Mickle. "We lost some people who are aggressive around the disc. Some people are more used to being passive downfield, so things get a little congested without people attacking. Having different people be aggressive towards and around the disc is definitely something to work on."
We saw earlier in the tournament that Bravo possesses the capability to hit the same heights as their title team from 2014, but in this semifinal we saw that they can't always bring that version of their team to the table. How they can get to a mental and emotional place where the team is consistently performing to their potential will be a challenge for them going forwards this season.