Molly Brown took advantage of Scandal mistakes and made some big plays to power their victory.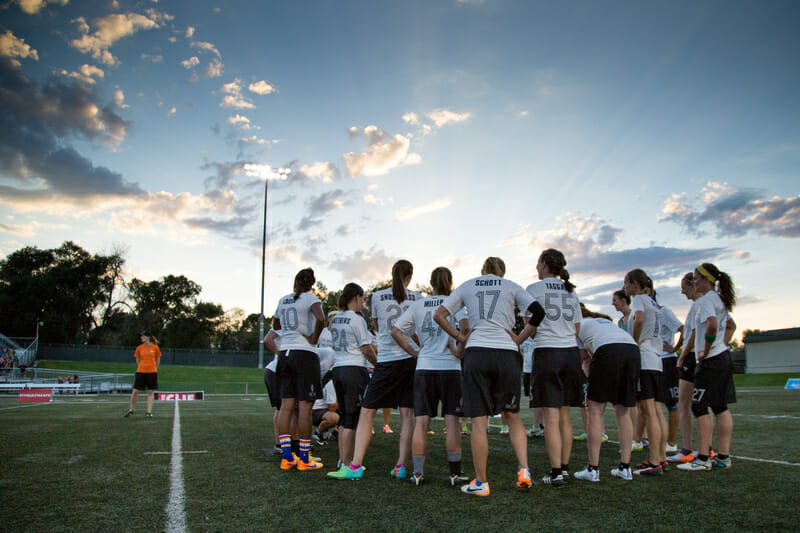 DENVER – Host team Molly Brown opened an early lead on Scandal behind some big plays and strong disc movement and never relinquished it in a weather-shortened final, claiming the Pro-Elite Challenge title with a 10-6 victory. This followed a 13-10 pool play win for Molly Brown over Scandal.
Denver wrangled a pair of breaks in the first half, preventing them from ever trailing in the game. The first came after a red zone turn on a poor throw by Scandal, when Molly Brown's Sally Lambert launched a huck to a streaking Lauren Boyle. Boyle came up with an earth-shaking layout and dished in a goal to grab a 4-2 lead. They followed that up with another break to Tina Snodgrass for her second goal of the first half. With overcast skies ominously looking on, Scandal found themselves in a 7-4 hole at the half.
The mistakes that Scandal made left them exposed and Molly Brown was happy to capitalize. Both of the Denver breaks came in a single possession and their final goal of the half came against a disorganized D.C. defense that yielded a 3-on-2 situation near the end zone. Prior to that, they blew a strong goal line stand when Paige Applegate leaked away to catch a Kirstin Johnson hammer.
That continued in the second half: while both teams traded, Molly Brown's final score came after an unforced pancake catch drop by Scandal.
Of course, it was weather rather than winning that ended the game. Lightning was sighted in the distance, but deemed far away enough for safe play. It was agreed upon by team leaders, observers, and tournament organizers that, for travel reasons, if the game required a stoppage, it would end. Not long after, lightning came nearer, forcing teams and spectators off the field (and Ultiworld out of the crow's nest). The skies opened up and sent everyone scurrying to the parking lot for four-wheeled shelter.
The tournament victory was a big one for a Molly Brown team that came up short last year at Nationals and ultimately missed the Pro Flight. Not only did they solidly beat Scandal twice, but they also topped Brute Squad in a tight and intense battle in the semifinal. They got huge weekends from both Snodgrass and Applegate, but the player who had everyone talking was rookie Becca Miller. The former CLX cutter was doing it all, routinely landing high-flying layout blocks, catching scores, and boosting hucks.
For their part, Scandal put together a very strong showing, with the pair of Molly Brown losses as the only red in their ledger. Despite missing some top personnel, Washington D.C. got a lot of contributions from their rookies — especially Kelly Hyland, Nada Tramonte, and Kirstin Gruver — while veterans Alika Johnston and Jenny Fey were consistently making plays. And Sandy Jorgensen racked up goals and yards, per usual. Their semifinals win against Traffic, on the heels of a double game point comeback victory over Capitals, is a sign that they still have the grit that has defined their success.
Still, Molly Brown can be confident they'll move up in the Power Rankings. Their triumph over Brute Squad may be even more impressive than their victory in the final. If there were doubts about this team's ceiling being the semifinals and beyond, they silenced them. A slow start to Saturday, including a scare against Schwa, did not deter Denver from dominating.
Both Molly Brown and Scandal will be at the Pro Flight Finale on August 22nd and 23rd.