With a stacked roster and strong commitment to the mantra of Intensity, Humility, and Discipline, Revolver is grinding its way toward another Championship run.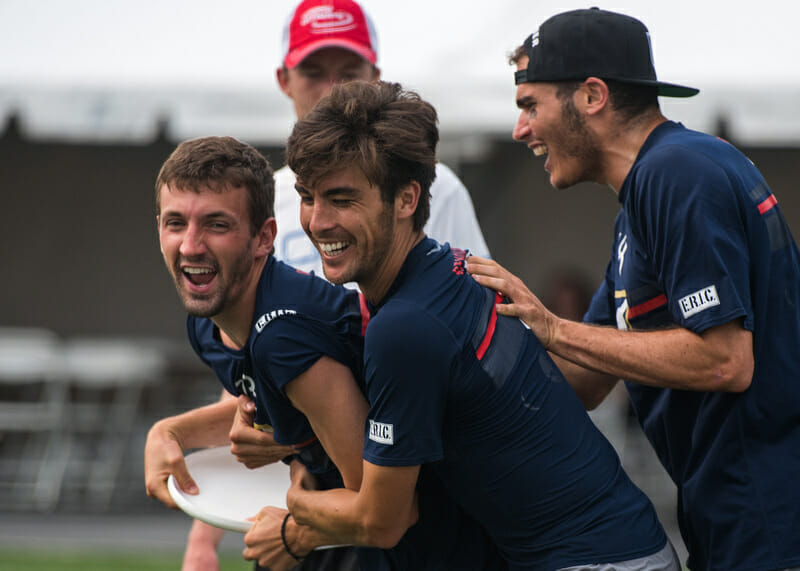 San Francisco Revolver has been the class of men's ultimate worldwide for the last six years. In that time, the now-storied program has taken home three USAU National Championships, two USAU silver medals, two WUCC World titles, and one WUGC Championship playing as Team USA. In that time, the program has seen the exit of such talent as Mac Taylor, Mark Sherwood, Nick Handler, Brian Garcia, Adam Simon, and Tyler Grant while continuing to win. They are not a player-team; they are a system-team, where even the stars commit to playing their part. The Revolver program is already one of the best of all time, and this year's iteration is primed to continue the strong tradition of its predecessors.
Roster Replenish
The current team lost four members of last year's squad, which finished atop the USA Ultimate regular season rankings with a 15-4 record and a US Open Championship before being upset in the national quarterfinals by Toronto GOAT. Among those moving on are defensive line regular Tim Gilligan, offensive cutters Evan Boucher and Josh Wiseman (who returns as a coach due to injury), and big-man defender Martin Cochran (who seems to have finally settled on retirement…for now).
However, as has become the norm, Revolver will replenish its depth with a combination of college stars and proven elite players: Jamie Quella joins the D-line after a lengthy run on Boston Ironside, Kevin Cocks moves to the Men's Division after notching an impressive mixed and pro career for the San Francisco Polar Bears and San Jose Spiders, and cutter Christian Johnson—of UNC Darkside and Raleigh Ring of Fire fame—makes the cross-country move to the Revolver O-line.
While last season's 5th place finish at Club Nationals was San Francisco's worst since 2008, the low turnover for a roster that owned last regular season portends good things in 2015. The talent and system remain strong, the few "rookies" have elite experience, and hunger will be at an all-time high.
Coach Mike Payne told Ultiworld that the leadership team, while acknowledging the shortcoming in last year's Nationals results, has emphasized that the 2014 quarterfinal loss was "a single data point" and that the underwhelming finish will not lead to major shifts this year in team mentality or strategy. With that said, both Payne and captain Nick Schlag discussed the fact that last year the team could have done better in helping the first and second year players "find their best roles."
In that light, changes for 2015 will include the shift of a handful of traditionally O-line players to defense, an expanded strategic approach on the D-line, and a re-commitment to ensuring sound fundamental skills that are beneficial to both sides of the disc.
Back To Basics On Offense
Revolver runs one of the prettiest offenses in the game from a tactician's perspective, using disciplined spacing from their side stack to isolate superior athletes one-on-one while also taking great care to keep the disc on the correct side of the wind. One logically shouldn't expect too much variation from a system that's brought the team years of success.
However, while there won't be wholesale systematic changes, San Francisco has implemented a few adjustments to the offense's strategy that they hope will pay dividends in October. Discussing last year's Nationals performance, Payne highlighted a lack of offensive chemistry as one of his team's shortcomings. He explained that throughout the year — due to various personal, academic, and medical obstacles — nearly half of the Revolver offense had missed significant time during the season and that, when faced with a GOAT defense consistently applying high-pressure, the offense's lack of familiarity marred the effectiveness.
In response to this, leadership made two important adjustments: they reduced their O-line by three players (send Jordan Jeffery and Marcelo Sanchez to defense and replacing Josh Wiseman and Evan Boucher with Johnson) and they sought increased commitment from each of the (approximately) eleven players that they would not be missing tournaments this season. Payne pointed out that a similar shift to a smaller O-line occurred in 2010, right before Revolver won their first USAU title.
Payne also discussed a re-commitment at a team-wide level to fundamentals of throwing. He even compared the routine of some Revolver practices to that of a college practice, where players are being instructed and drilled on perfecting particular throws. When asked to be more specific, Payne highlighted around backhands and inside-out away throws as particular targets for practice.
This emphasis makes a great deal of sense given Revolver's sidestack offense, where challenging throws like those above are necessary weapons to have. It also, at a deeper level, highlights how sincerely San Francisco takes its founding ideals; having the humility to consistently drill throwing less than a year after winning a World Championship speaks volumes.
In terms of personnel, expect the big-name foursome of Ashlin Joye, Cassidy Rassmussen, Beau Kittredge, and Robbie Cahill to be as consistently dominant as ever. Most teams would be happy to have Cahill as a main distributor with Kittredge as the iso cutter, but Revolver is afforded the luxury of both that option as well as having Joye and Rassmussen as fill cutters. It's not an exaggeration to say that Revolver routinely starts three of the ten best players in the world downfield on their offensive points, and that's without talking about star-in-the-making cutter Simon Higgins. Higgins is poised to step in as the fulcrum of the offense where his dynamic nature allows him to win his match-up both as a receiver and distributor. Payne may have said it best was saying that Higgins is the type of player "you can build a dynasty around."
While there is certainly star power downfield for San Francisco, perhaps the most underrated key to their offense is Joel Schlachet. If Revolver has a soft spot, it's in its dump set, which occasionally asks slightly more of its throwers and dumps than other systems. Cue Schlachet and Schlag, reset handlers who are slipperly enough to wriggle open in a tight spot and uncannily smooth on the disc, even for a difficult reset. They missed Schlachet in the finals of the Pro-Elite Challenge, where reset troubles were a factor in their loss to Seattle Sockeye.
Depth in Defense
The book on San Francisco for the last few years has been fairly straight-forward defensively. They play relentless man defense that traps on the sideline and dare you to be more athletic than them. Most of the time, this strategy is enough to generate turnovers. However, this looks to be the year where that singular focus changes—or at least gets supplemented. The U.S. Open saw Revolver run out a zone looks that earned several blocks against GOAT in the final and even more during pool play.
When asked about what motivated the team to expand its defensive repertoire, Payne made several points: first, was that as a team, Revolver "did not feel they were generating enough blocks last year, particularly at Nationals."
He noted that in the past, the approach of defending by relying heavily on athleticism might have been effective, but that it did not seem to be sufficient anymore. He also again drew the parallel to 2010 when Revolver effectively deployed a zone look regularly. Payne and "the defensive strategy committee" are now confident throwing a number of different defensive looks that they hope help generate additional turns.
That aside, the bigger question about the Revolver D-line is about the ability to punch in a break after they get the block. The D-line offense will certainly get a boost from former O-line cutters Jeffery and Sanchez switching lines. Leadership explained that the Jeffery and Sanchez switches were examples of finding the best roles for players within the team. Payne believes that Jeffery's strong throws and high energy will help propel the D-line. Schlag explained that Sanchez was "often the one to get Ds on the O-line" last year and will continue to be a tireless cutter and match-up nightmare on the turn.
The strength of the Revolver D-line is its depth. They can cover just about every match-up, and they have more than one person who can take each. It breaks down well—Jeffery, Alex Evangelides, and Nathan White guard the bigs while Jordan Marcy, Sam Kanner, and Taylor Lahey lock down the resets. For everything in between there is an army of athletic defenders, highlighted by Andrew Hagan, Lucas Dallman, Russell Wynne, and Greg Cohen.
Leadership in particular called out Lahey, Marcy, and Cohen as lesser-known players poised for breakout years. Cohen's highlight-reel plays offer a clear exhibition of his talents, but Payne was particularly excited to point out the contributions of Lahey as a lock down defender and Marcy as a vital cog in the D-line offense as a reset handler who can switch the field.
Playing For Their Place In History

Though their talent is high, the greatest strength of Revolver remains its program. The commitment to their core values of Intensity, Humility, and Discipline starts at the top with Payne who returns for a third season. Also a founding member of the team, Payne is one of the best leaders and strategists in the game. Having lost a number of key players from a team that lost the 2012 National Championship game to Austin Doublewide, he guided the 2013 team with eight true rookies to the title by committing to the process of building the team. Though they ended up winning that year, the investment they made then is continuing to pay dividends now. Look for recent college graduates like Higgins and Eli Kerns to take the next step into the core of the program this year.
This concept of new faces stepping into bigger roles offers a source of motivation for Payne. With their impressive resume, it's already conceivable to describe Revolver as one of the three best programs of all time (along with Death or Glory and New York, New York). What could ultimately set Revolver apart is the ability to continue their dynasty with a completely different set of core players, something DoG and NYNY cannot claim. If Revolver can win this year, that is exactly what the case will be—nobody who played a major role in their first Championship in 2010 will play as big a role in 2015. Cahill and Kittredge, while still important, are not as central as they once were and the players who were once the role players are now the names you know—Rassmussen, Joye, Schlachet, Schlag, and Wynne.
Revolver is team that is focused on getting better and rising up with every game they play. Schlag describes the main goal for the team as "playing our best game at the end of the season." Despite achieving regular season dominance in the past, the goal has always been to improve game-to-game and build. Revolver is a program, and the program expects to fight for the championship every year. Given their history, how can you bet against them?