Hear from the Vancouver Traffic captain about this year's team, achieving success, and Too Many Cooks.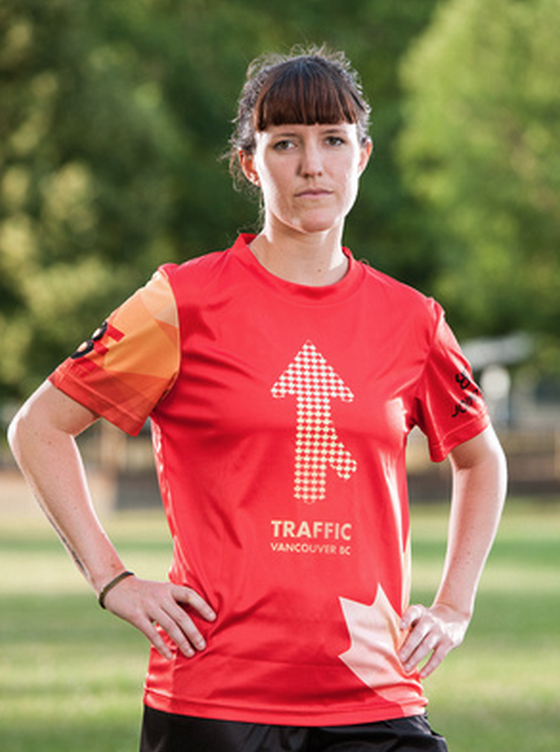 Vancouver Traffic began as a team in 2007 and quickly rose to a high level of play in the following years, competing at Worlds in 2008 and at seven USAU Club Championships. With their recent win at the Canadian Ultimate Championships, which qualifies them to compete as Team Canada at Worlds 2016, and one of the best rosters in women's ultimate, Traffic is closer to winning the USA Ultimate club series than ever before.
Ultiworld caught up with captain Laura Mason to find out what the team mindset has been for the 2015 club ultimate season.
Ultiworld: What is the focus for Traffic in 2015? Any specific team goals you can share?
Laura Mason: One of the main things we have focused on this season has been our mental toughness, and overcoming challenges together as a team. There are ebbs and flows in each game – one team might go on a run and get a few points, but that doesn't mean anything until the game is over. We are really working on being present and focusing on this moment, and this point.
It's also been important for us to have big, tangible goals for the season. A couple main ones are:
A) To make the semis of every tournament we play in. So far, we have been successful in this!
B) Win Canadian nationals. It's a worlds qualifying year, so we have been training with August in our minds. [Editor's Note: They did achieve this goal and will represent Canada at Worlds in 2016.]
UW: Who do you consider to be a standout player? Any roster changes that the captains are excited about?
LM: The depth of our roster is amazing this year, so it's hard to choose. Reanne Bowlby is a rookie this year on traffic, and yet she plays like a seasoned veteran. She's extremely calm with the disc, and very reliable. Yayuk Joffres is another one to watch. She has incredible speed and intensity that makes her a terrifying defender.
We are really excited about Kathryn Pohran, Kate Werry, and Erin Bussin – new-to-us additions from the Capitals that have recently moved to Vancouver. It's hard not to mention the four University of Victoria players that have taken over: Corinne Dunwoody, Danie Proby, Katie Hikidia, and Jessie Bell.  [Editor's Note: Now five with the addition of Kate Scarth.]
UW: The rankings are out and Traffic is ranked number five. Is this your highest USAU women's club ranking so far? Can you give me some historical background? Any past big wins in particular? 
LM: I'll be honest that I never really paid attention to rankings until a year or so ago. Traffic was formed in 2007, and has competed in seven USAU Club Nationals since then. The 2014 US Open was an important tournament for us. We had big wins over Fury and Scandal which sent us to the semifinals. The team came together with an energy and confidence that set the tone not only for that entire year, but for this one as well.
The missing ingredient for us has been performing consistently, and performing when it counts. Those games have showed us that we are completely capable, but to be the best we need to bring that level of focus 100% of the time.
UW: Vancouver now has three women's ultimate teams including Traffic, Zephyr, and Wendigo. It is great to see that kind of growth. Has Traffic been involved in any way?
LM: We really love seeing the women's scene grow here. Many of our players started off on Zephyr before they made Traffic, and currently both Zephyr and Wendigo are coached by former Traffic players. For the first time this year, we held combined tryouts for all three teams.
Several of our players have also coached UBC Women, Canadian national teams, BC Juniors, and local high schools.
UW: What was it like playing against the All Star team? I'm just looking for a little input from the on field player's perspective, like the atmosphere, player interaction, and crowd turnout.
LM: It was so much fun! The All-Stars are an explosive team, and it was a joy to play against them. It was a beautiful night, and a really relaxed atmosphere. The crowd sat on blankets and chairs on a hill right next to the field, which gave it an intimate feel. I'd estimate 300-350 people there. In case you missed it, check out the game here.
UW: I just have to ask. Is there a story or inspiration behind the Too Many Cooks roster video?
LM: I will take credit for bringing the idea forward. I circulated the original TMC video around, and began humming it incessantly at practice. Slowly but surely it was in everyone's heads and they couldn't deny it. In all seriousness, the team made it a SUCCESS. It really takes buy-in to make something ridiculous like that work. Rena Kawabata and Danie Proby then made it come to life with their amazing video editing skills.