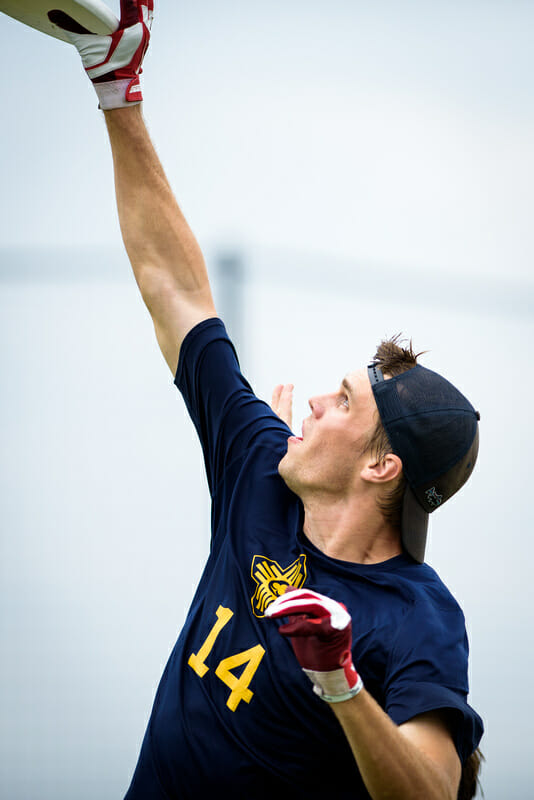 Jumping out to a massive 7-1 lead, Madison Club absolutely smoked Michigan High Five 15-12 in their prequarters match-up.
Though High Five managed to make it a real game in the second half, Madison Club always seemed to respond before the attempted comebacks got too close. Once they went ahead, they never let High Five come closer than within two.
Even when Madison started to stray away from their game and started putting up multiple hucks to people that weren't really open, they never let up on defense and made every throw tough for Michigan.
With the exception of two or three points, High Five had to fight for every completion, even when they stacked their O-line. They didn't create much separation on their cuts and often looked confused as to what they should have been doing, particularly in the first half.
Coach and player Matt Wilken attributed part of Michigan's struggles to Madison's defensive strategy of fronting cutters, sagging off the handlers in the lanes, and placing downfield defenders in a position to help on any deep shots. The result led to High Five throwing deep into double and triple coverage, holding the disc for too long, and not getting enough movement both downfield and on their resets.
Rarely did they change the angles quickly and effectively to try and get better looks downfield. Instead, they often looked up field for five seconds, turned to look at the reset at six, found him covered tight by a dump defender and had to hit a bailout throw just to maintain possession.
Madison, on the other hand, not only played great defense but also managed to create a good amount of separation on a lot of their cuts, particularly deep, which accounted for a majority of their scores.
If anything really separated the two teams at the beginning of the game besides execution, it was intensity.
"We trained so hard this year. We wanted to leave it all on the field," Madison captain Colin Camp said. "If we have no energy for our quarters game, so be it."
He said that knowing they were susceptible to being intimidated by physical play at the start of games, the team warmed up with a "prison rules" version of 3-on-3 where they could "foul the crap out of each other."
The strategy clearly worked, as they came out focused and hungry, whereas High Five came out somewhat hesitant and shaky.
While many would be attempted to attribute much of Michigan's failings to being an inexperienced team cracking under the newfound high expectations, Wilken said it had way more to do with Madison's exceptional defense.
"We hit a lull at the wrong time," he said. "I feel like the pressure of the situation didn't get to us as much as the pressure of their defense did. We were calling set plays, and they were taking us out of it."
Wilken also said that while High Five knew what kind of game Madison Club liked to play and Michigan managed to get them to throw floaters up for people to make plays on, Madison just seemed to keep coming down with the 50-50 balls.
Unfortunately complementing this was High Five's repeated lack of discipline on the turn. There were a number of situations, such as at 9-7 and 11-8, where Michigan had a good chance to notch a critical break and fully put Madison on their heels, but they opted instead to huck it to people who weren't open or looked upfield too long and turned it on a dump.
Sometimes it felt like their offensive possessions could only take care of business for so long before the inevitable mistake would come along. And consdering how physical both teams were playing D, clean offensive possessions were of premium value.
Despite their superb regular season and solid performance in pool play, High Five were knocked out of contention early and left to fight for Pro Flight status. But Wilken said such a loss doesn't take away from what the team is trying to do.
"When we put this team together it wasn't a one-and-done type of thing. We're trying to build a program," Wilken said.
As for Madison Club, after a quietly strong regular season, they've come to Frisco and shown up in every game, eventually unseating a No. 5 overall seed in bracket play.
They'll get one of their biggest tests of the weekend in quarters, however, when they match up against Seattle Sockeye, who have won their four games by an average of almost five points.
Though their styles are much different and Sockeye certainly outmatches them in terms of experience and ultimate IQ, if Madison Club can play as athletic and confident as they did in prequarters, it should be a compelling match.